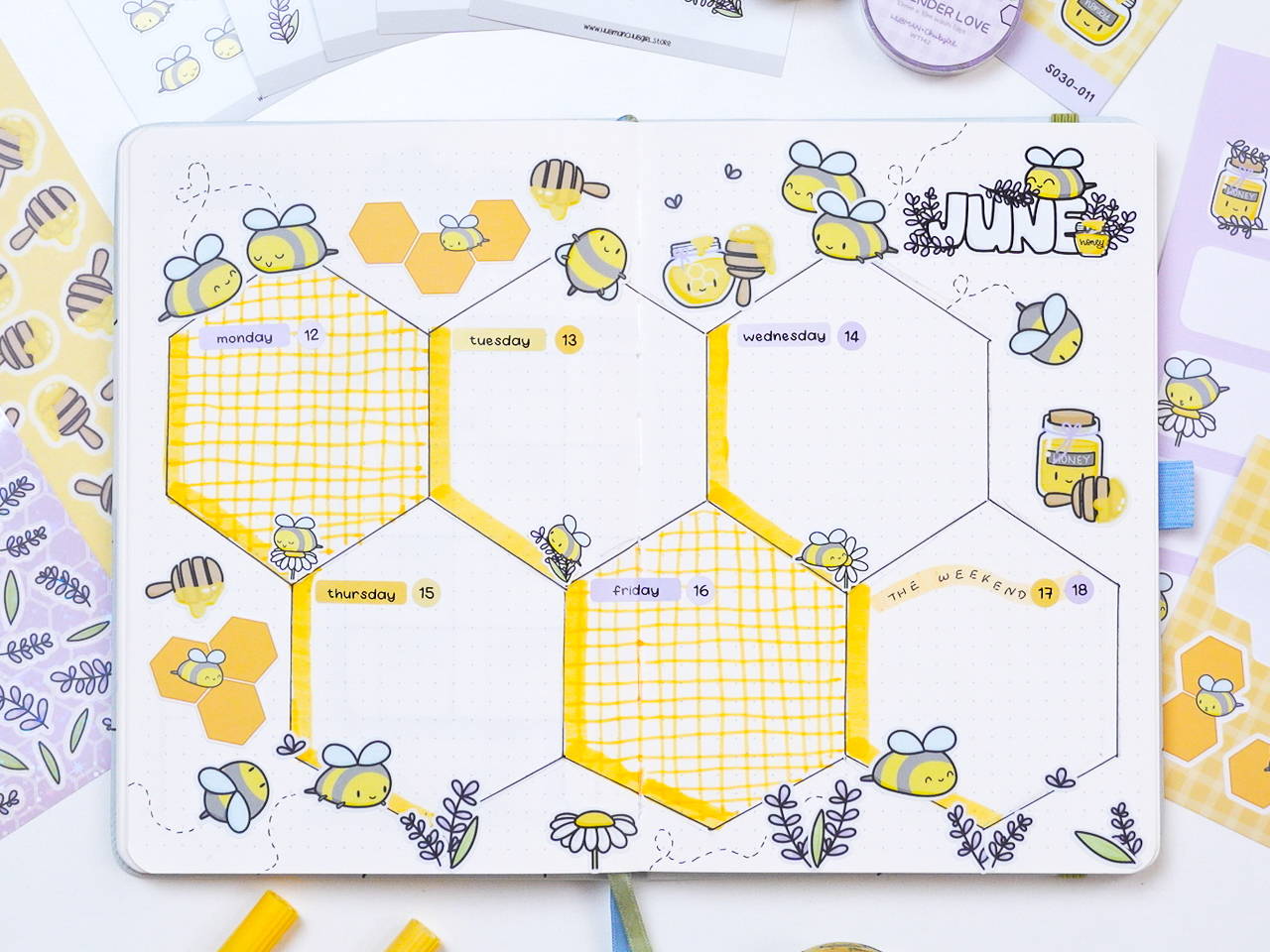 Here is a weekly spread tutorial using our Honey Lavender theme - Read on to find out how easy it is to set up a journal page with our stickers!
Pencil

Thin black marker

Yellow brush pen (Tombow dual brush pen)

Light yellow brush pen (Tombow dual brush pen)

Black MUJI gel pen
These materials were what I used for reference, but you may use any supplies you have on hand :)
Stay on top of your weekly commitments and special occasions with this unique honeycomb-inspired design featuring our best-selling Honey Lavender collection! Our stickers make it a breeze to elevate and inject color into plain spreads, so read on to find out how I created this one.
I begin by sketching 6 large hexagons across the 2 pages. These will be spaces to write in for the days of the week. Taking a thin black marker, I outline each hexagon to clean up the base design.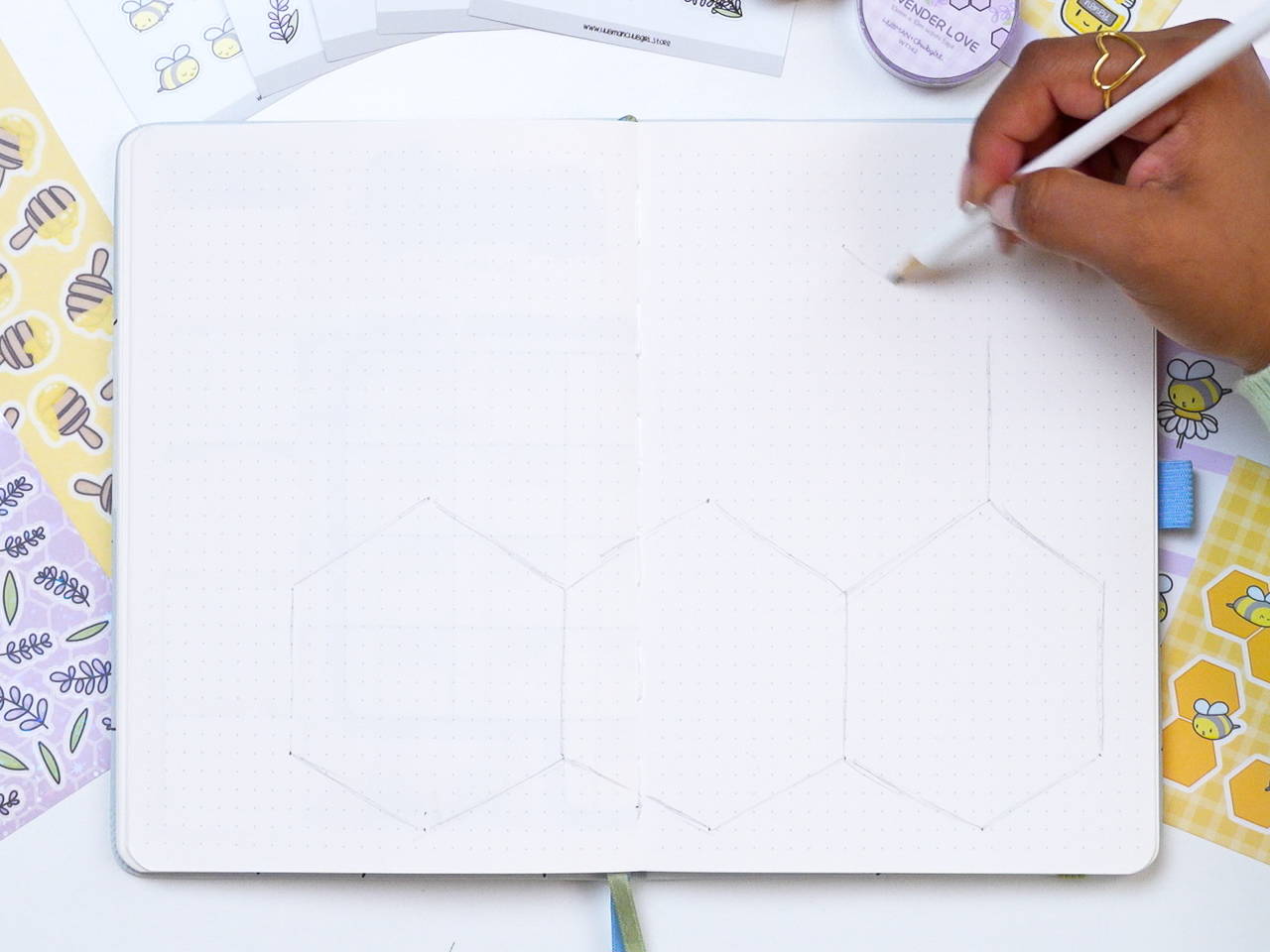 Next, I draw grid lines in the first and fifth hexagons with a yellow marker.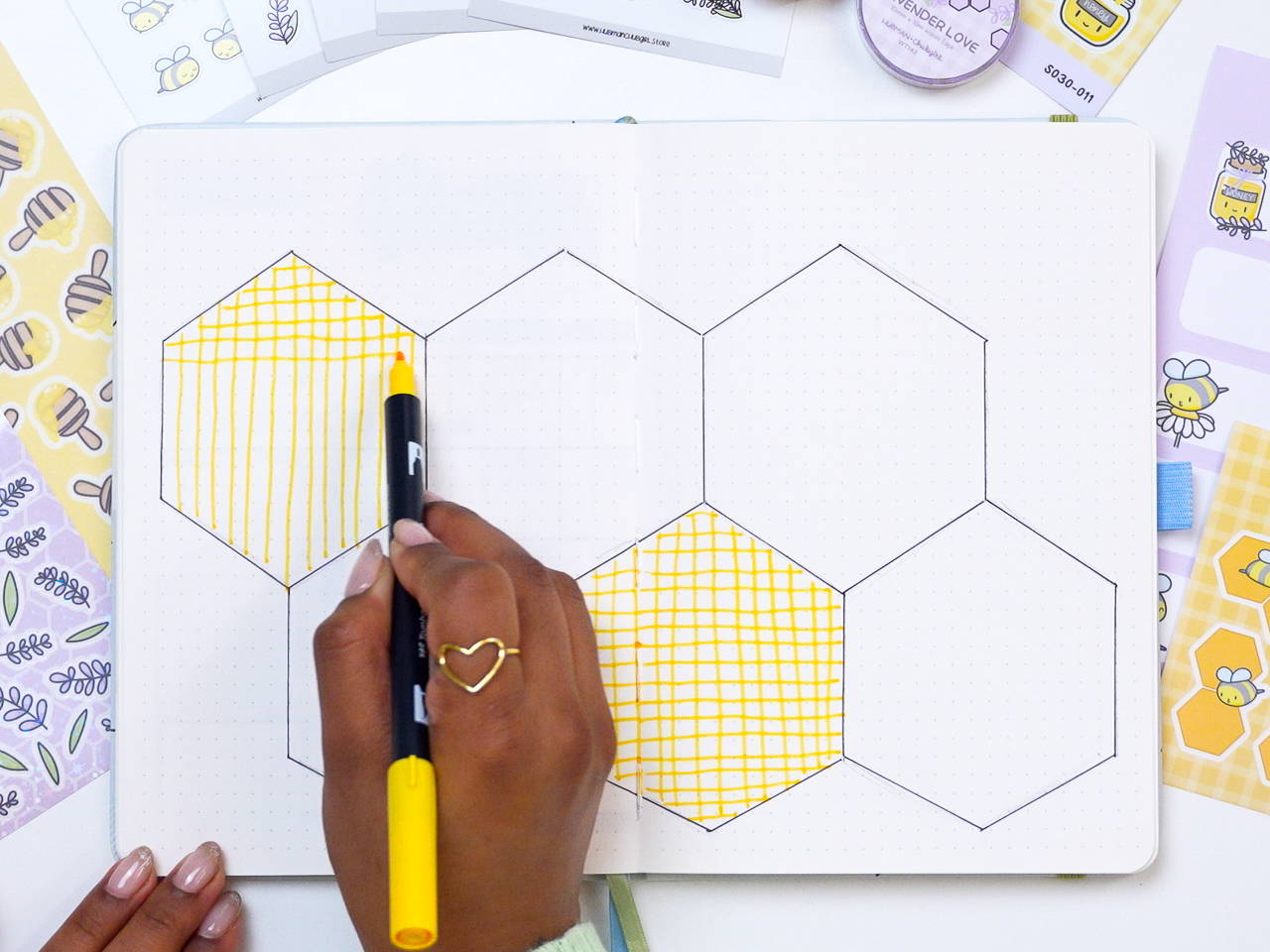 With the brush tip side of the same marker, I add a thick line to the lower left corners of each hexagon to give the honeycomb design more definition.

To finish off the hexagons, I'll be using the number and day-of-the-week stickers from the Honey Lavender Journal Pack. Add the dates near the top of each shape
Since there are 6 hexagons in this design, I'll combine the Saturday and Sunday into a "weekend" box. Don't forget the big "June" sticker at the top-right of the spread!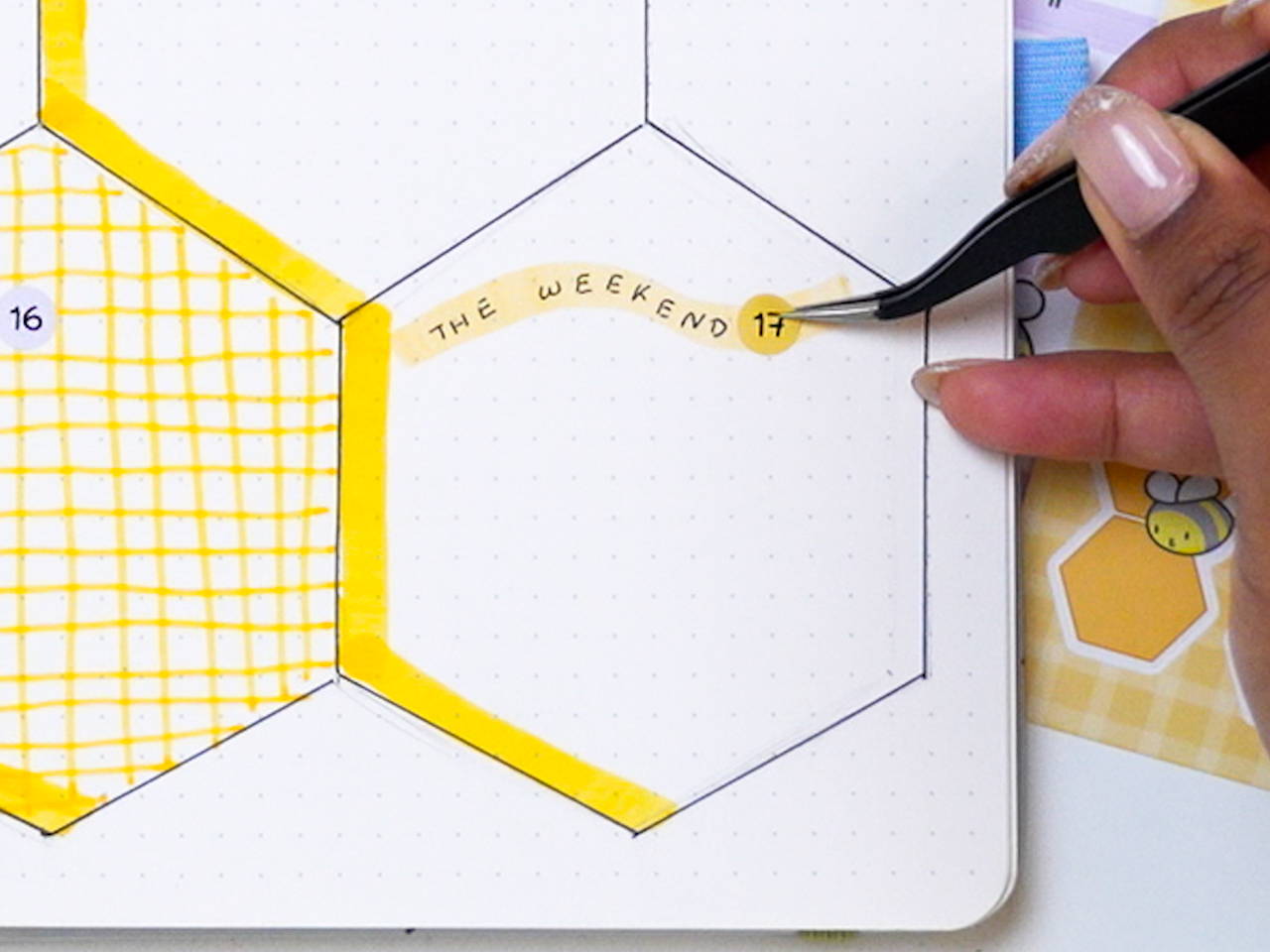 Now let's get to decorating with a variety of fun bee and lavender flower stickers from the collection! Stick them wherever you want in your design to fill the white space or follow what I've done in the picture below.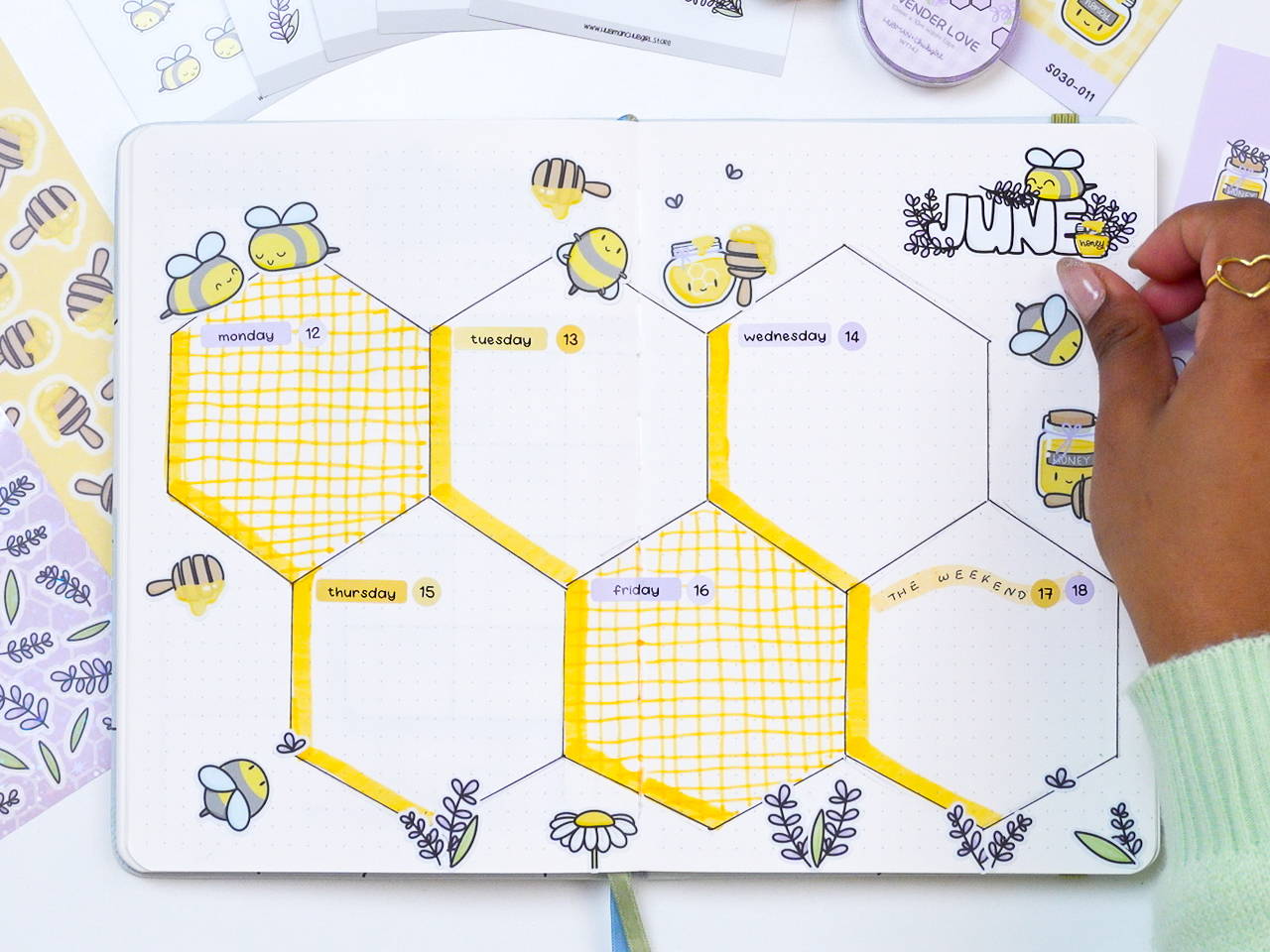 Lastly for a bit of fun detail, I added trail lines to all the bee stickers using a black gel pen. It's a simple step to make the stickers blend into the design of the spread.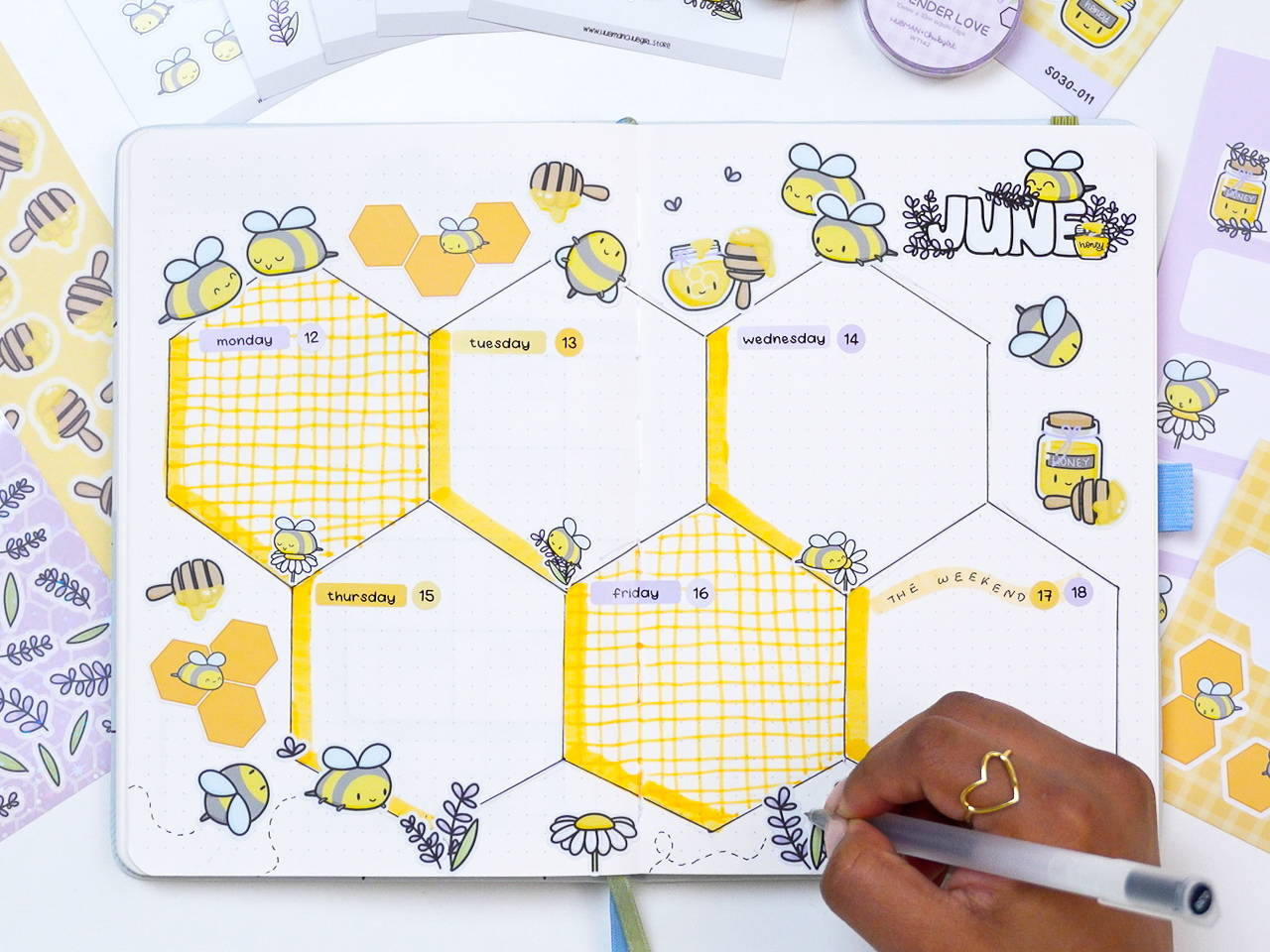 And there you have it — a cute weekly spread featuring our Honey Lavender collection ready to be filled in with daily tasks or appointments!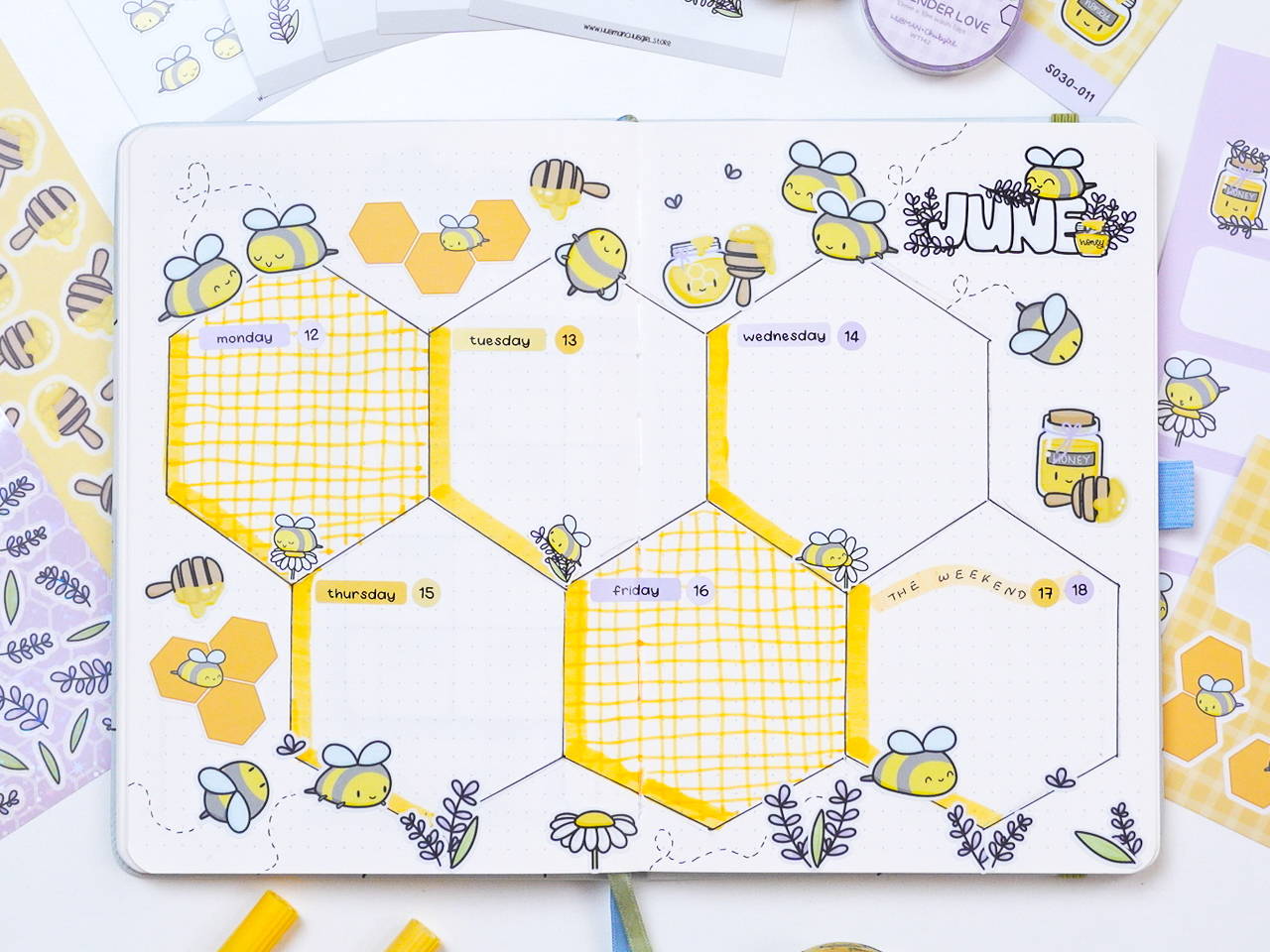 We have added a link to the Honey Lavender Collection to get everything you need to make this spread. Subscribe to our monthly Journal subscription to get cute stickers like these mailed to you every month and feel free to come back here for inspiration or tutorials for your spreads! Happy journalling!
Bonus! - Use code JOURNAL and get your subscription at 10$ for your first month plus you get a free starter journal to kick off with!
We will be posting more tutorials here soon, so follow us on Instagram @hubmanchubgirl.store for updates. Thanks everyone and I hope you find these helpful!
For more inspiration on these spreads and more, click on the link below :)
Find everything you need to make this spread and more!