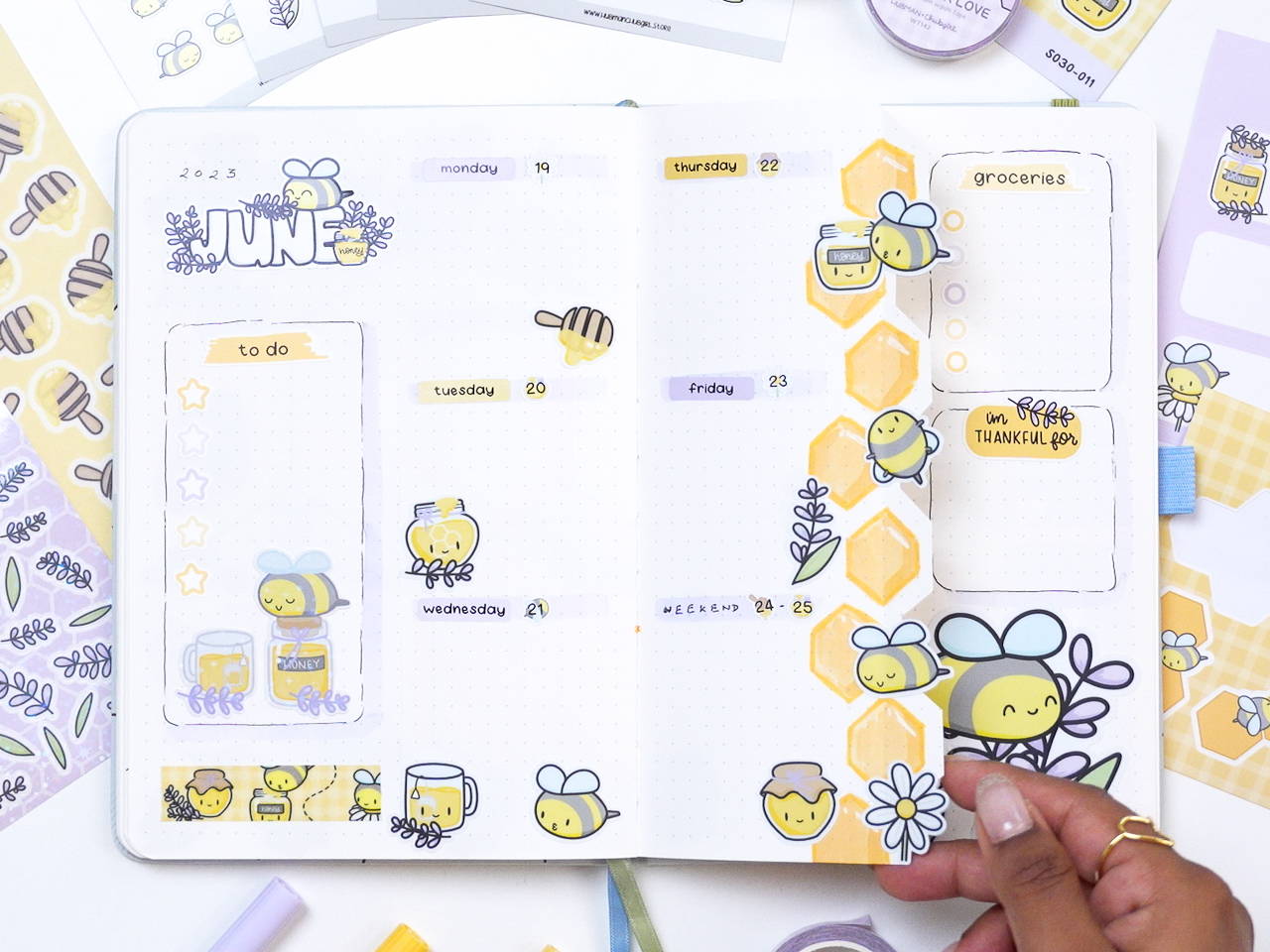 Here is a second weekly spread tutorial with our Honey Lavender theme, feauturing a Dutch Door between the pages — Read on to find out how easy it is to set up this journal spread with our stickers!
Pencil

Scissors

Yellow brush pen (Tombow dual brush pen)

Light yellow brush pen (Tombow dual brush pen)

Light purple brush pen (Tombow dual brush pen)

White gel pen

Black gel pen
These materials were what I used for reference, but you may use any supplies you have on hand :)
Ready to elevate your journaling game? This tutorial will cover how to incorporate a trendy Dutch Door element within the pages of your journal.
This unique layout sets up two weeks in your planner for you to fill in with daily tasks and appointments. Keep reading to learn how to recreate this spread in your own dot-grid journal.
Start by folding the second page of your spread in half to mark where the Dutch Door will be.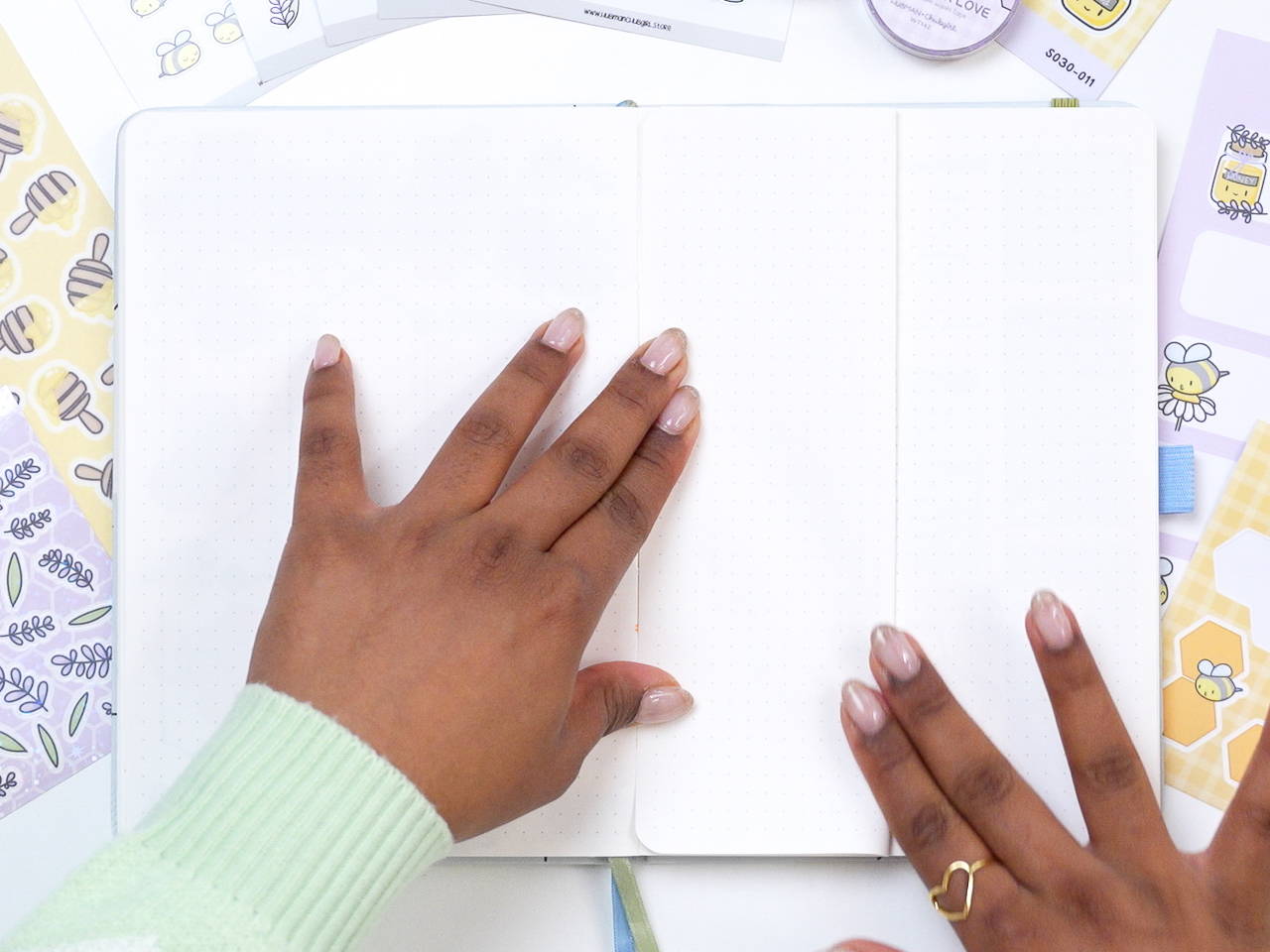 Unfold the page and use a pencil to sketch a column of hexagon shapes down the fold imprint.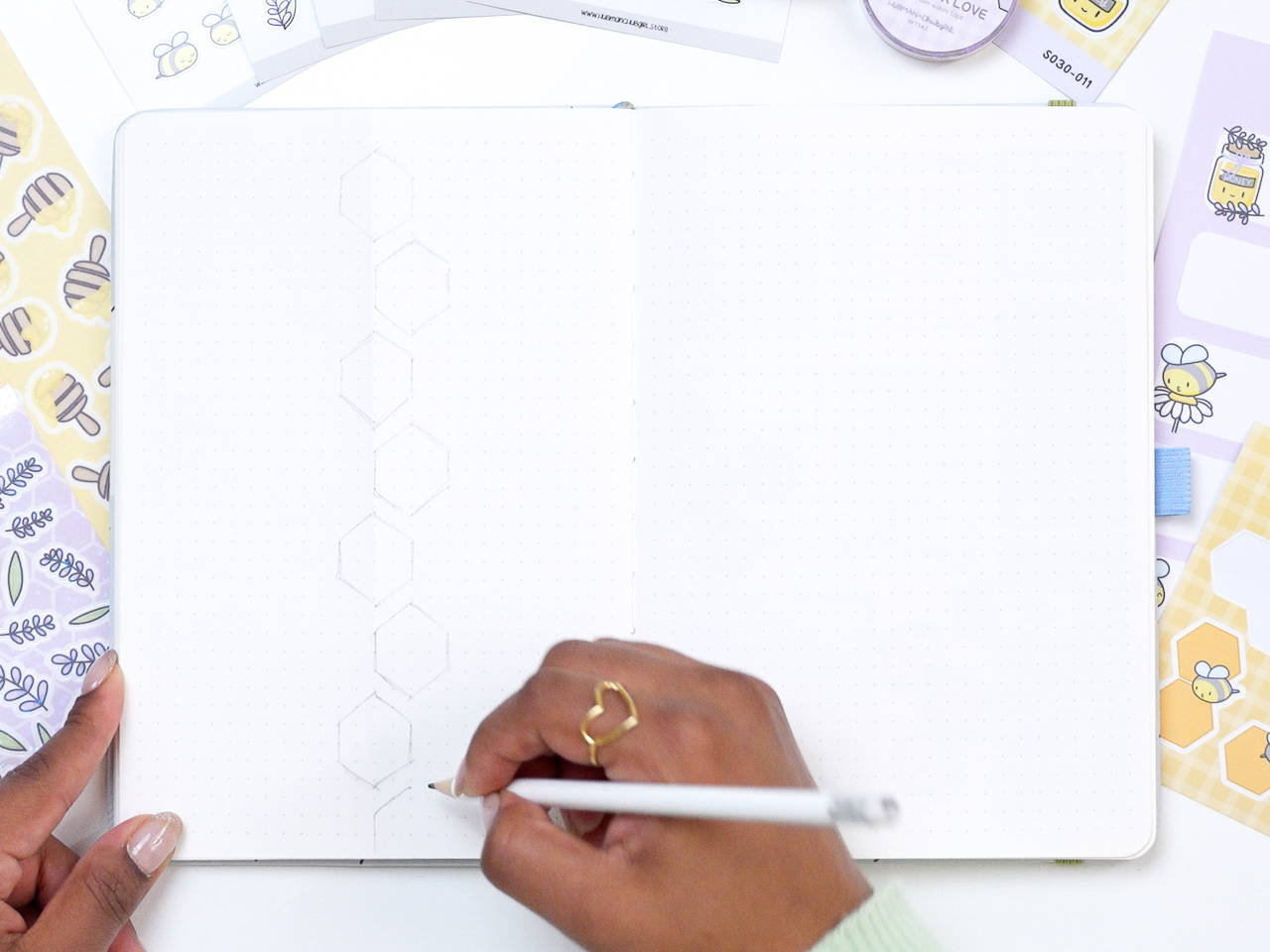 Taking a light yellow brush pen, I color in the hexagon shapes to make them look like honeycombs. I use a darker yellow marker to outline the shapes and add shadows to make the honeycombs look more three-dimensional. For extra detail, I use a white gel pen to add a line near the top-right of each honeycomb to make them look glossy.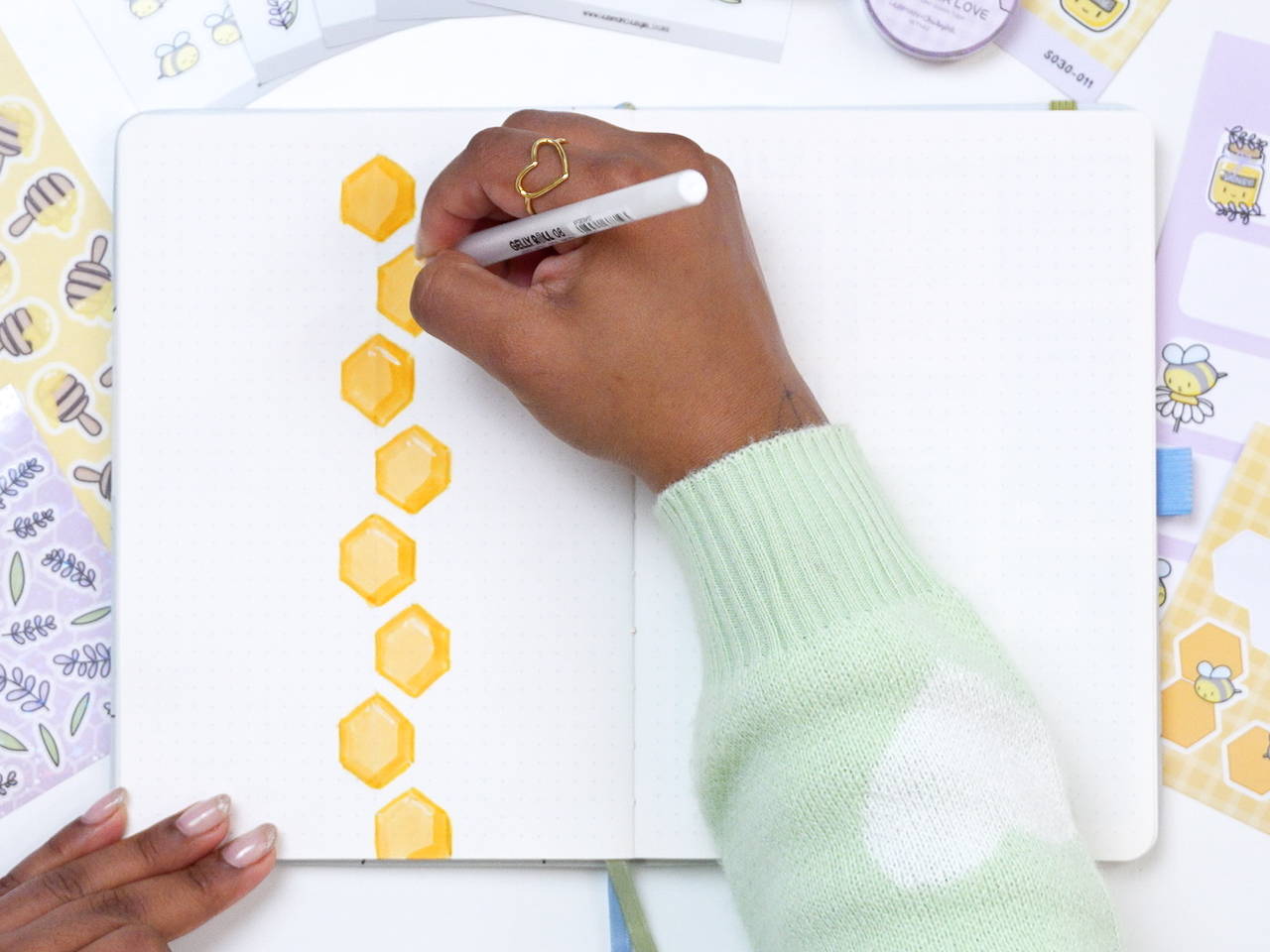 Let's take a pair of scissors and cut the left side of the page off. leaving a little border around the honeycombs. Duplicate the honeycomb design on the other side of the page so that the Dutch Door is identical on both sides.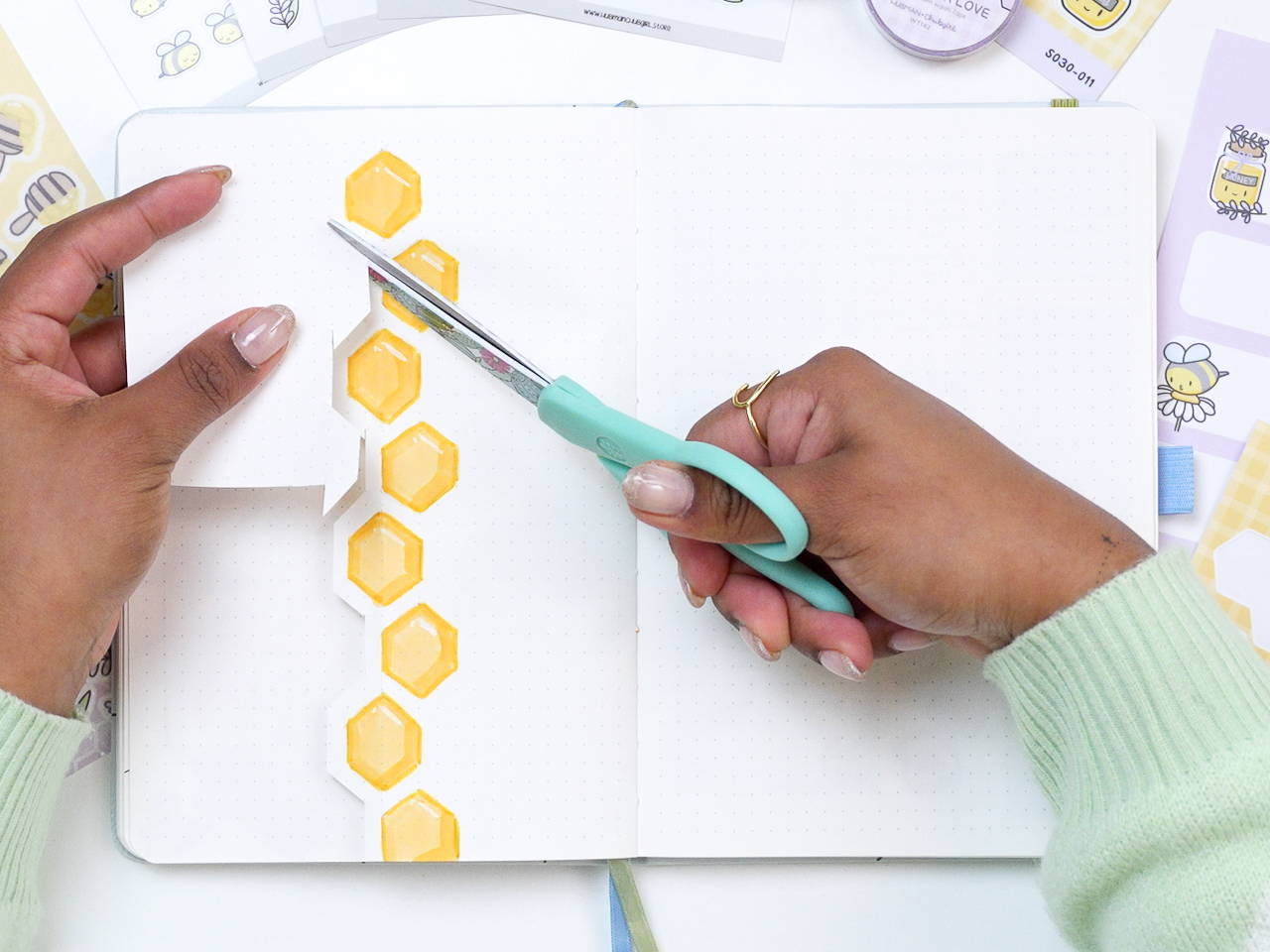 Next, I added some bee stickers to the Dutch door. Since there are two of each bee design on our sticker sheets, I put one on each side of the door.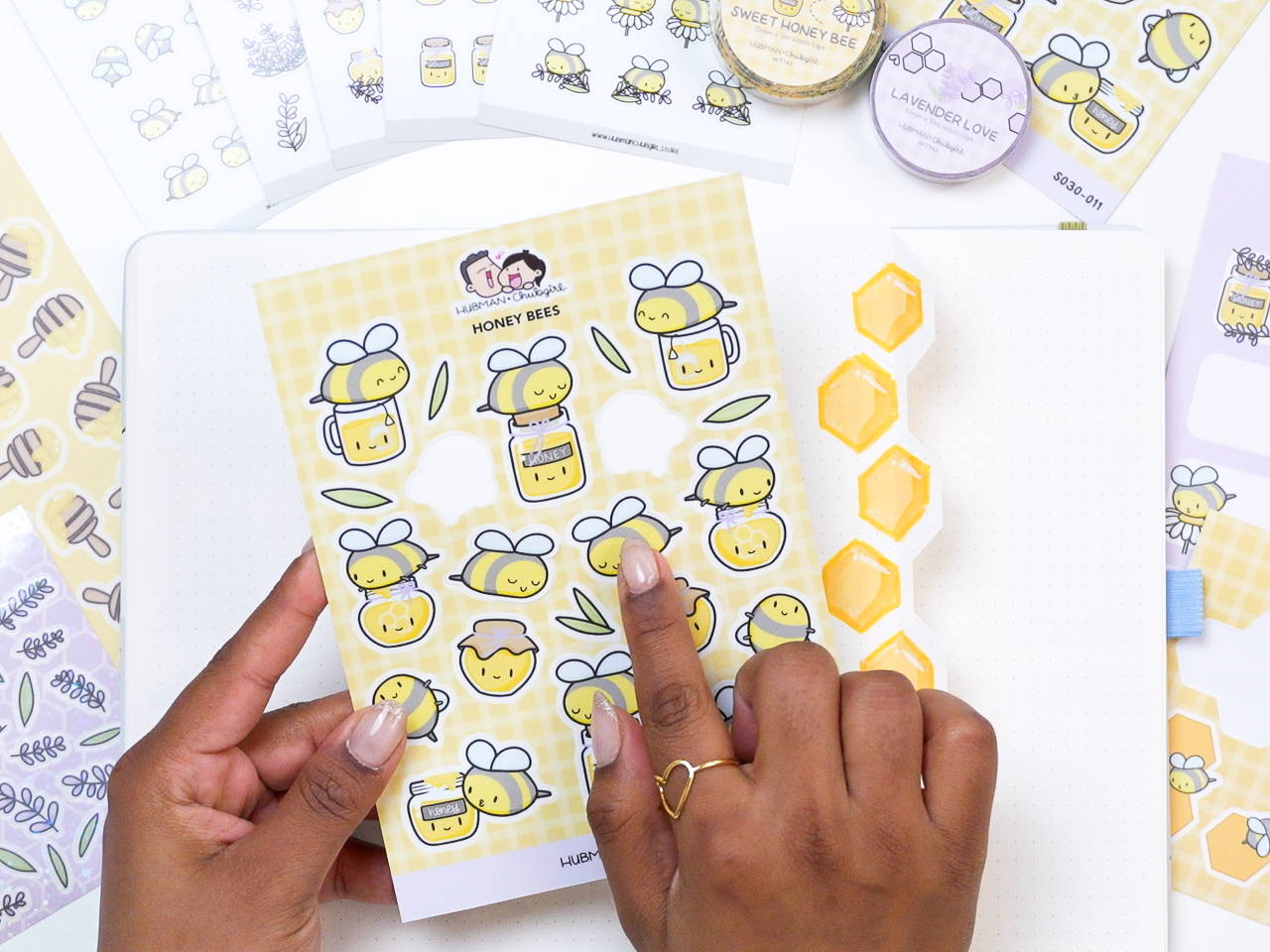 Here's what it should look like on both sides: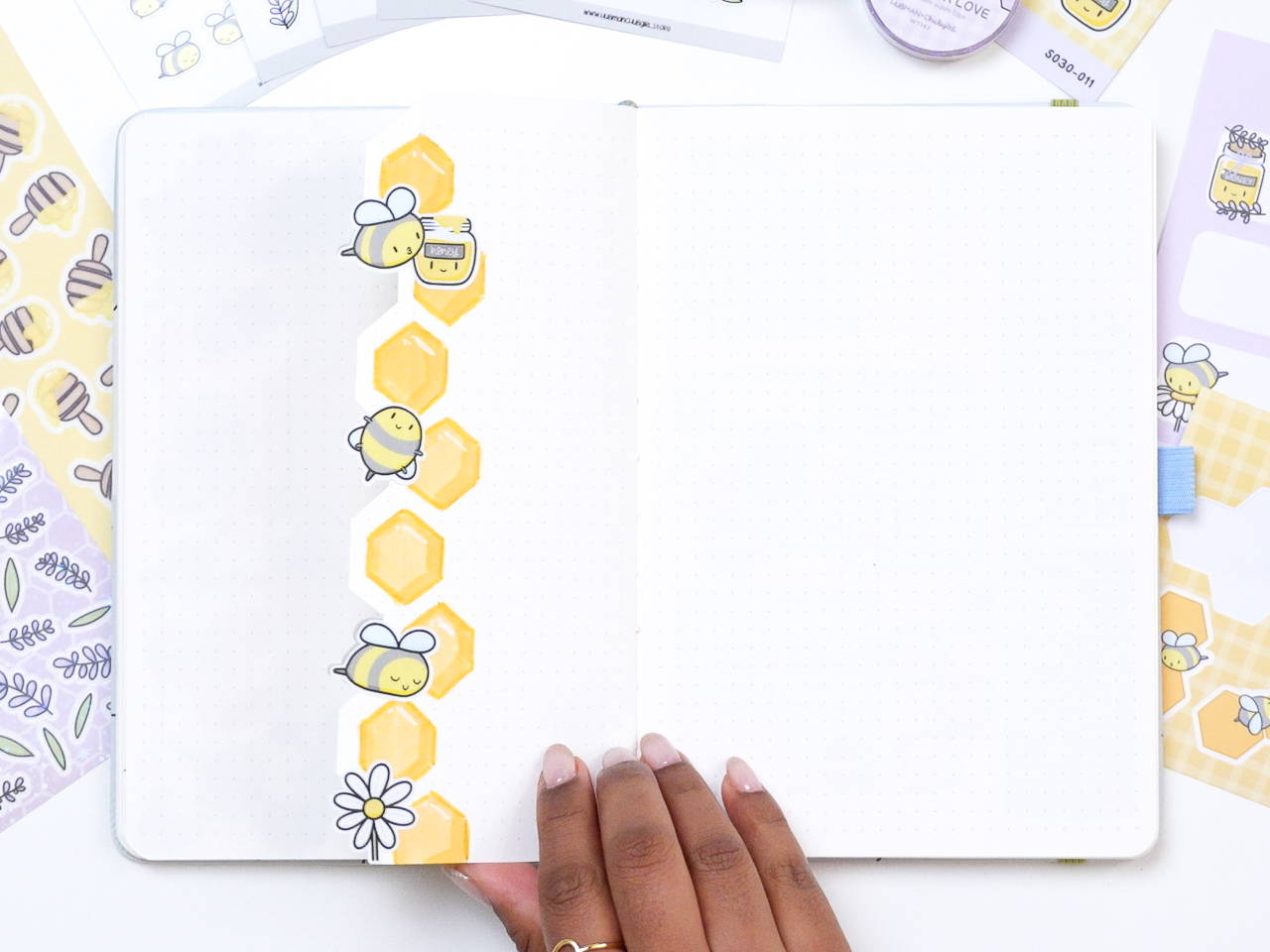 Taking a light purple brush pen, I draw 6 thick lines for each day of the week, combining weekends together. Repeat another 6 lines on the other side of the Dutch Door.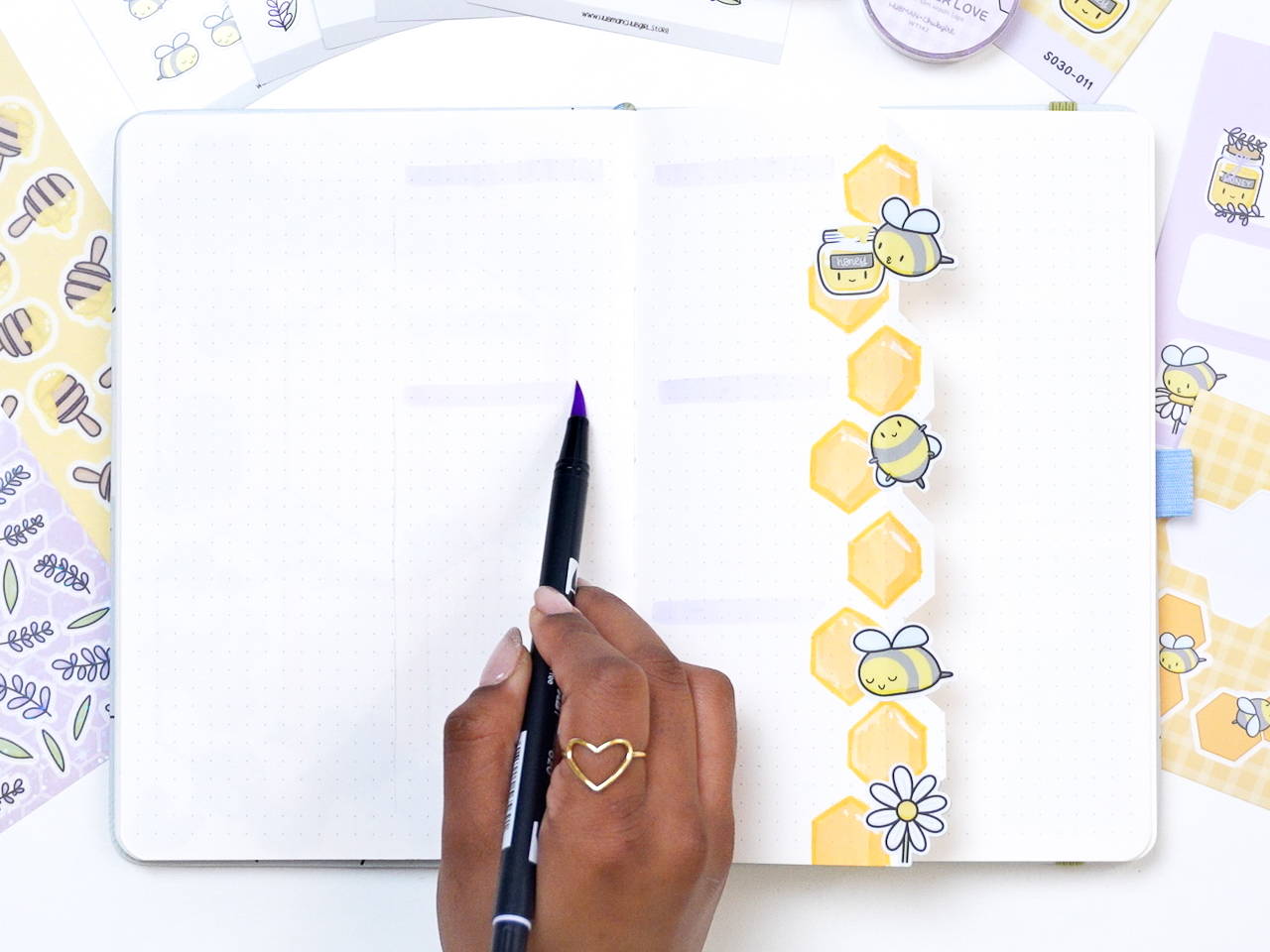 With a black gel pen, I draw some rounded boxes on both the left and right sides of the spread for notes and to-do lists. I used the light purple brush pen to add a thick shadow along the right and bottom of these boxes for more dimension.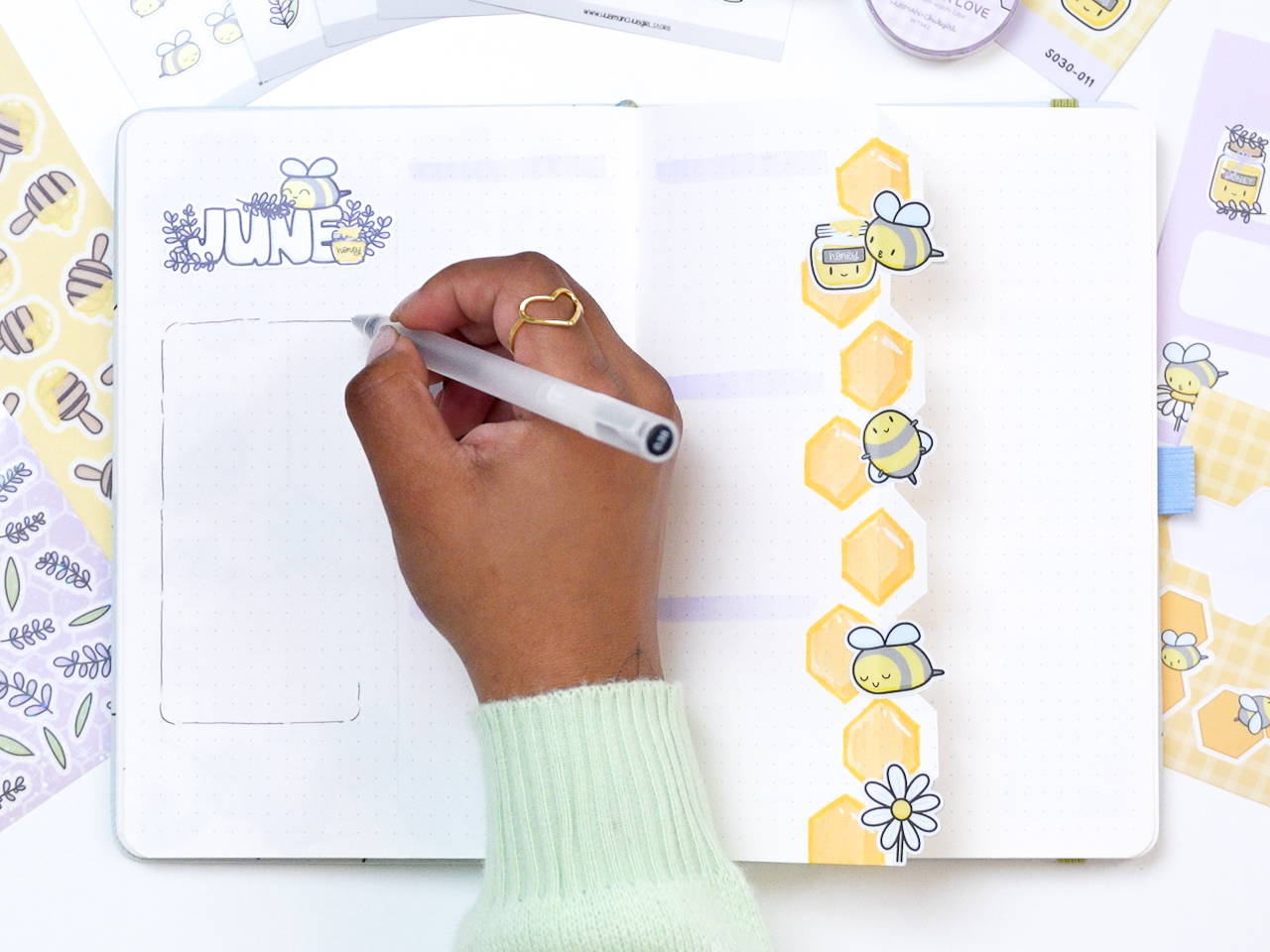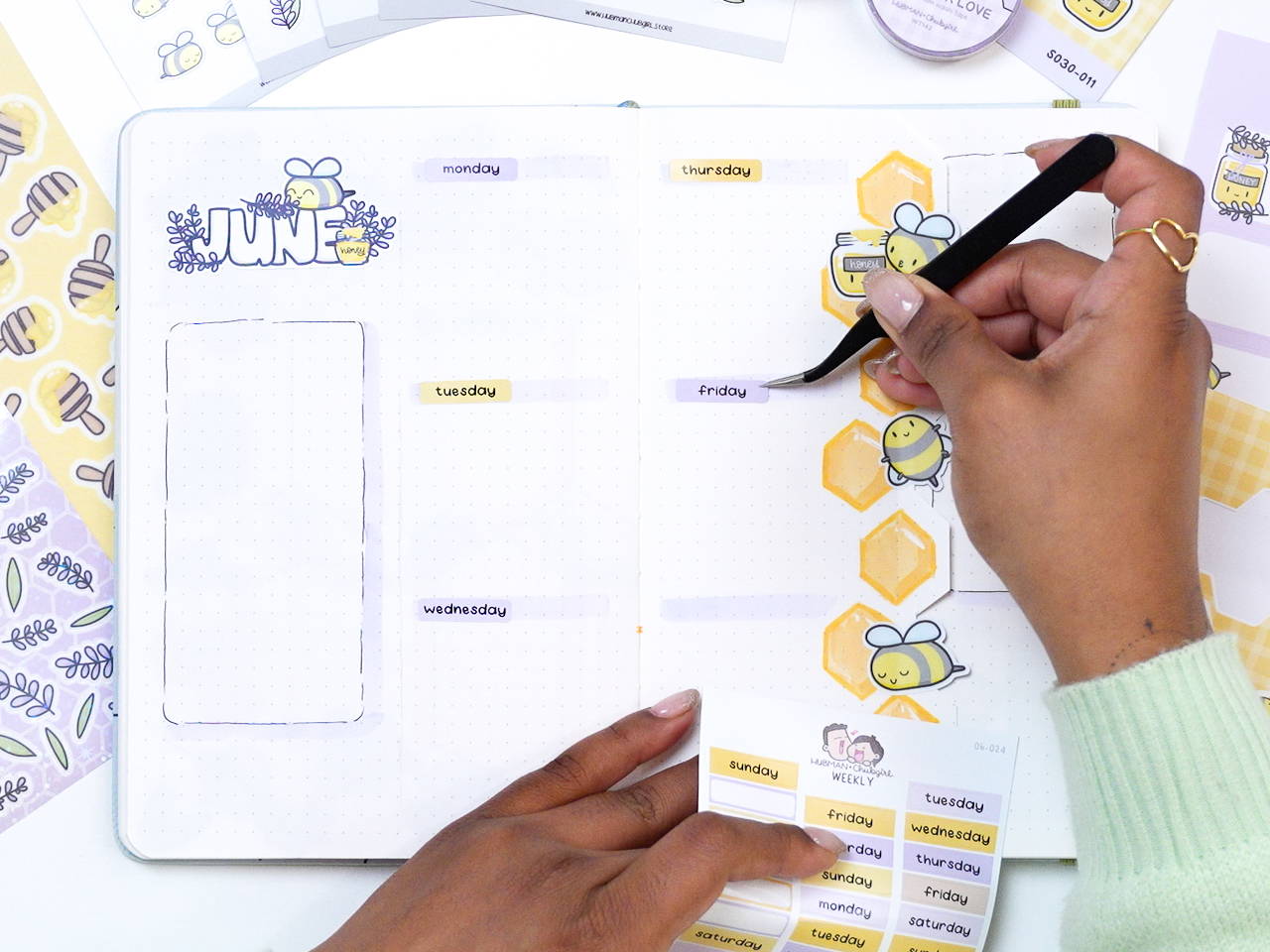 Next, I use stickers from the Honey Lavender Journaling Add-on to add headers and icons for the rounded boxes meant for notes — I created a to-do list, a section for groceries, gratitude, and even shopping!
I decorate this spread by adding a variety of Honey Lavender-themed stickers in different sizes all around the pages. I also lay down a piece of washi tape from this set for some visual fun.
Here's a look at the stickers I added on the other side of the Dutch Door. I finish off this charming spread by using a black gel pen to write "2023" near the June sticker and "WEEKEND" for the combined weekend section on this page.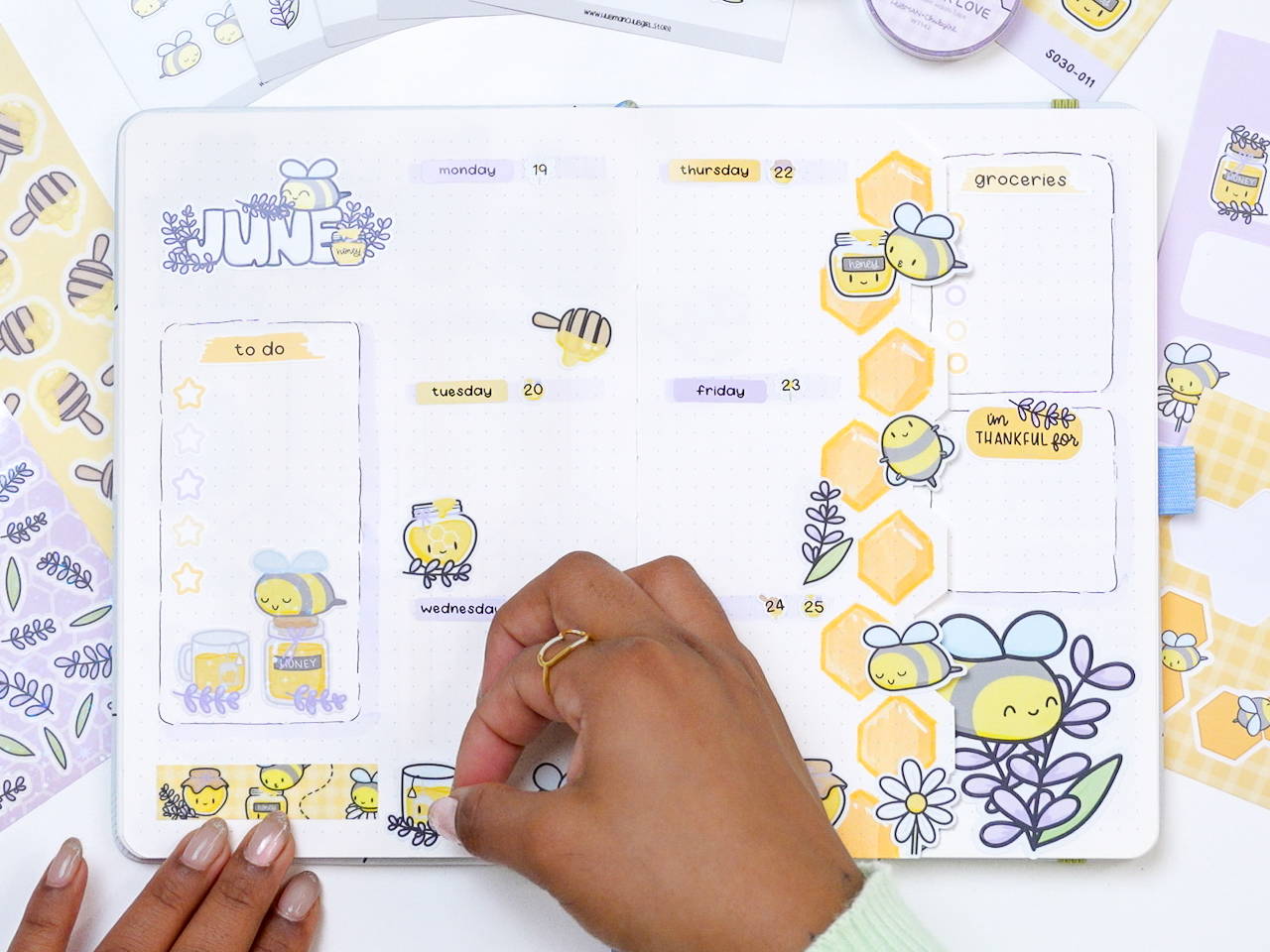 And we're finally done with this extra creative spread! You now have two weeks of the month set up and ready to fill in with all your important tasks. Happy planning!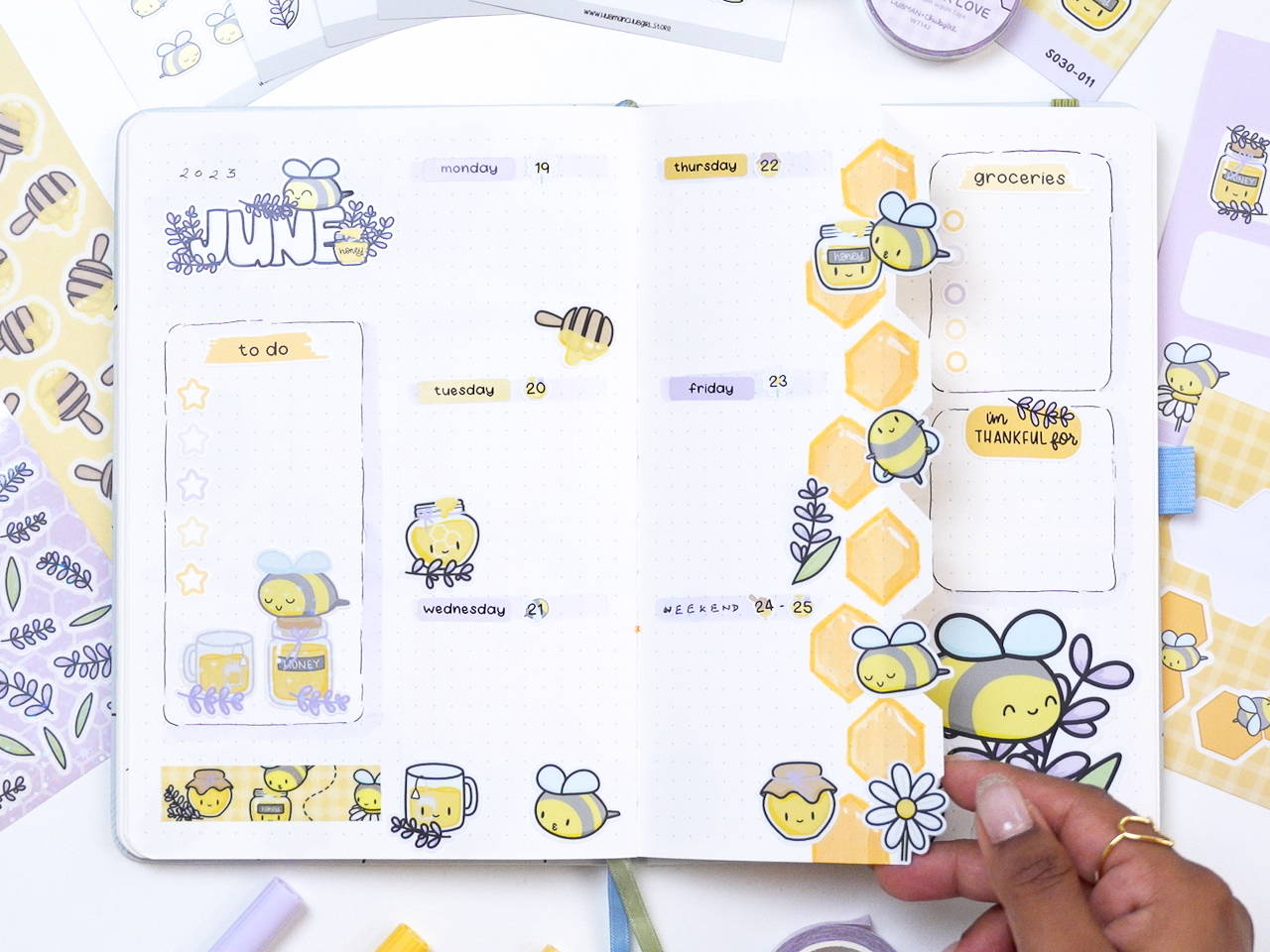 We have added a link to the Honey Lavender Collection to get everything you need to make this spread. Subscribe to our monthly subscriptions to get cute stickers like these mailed to you every month and feel free to come back here for inspiration or tutorials for your spreads! Happy journalling!
Bonus! - Use code JOURNAL and get your Jounrnal Subscription at 10$ for your first month plus you get a free starter journal to kick off with!
We will be posting more tutorials here soon, so follow us on Instagram @hubmanchubgirl.store for updates. Thanks everyone and I hope you find these helpful!
For more inspiration on making spreads and more, click on the link below.
Find everything you need to make this spread and more!