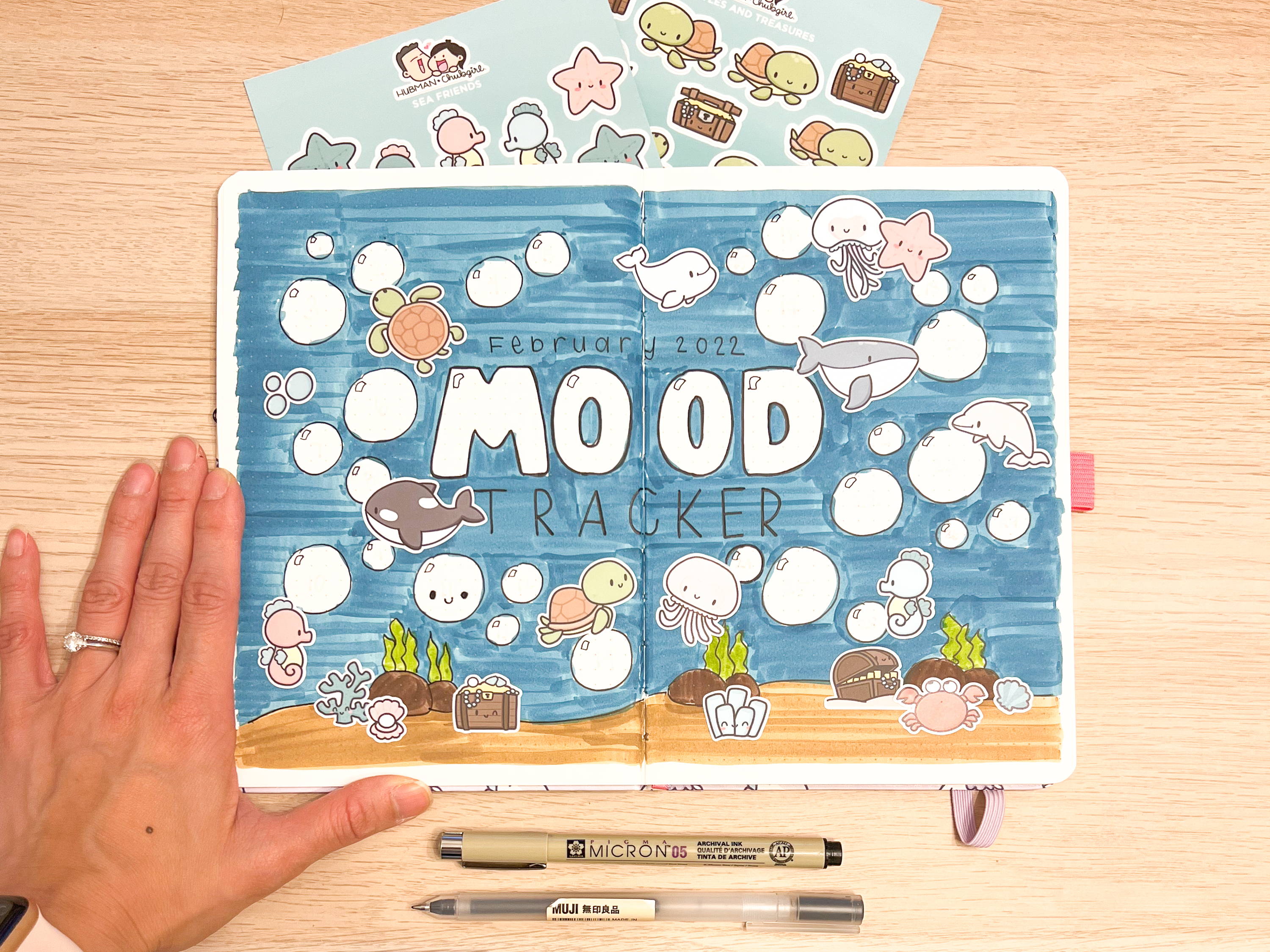 Here is a mood tracker tutorial with Under the Sea theme - Read on to find out how easy it is to set up a journal page with our stickers!
I used a bunch of stuff from the UNDER THE SEA! Collection and here is the list of stationery that I used as well:
Light brown brush pen ( Tombow dual brush pen )
Dark brown brush pen ( Tombow dual brush pen )
Dark blue brush pen ( Tombow dual brush pen )
Green marker ( Crayola )
Black felt tip pen ( Tombow dual brush pen )
3.88mm Miju gel pen
These pens are just a reference, you can use any pens or pencils you have on hand :)
We have added a link to the Under the sea box set below to get everything you need to make this spread. You can also subscribe to our monthly Journal subscription to get cute stickers like these mailed to you every month and you can always come here for inspiration or tutorials for your spreads.
Bonus! - Its only 10$ for your first month plus you get a free starter journal to kick off with!
I started by drawing the sandy floor, which took up roughly 1/6th of the page. I went straight to the pen instead of pencil, but feel free to use the pencil first if you aren't feeling risky! Drawing the stones and seaweed first helped make the floor of the ocean look more dynamic, and you can add wavy lines for the water or even a ray of sunshine!
I used bubbles to track my mood, but you could draw different fish or sea friends for different days as well. February has 28 days, so I divided it equally between the two sides of the page and drew bubbles in different sizes. That's it! All the outlining is done!
Time to color! I used light brown for the floor, dark blue for the sea, dark brown for the stones, and green for the seaweed - leaving the bubbles white.
Next I put stickers in empty spots to fill up the page. To bring the whole thing to life I redid the outlines with a black pen as all the colouring overlapped with the previous outlines. The bubbles and the letters also got little embellishments to make them look as if they were shining.
I used a light grey pen to number the days inside the bubble so it doesn't get in the way of the scenery. Each of the bubbles will get a smiling, sad, or angry face depending on my mood for the day.
Here's to hoping most of your bubbles are happy faces!
We will be posting Under the sea tutorial here soon, follow us on Instagram @hubmanchubgirl.store for updates. Thanks everyone and I hope you find these helpful!
For more under the sea spreads click on the link below :)
Here's everything you need to make the mood tracker and more!