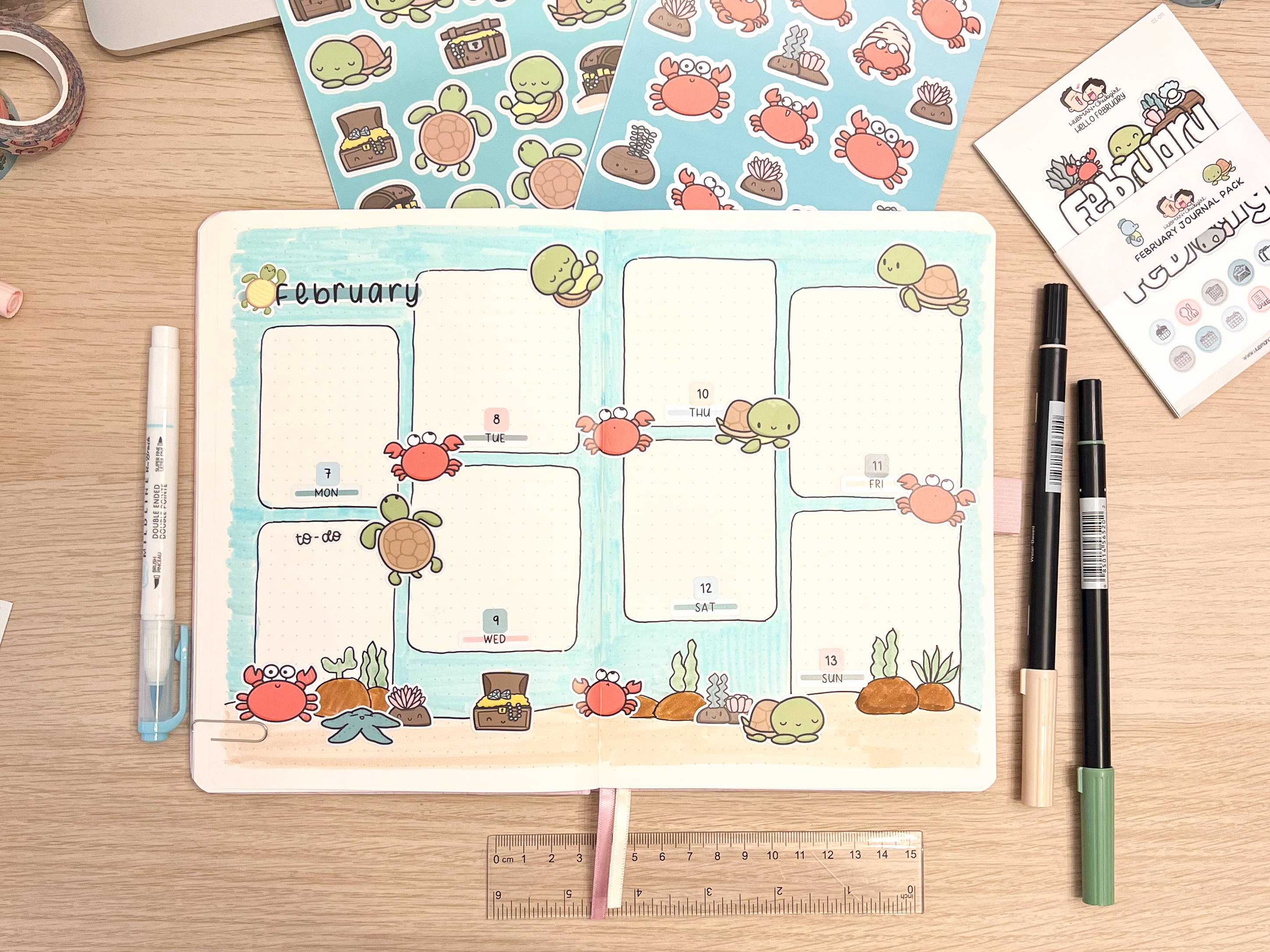 Here is a simple way to make a weekly spread using our Under the sea theme stickers!
I used stickers from our UNDER THE SEA! collection to embelish this spread and here's the list of stationery I used:
Light brown brush pen (Tombow dual brush pen)
Light green brush pen ( Tombow dual brush pen)
Dark brown brush pen ( Tombow dual brush pen)
Light blue dual tip Mildliner
0.50mm Black Gel pen (Pigma Micron 08)
These are just for reference and you can always use any stationery you have on hand :)
Every month we release a new theme and you can get your hands on new goodies as soon as it gets released by subscribing to our JOURNAL SUBSCRIPTION or STICKER SUBSCRIPTION
If you are a new subscriber, you will also get a free starter journal to get kick started on journaling with our tutorials!
For the layout I decided to keep it similar to the other spreads for this month: an under the sea scenery as the background.
To keep things simple I drew the layout freehand. It's okay if it is imperfect, just imagine it to be a part of the design like wavy water! (or just cover any mistakes up with stickers!)
I sectioned the lower 1/6th of the page, and drew rocks and seaweed to make it look like the bottom of the sea.
Then I added the 8 boxes in 4 columns for days of the week and a to-do list. Some of the boxes also go into the sand!
Colours can brighten up a page, set the mood and change the way a spread looks. I went with light colours to keep things bright using a light blue for the water and light brown for the sand. 
Next, using the stickers from the journal pack I added the month, days and dates stickers. Finally, I added my favourite turtles and crabs to accompany me the entire week. 
Voila! All done and set for the week! Few easy steps and the spread is ready!
We hope you find these tutorials useful and we will be posting more of them regularly. Follow us on Instagram @hubmanchubgirl.store for updates.
For more under the sea spreads click on the link below :)
Shop our entire Under the Sea collection here :)