Welcome to the Under the Sea blog tutorial - follow along to learn how to decorate your journal or planner just like mine!
I used everything from our Under the Sea box set and this month's subscription package to make these spreads. I also used:
Light pink brush pen (Tombow dual brush pen)

Light blue brush pen ( Tombow dual brush pen)

Green brush pen ( Tombow dual brush pen)

A ruler
We have added a link to the Under the sea box set below, and you still have time to join our journal subscription (Jan 24th) to receive this month's Under the Sea theme! (Only $10 for your first month!).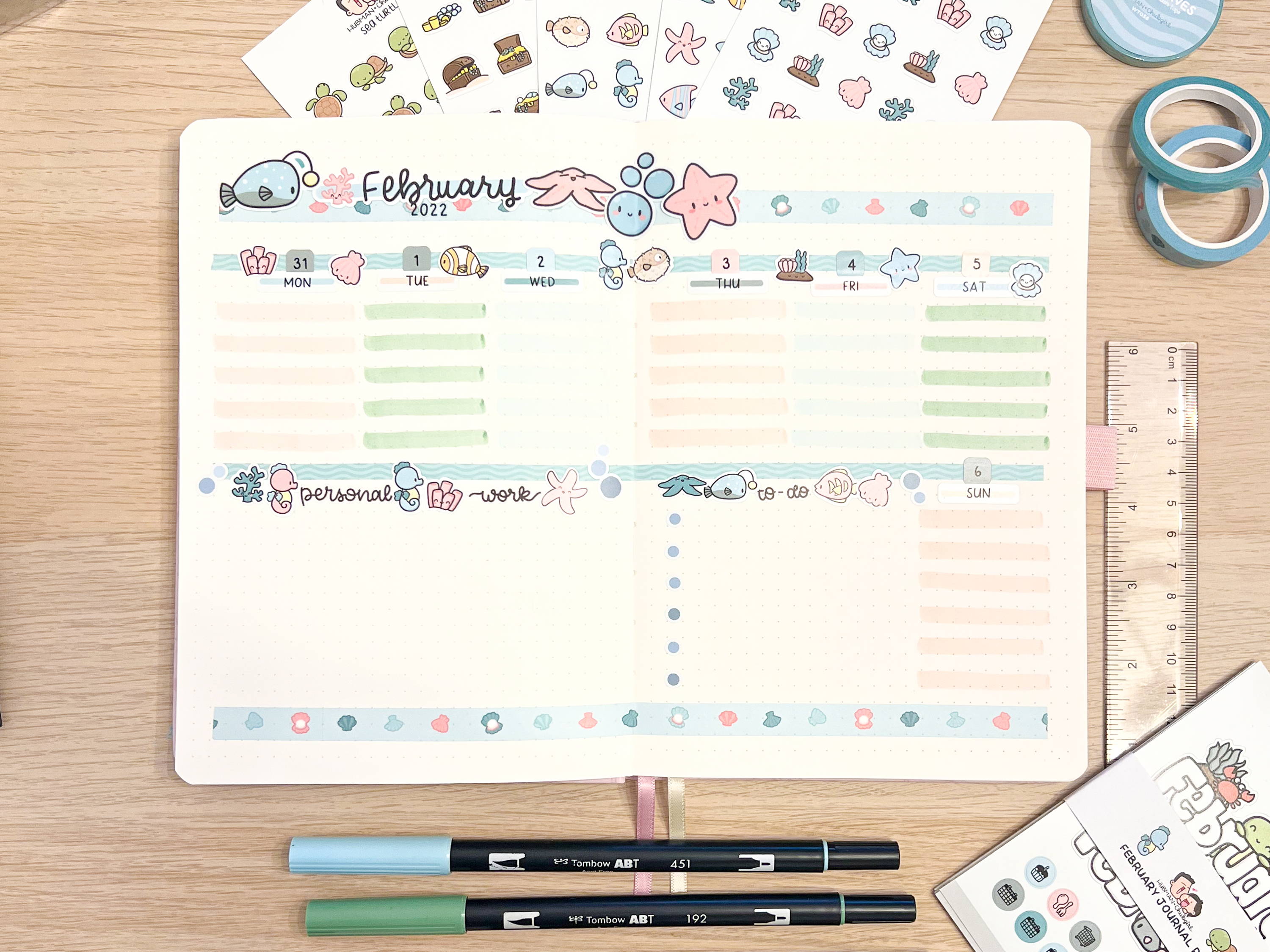 To start the spread I decided which lists I wanted on the page and how to balance that with the space I needed for each day. Those lists are:
To-do list

Personal list

Work list

Agenda for each day
Since my days this week weren't going to be extensive, I gave more space to my lists. I divided the page into two horizontal sections with both the thin and the thick washi tape to make it more dynamic. The top part for the days and the bottom majorly for my lists (see image).
Using the stickers for the monthly titles, dates, days of the week and even list titles are self explanatory: all I had to do was stick it down where I like it!
I prefer my weekends stacked together so I have them on the right side and instead of using harsh black lines to divide the days I opted for pale coloured brush pens to keep up with the theme.
I matched the washi tape colors of light blue and pink as lines on each day to divide the page. I also added a light green as a contrast to brighten up the spread.
Finally all I had to do was add in sea friends like fishes, crabs and seahorses to bring the page to life!
We will be posting more Under the sea tutorials here soon, follow us on Instagram @hubmanchubgirl.store for updates. Thanks everyone and I hope you find these helpful!