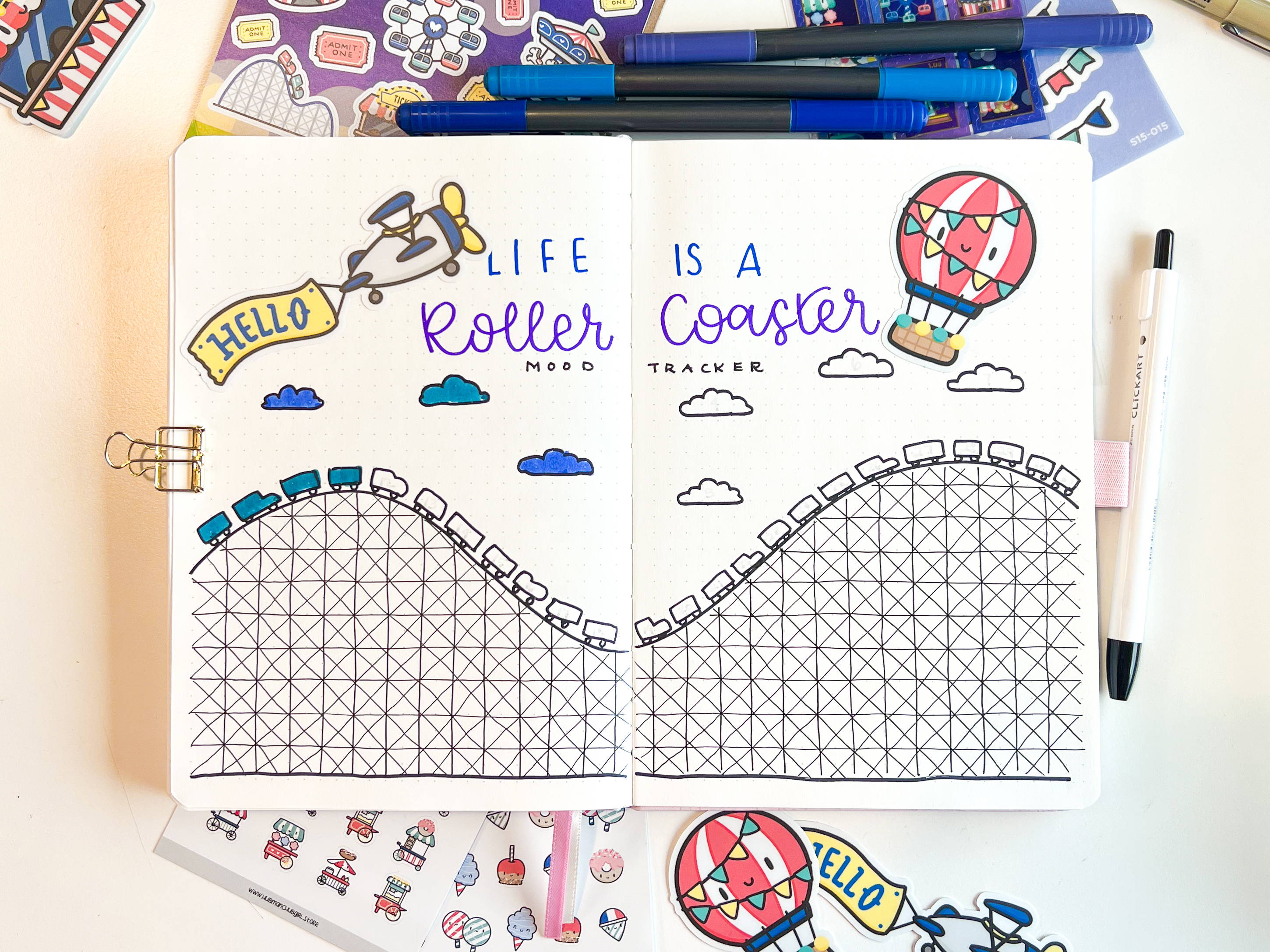 Read on to find out how easy it is to set up this mood tracking using our Midnight Carnival stickers!
I used a bunch of stuff from the Midnight Carnival Collection and along with the following:
Purple marker
Blue marker
Black marker
Light grey marker
0.5mm pen
3.88mm pen
These are just a reference as you can use any pens or colours you like :)
We have added a link to the collection below to get everything you need to make this spread. You can also subscribe to our monthly Journal subscription to get cute stickers like these mailed to you every month and you can always come here for inspiration or tutorials for your spreads.
Bonus! - Its only 10$ for your first month plus you get a free starter journal to kick off with!
Join me as I show you how to set up this roller coaster mood tracker inspired by this thought:

Life is a roller coaster with many ups and downs. But no matter where you are on the path, keep pushing forward and learning. It's your adventure…enjoy the ride! 
Begin by using a black marker to draw a wavy line for the track and a horizontal line for the ground. I'm placing my track around the middle but it could go from corner to corner or even loop around! You can get super creative with this!
Next is the time consuming part - drawing the supports for the track: draw vertical and horizontal lines with a 0.5 mm pen and the diagonals with a 0.38 mm pen. Don't worry if all the lines are imperfect. In the end everything comes together quite well and the track is all done! 
The little carts are used to track my moods and they can any shapes or sizes, it's totally up to you! I couldn't fit all 31 days using the carts so I'm also adding a few clouds for the rest of the days.
You can write 'life is a roller coaster' or any relevant saying in your life at the top of the spread! Finish the spread by colouring it in and you're done!
We will be posting more tutorials here soon, follow us on Instagram @hubmanchubgirl.store for updates. Thanks everyone and I hope you find these helpful!
For more inspiration click on the link below :)
Here's everything you need to make the mood tracker and more!