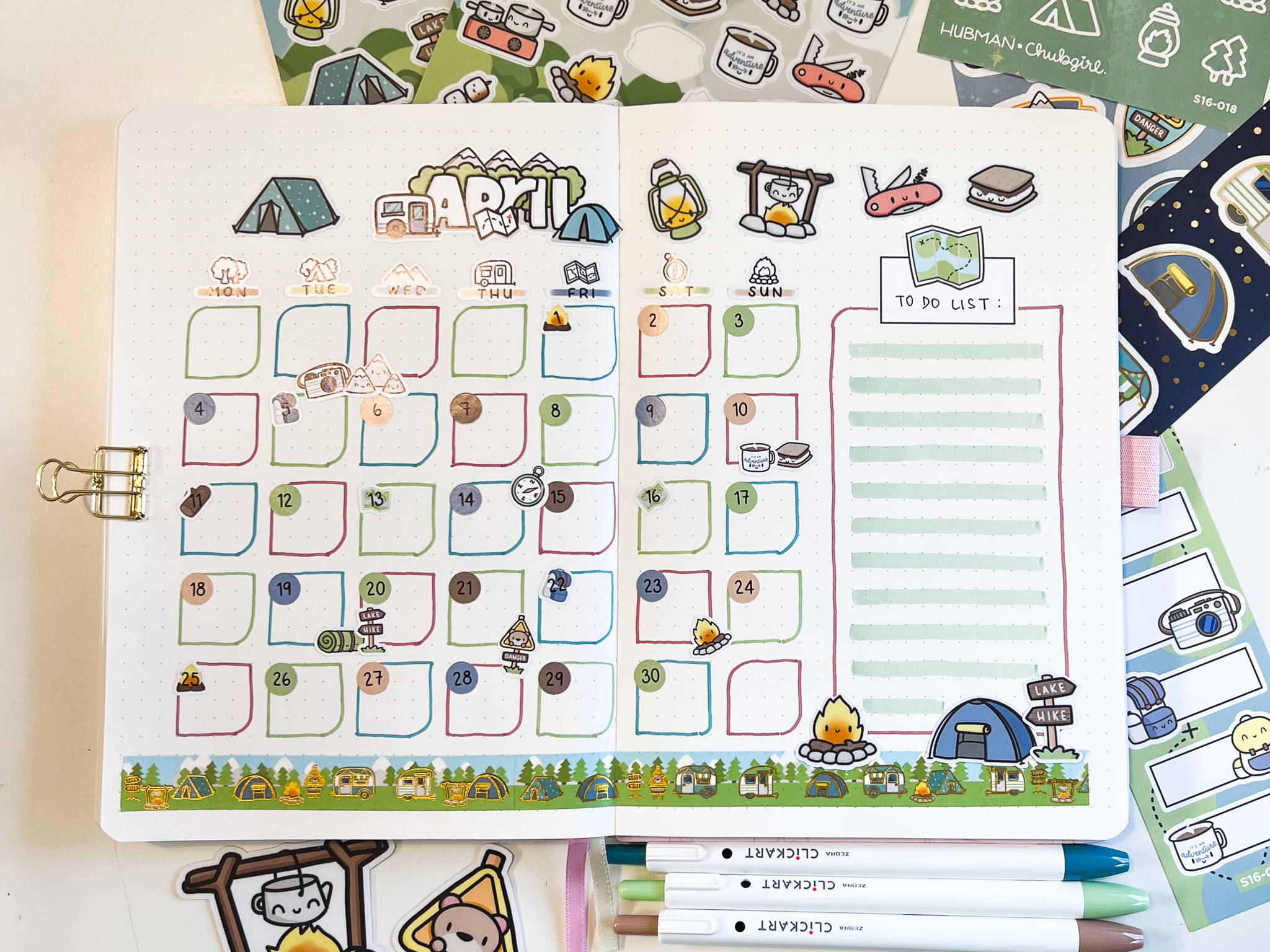 Here is a monthly spread tutorial with our Happy Camper theme - Read on to find out how easy it is to set up a journal page with our stickers!
I used stickers from the Happy Camper colection to make this spread and here is the list of stationery I used as well:
Green marker ( Zebra clickart )
Blue marker ( Zebra clickart )
Brown marker ( Zebra clickart )
3.88mm Miju gel pen
These pens are just a reference, you can use any pens or pencils you have on hand :)
We have added a link to the Happy Camper collection below to get everything you need to make this spread. You can also subscribe to our monthly Journal subscription to get cute stickers like these mailed to you every month and you can always come here for inspiration or tutorials for your spreads.
Bonus! - Its only 10$ for your first month plus you get a free starter journal to kick off with!
This simple and fun layout takes 30 minutes or less to make!
I used Zebra clickart markers in green, blue and brown. They are very smooth to draw with and don't bleed through the page.
Let's get started with the most important part of the page - the grid. Draw 4 x 4 boxes in alternating colours, and curved edges to make it fun and different. You can do this freehand following the dots on the page or you can use a ruler to be precise.
Don't forget to leave some space on the right to draw a big box for lists. You can write down notes or reminders here but I'm making mine a to-do list because I have so much to do this month!
Next, it's time to add the days of the week, dates and the name of the month. You can do this using the journaling stickers as they are all pre-made for you or you can write them out if you prefer.
For the list I'm using stickers from the variety pack to write the title, but feel free to use any stickers that you like for this part. Then, draw guidelines for each task using a brush pen. Make sure the colour for the lines are a pale shade if you want to write on it with a black pen. If you want to use dark colours - use a white pen.
To bring the spread together - line the bottom of the page with gold foil Washi tape and add some stickers of your choice at the top. If you see any imperfections on the grid, cover them up using the planner stickers as they are smaller and add extra stickers to any empty spots on the spread.
That's it you're all done!
We will be posting more tutorials here soon, follow us on Instagram @hubmanchubgirl.store for updates. Thanks everyone and I hope you find these helpful!
For more inspiration to make spreads click on the link below :)
Here's everything you need to make the mood tracker and more!