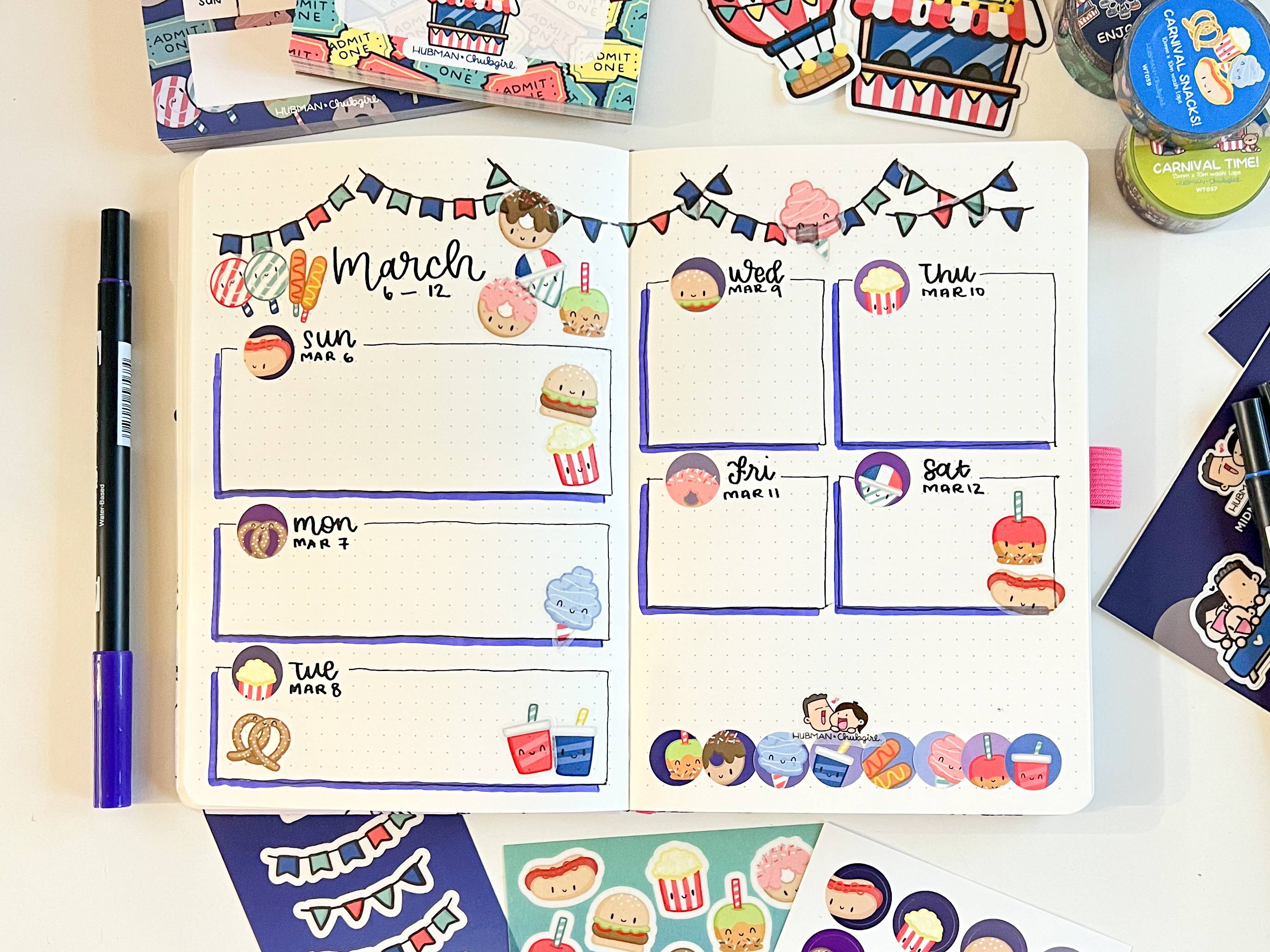 Here is a weekly spread with our Midnight Carnival Collection! Read on to find out how to set up this spread!
I used a bunch of stuff from the Midnight Carnival Collection to decoreate the page and here is the list of stationery that I used:
Purple brush pen ( Tombow dual brush / fine tip pen )
Black fine tip pen ( Tombow dual brush / fine tip pen )
Black brush pen (Tombow)
You can use any pens or pencils you have in any colours you prefer :)
We have added a link to the Midnight Carnival collection below to get everything you need to make this spread. You can also subscribe to our monthly Journal subscription to get cute stickers like these mailed to you every month and you can hop on here for inspiration!
Bonus! - Its only 10$ for your first month plus you get a free starter journal to kick off with!
This weekly spread takes 20 minutes or less to set up and is super simple to make, especially if you are short on time!
I'm starting off by writing the name of the month and week on the left side of the spread. I used brush lettering here, but you can use stencils or your own handwriting to keep it authentic. Next I'm decorating across the top using the washi banner stickers to make the page look fun and inviting. 
Moving on, I divided the spread into 3 days on the left and 4 days on the right, separating them in boxes. For each day I am also using a food sticker which is going to be my treat for the day!
To make the boxes stand out a little bit more I'm adding a shadow with a purple brush pen - and that's it! The layout is all done and it's going to be a very yummy week because of all these food stickers!
Since there is a lot of space on the bottom right, I'm lining it up with a row of stickers, adding some in the boxes and any emply spots.
Voila! All done!
Hope you enjoy making this simple spread and have fun with all the stickers! 
Follow us on Instagram @hubmanchubgirl.store for updates. Thanks everyone and I hope you find these helpful!
For more inspiration click on the link below :)
Here's everything you need to make this weekly spread and more!