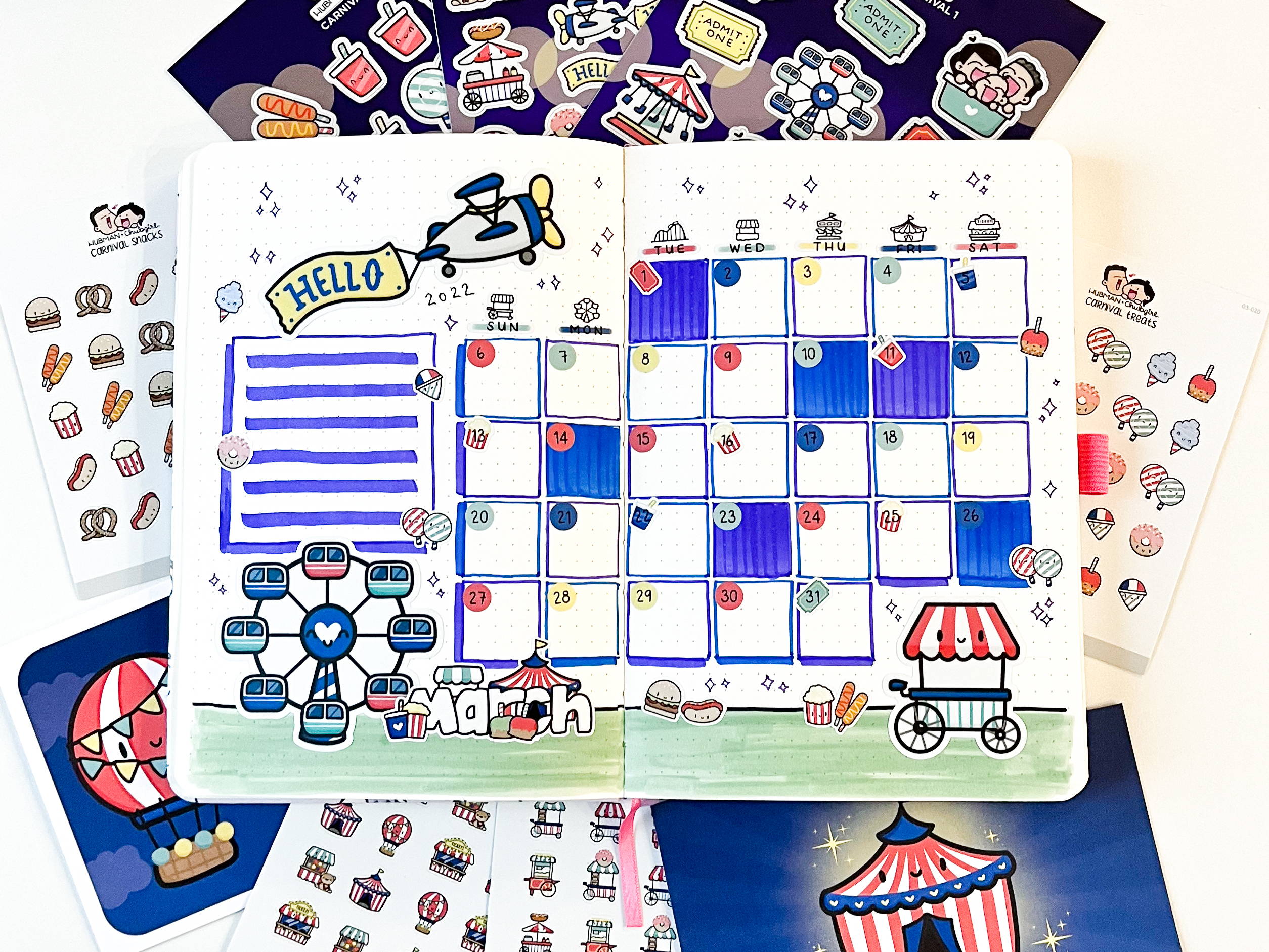 Here is a monthly spread with our Midnight Carnival theme! Read on to find out how to set it up!
I used a bunch of stuff from the Midnight Carnival collection and the stationery listed below:
Dark blue pen ( Tombow dual brush / fine tip pen )
Purple pen ( Tombow dual brush / fine tip pen )
Light green pen ( Tombow dual brush / fine tip pen )
Purple fine tip pen ( Zebra Sarasa Fineliner )
Blue fine tip pen ( Zebra Sarasa Fineliner )
Black felt tip pen ( Tombow dual brush pen )
3.88mm Miju gel pen
You can also use any pens or pencils you have on hand, while these are just for reference :)
We have added a link to the Midnight Carnival box set below to get everything you need to make this spread or can subscribe to our monthly Journal subscription to get cute stickers mailed to you every month.
Bonus! - Its only 10$ for your first month plus you get a free starter journal to kick off with!
Making a scenery background for my spreads is so much fun, especially with these cute stickers to bring it to life!
This monthly layout is going to be part of a very special carnival surrounded by food and fun rides!
To start off I marked out where the major elements of the spread were going to be placed using a pencil - like the grid, to do list and the ground. Next I chose the colours for my spread and settled on blue, purple and green to keep with the theme.
Diving right in I used the blue and purple fine tip pens for alternate grids. Each grid is 5x5 in size with a little space in between. For the ground I used a light green brush pen and lined it with a black marker to make it look more defined. Next, I used purple for the to-do list and the outlines are all done!
To add more 'pop' to the page I coloured in some of the grids and added a shadow to the ones at the sides. You can also colour some important dates or events but I went at random. Since the colour is dark you can use a white pen to write on it and black for the rest of the grids. 
I'm using the big die cut stickers on this spread to make them stand out from the smaller ones like the dates and days stickers in the journal pack. 
To complete the spread I'm drawing these little sparkles all over the page to represent stars. You can also make this spread on a dark background, that way it's truly a Midnight Carnival!
Follow us on Instagram @hubmanchubgirl.store for updates. Thanks everyone and I hope you find these helpful!
For more tutorials click on the link below :)
Here's everything you need to make this spread and more!