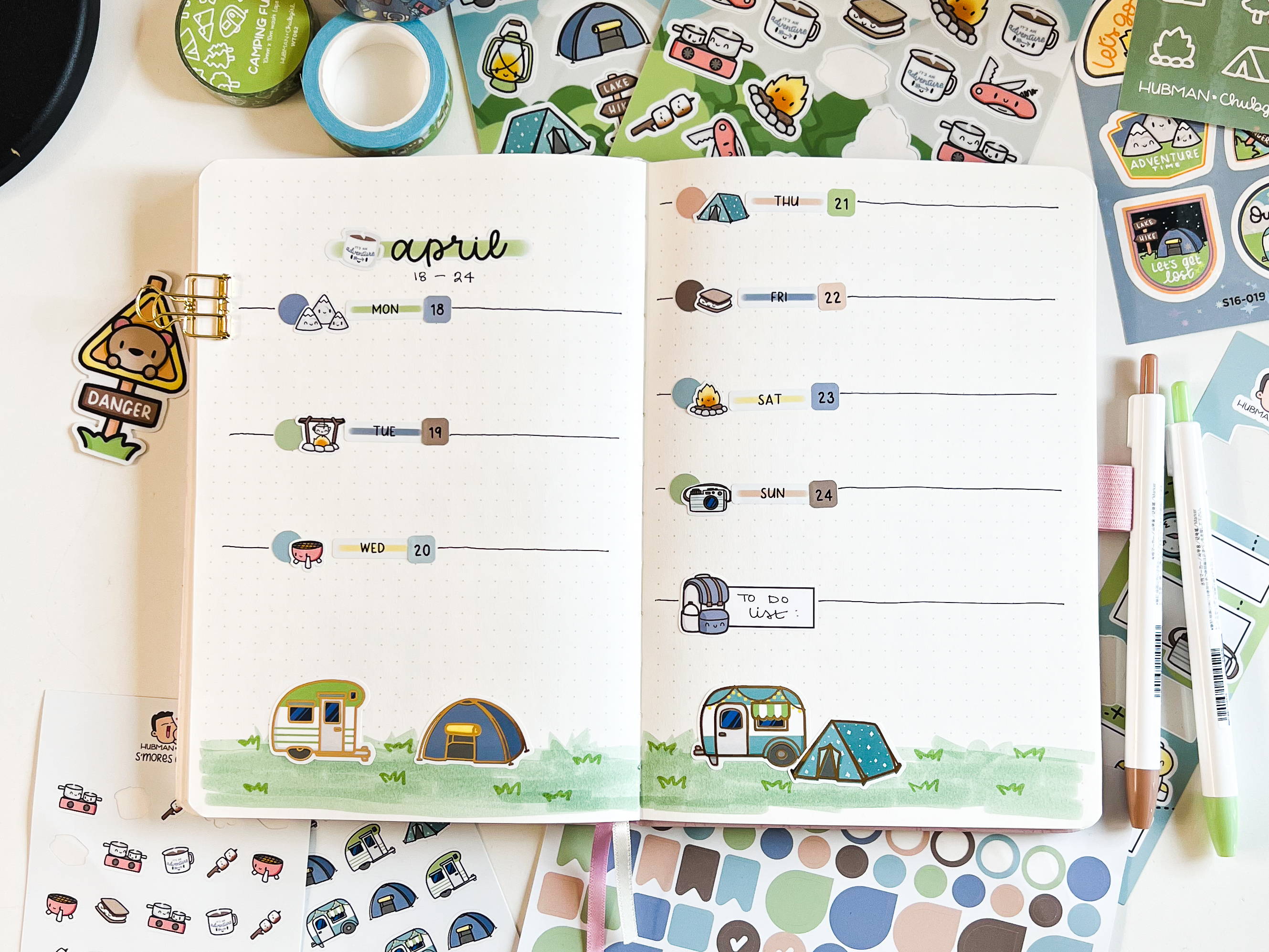 Here is a weekly spread tutorial with the Happy Camper theme - Read on to find out how easy it is to set up a journal page with our stickers!
Light green brush pen ( Tombow dual brush pen )
Dark green marker ( Clickart )
Black felt tip pen ( Tombow dual brush pen )
3.88mm Muji gel pen
These materials are just a reference, feel free to use what you have on hand :)
We have added a link to the Happy Camper Collection below to get everything you need to make this spread. If you enjoyed these cute stickers used in this spread, check out our monthly journal or sticker subscription to have adorable stationery and more mailed to you every month! Inspiration and tutorials will be provided here every month, so come back and check out what we have in store for next month's theme!
Bonus! - Don't forget that it's only 10$ for your first month AND you get a free starter journal to kick off with! :)
Let's set up an easy and functional spread for April!
Start off by outlining and then colouring in some grass at the bottom of the page. Adding in jagged lines to the top of the grassy area to make it look more dynamic and less flat.
I added the camper and tent stickers to make it look like I had some camping companions for the week :) You can also use a dark green marker to add extra jagged lines throughout to add some dimension to the grass. If you have extra time, feel free to add some flowers and rocks for decoration in this area!
Voila! Our simple scenery is all done! How quick and cute is that?
Leaving some space at the top left corner of the spread for the monthly title, draw straight lines with a black marker to divide the rest of the page into 7 sections for each day of the week, and any additional sections you would like to add.
I arranged it so that there were 3 days on the left, while there were 4 days on the right along with a to-do list at the bottom, but feel free to arrange these to suit your needs.
Using the journal pack for the days, dates and monthly stickers, the days were added into each section and then decorated the rest of the spread.
...And that's it we're all done!
We will be posting another Happy Camper tutorial here soon, so follow us on Instagram @hubmanchubgirl.store for updates. Thanks everyone and I hope you find these helpful!
For more Happy Camper spreads click on the link below :)
Here's everything you need to make the weekly spread and more!