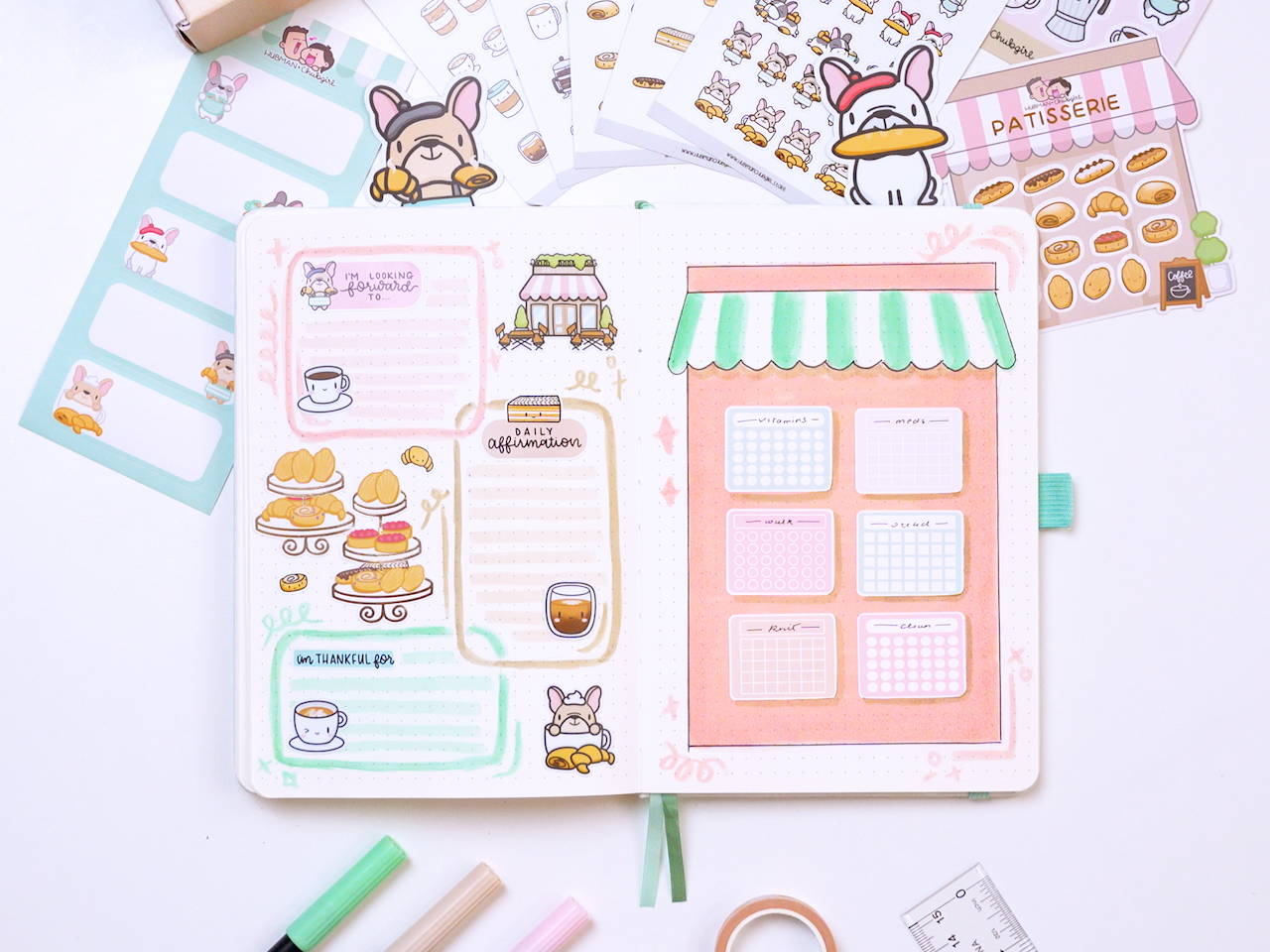 Here is a tracker tutorial with our Parisan Cafe theme - Read on to find out how easy it is to set up a journal page with our stickers!
Pink brush pen (Tombow dual brush pen)

Light orange brush pen (Tombow dual brush pen)

Light green brush pen (Tombow dual brush pen)

Light brown brush pen (Tombow dual brush pen)

Staedtler HB pencil

Thin black marker

Muji gel pen
These materials were what I used for reference, but you may use any supplies you have on hand :)
Bring along these adorable Frenchies on a cafe date in this journal spread designed to help you track important habits and view your progress throughout the month. With additional space to write daily affirmations and goals, this organized layout will guide you to apprieciate the little things in your life. Let's get started!
Begin by sketching three rounded boxes on the left page using the dot grid as a guide. These will be used for little notes so make sure they're big enough to write a few lines in. On the right page, I draw one big box and add a hanging roof design at the top. Doesn't it look like the entrance of a cute cafe already?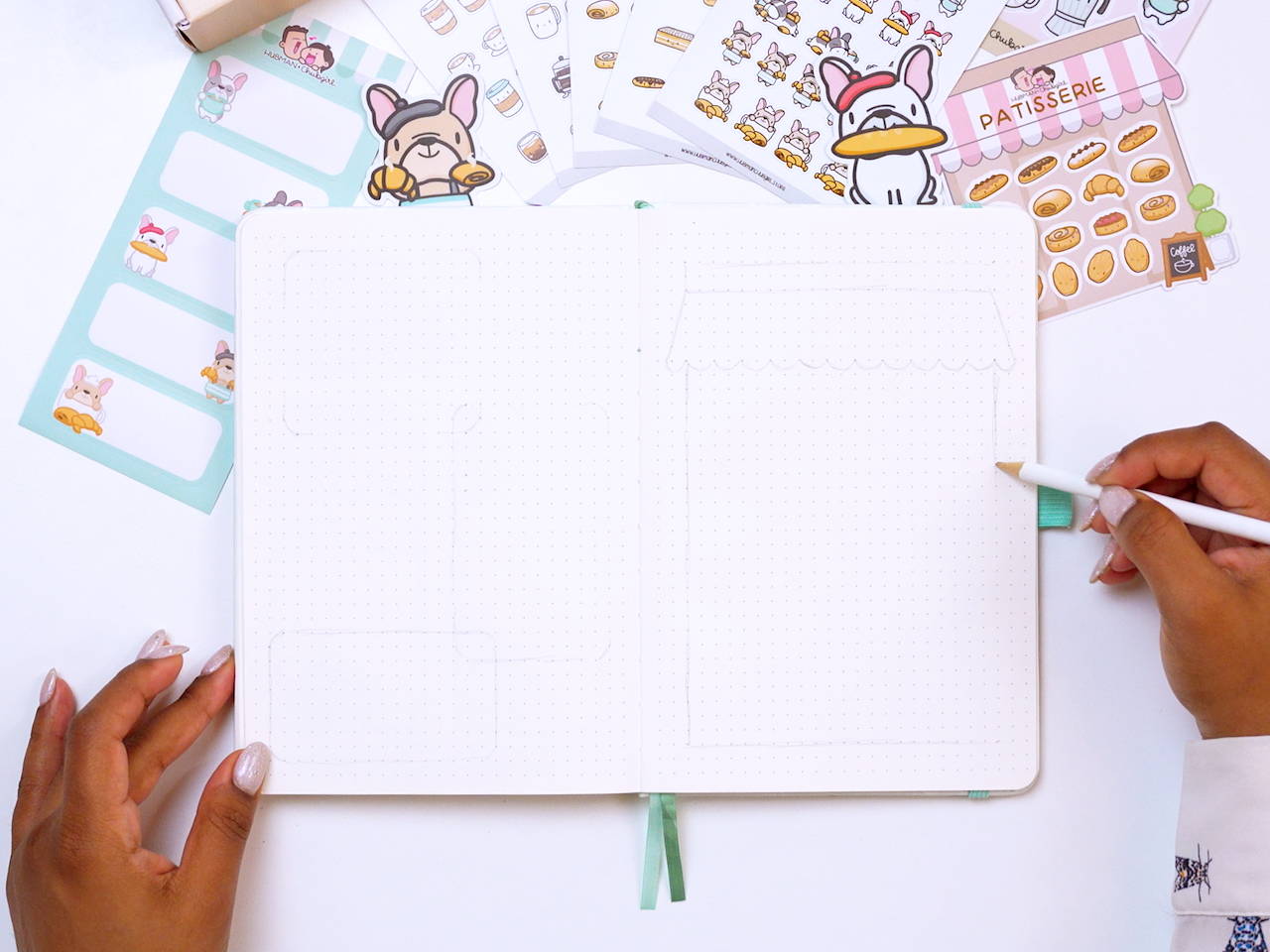 Next, I fill in the big box with a light orange brush pen. I go over it a few times to give the color more intensity.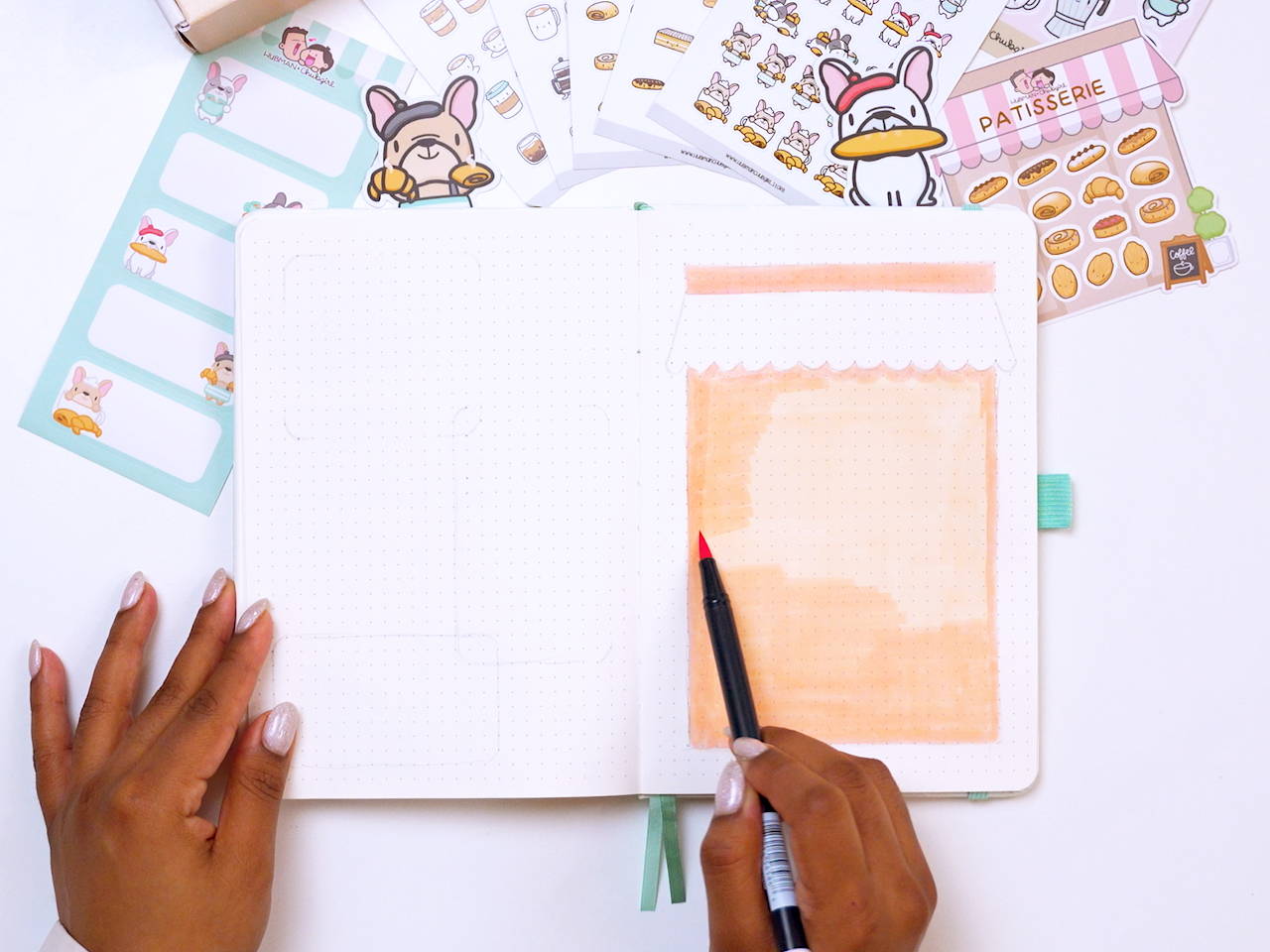 With a light green brush pen, I fill in parts of the roof to make a stripey pattern. Adding some outlines around the shapes with a thin black marker enhances the overall look!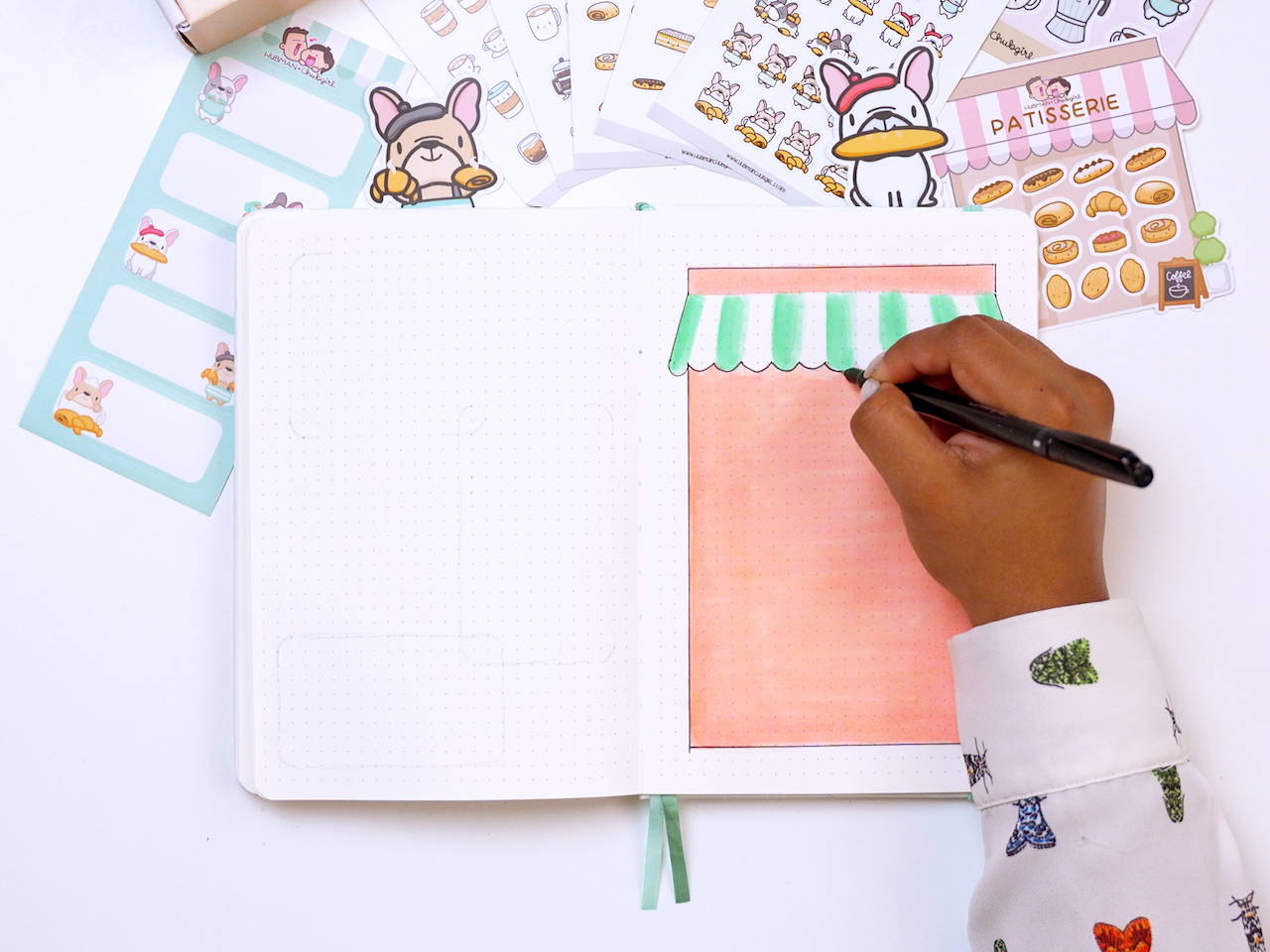 Taking pink, light brown, and light green brush pens, I draw out the rounded boxes on the left page by tracing the sketch lines I made earlier. Like before, go over with the brush pens a few times to intensify the color to really bring out the shape. Sprinkle a few doodles of squiggly lines and sparkles around both pages to add a whimsical look to the spread.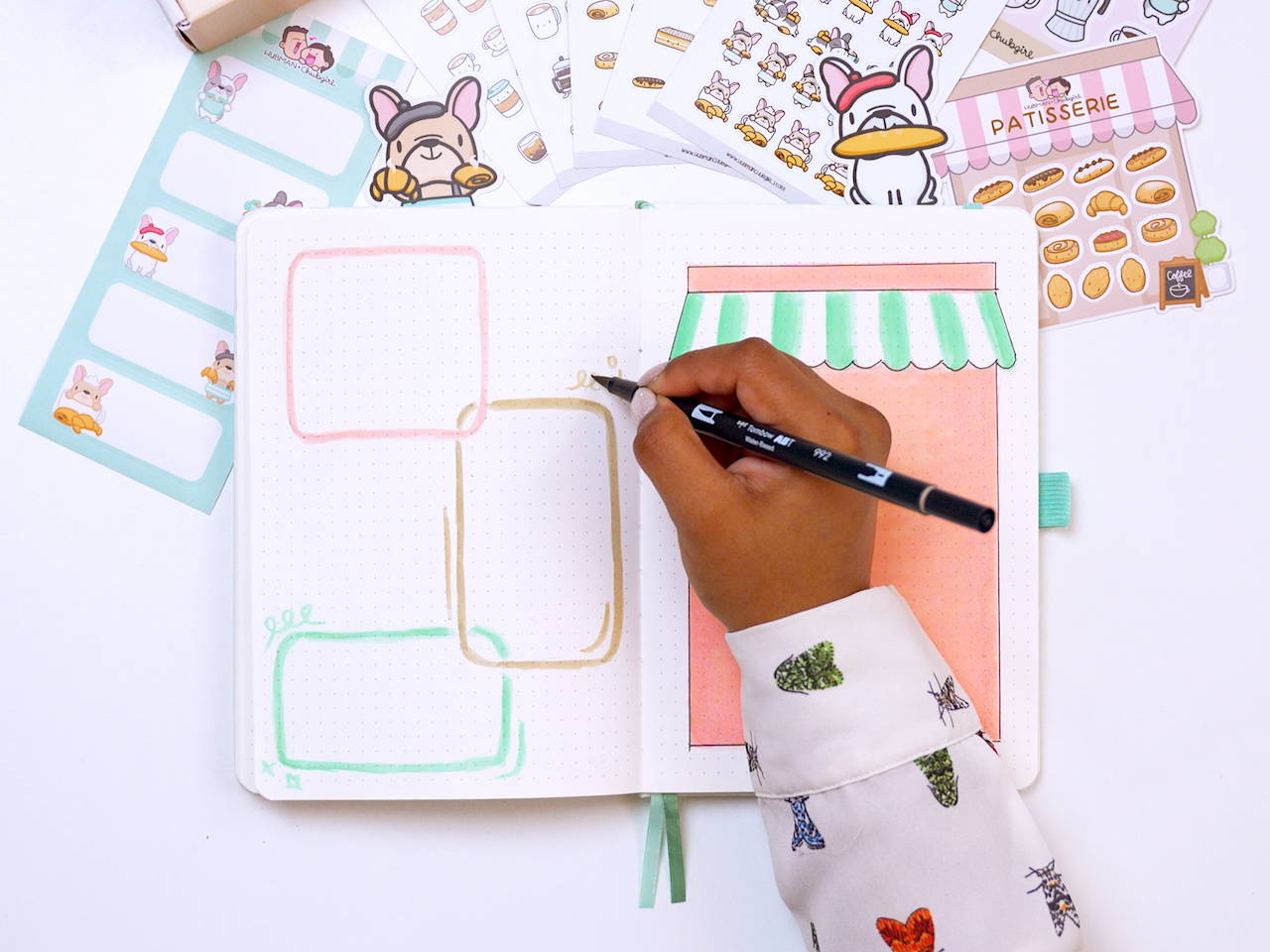 It's sticker time!
I used this gratitude sticker sheet for the headers in our boxes on the left and these monthly habit trackers on the right page. They come in colours that perfectly match this Parisian Cafe theme, making it super easy to create visually appealing spreads like this one! I fill the remaining blank space with cute decorative stickers.
Taking the light brown brush pen again, I add shadow details to the underside of the roof and around the tracker stickers to make them look like windows!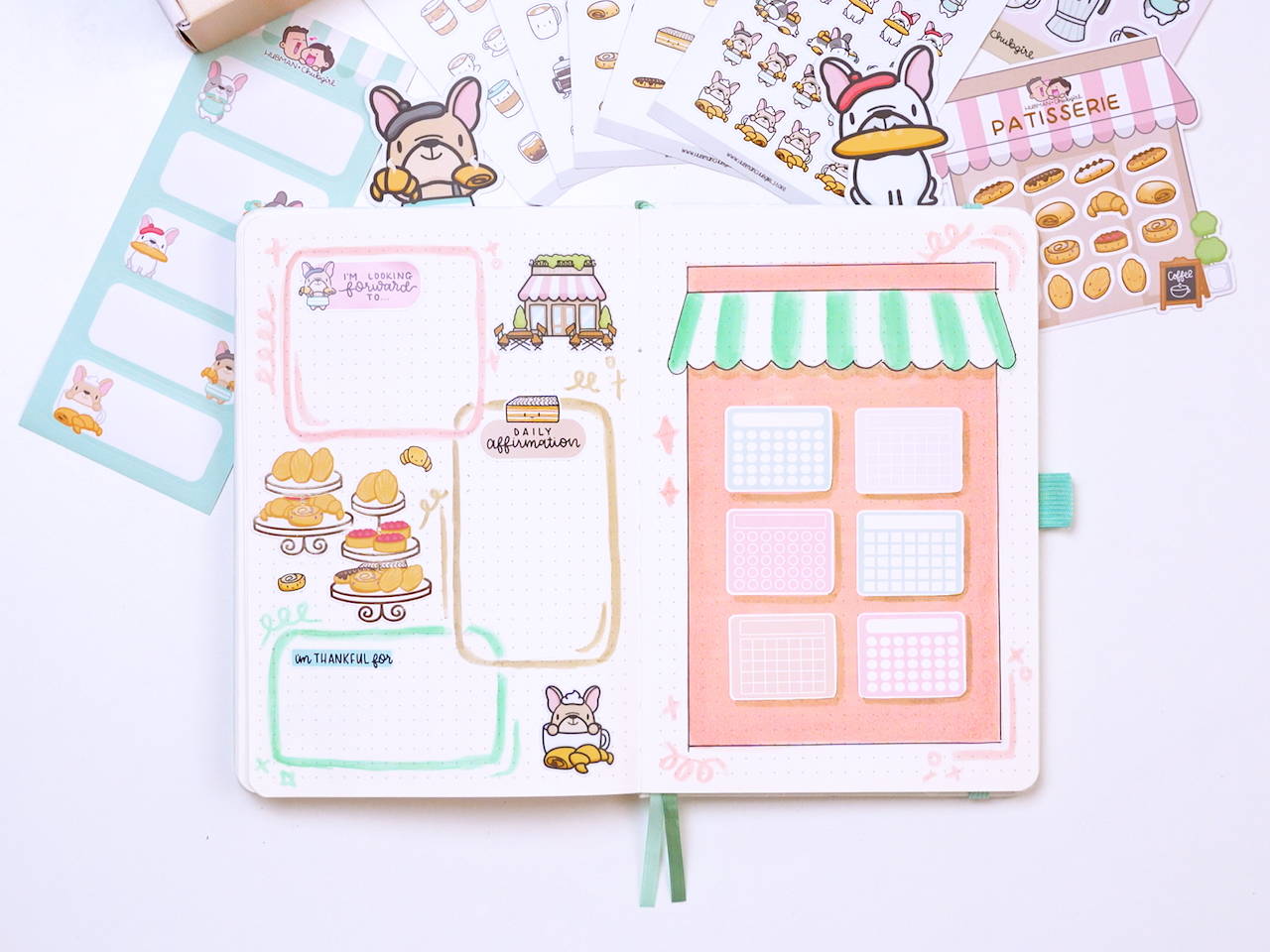 Next, I draw thick lines with my brush pens to define the writing space within each box on the left and accentuate them with stickers of my favourite coffee drinks!
Lastly, I use a Muji gel pen to write some headers on my tracker stickers to keep an eye on activities I want to be consistent in doing throughout the month.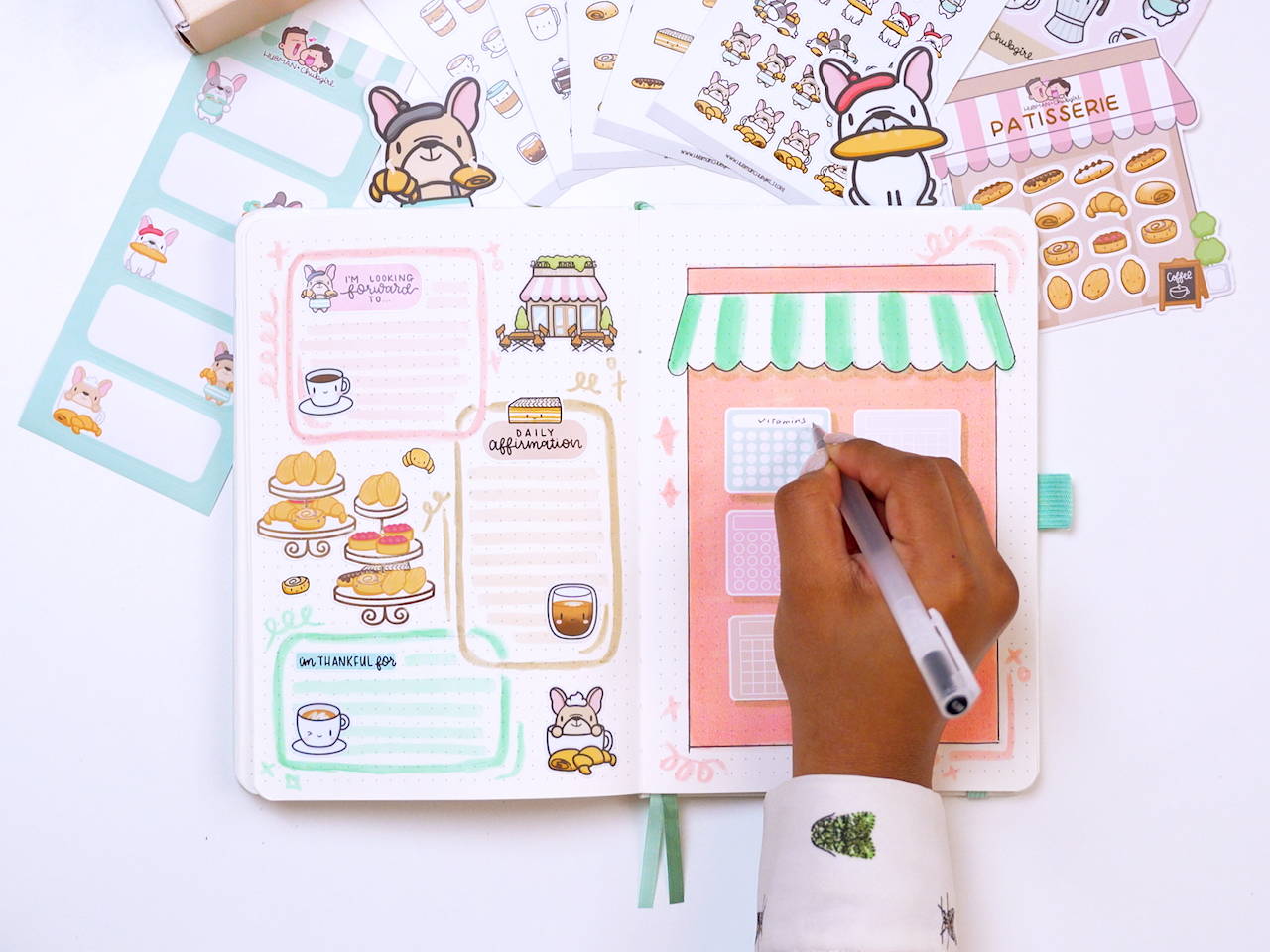 And there you have it, a beautiful spread ready for you to fill in!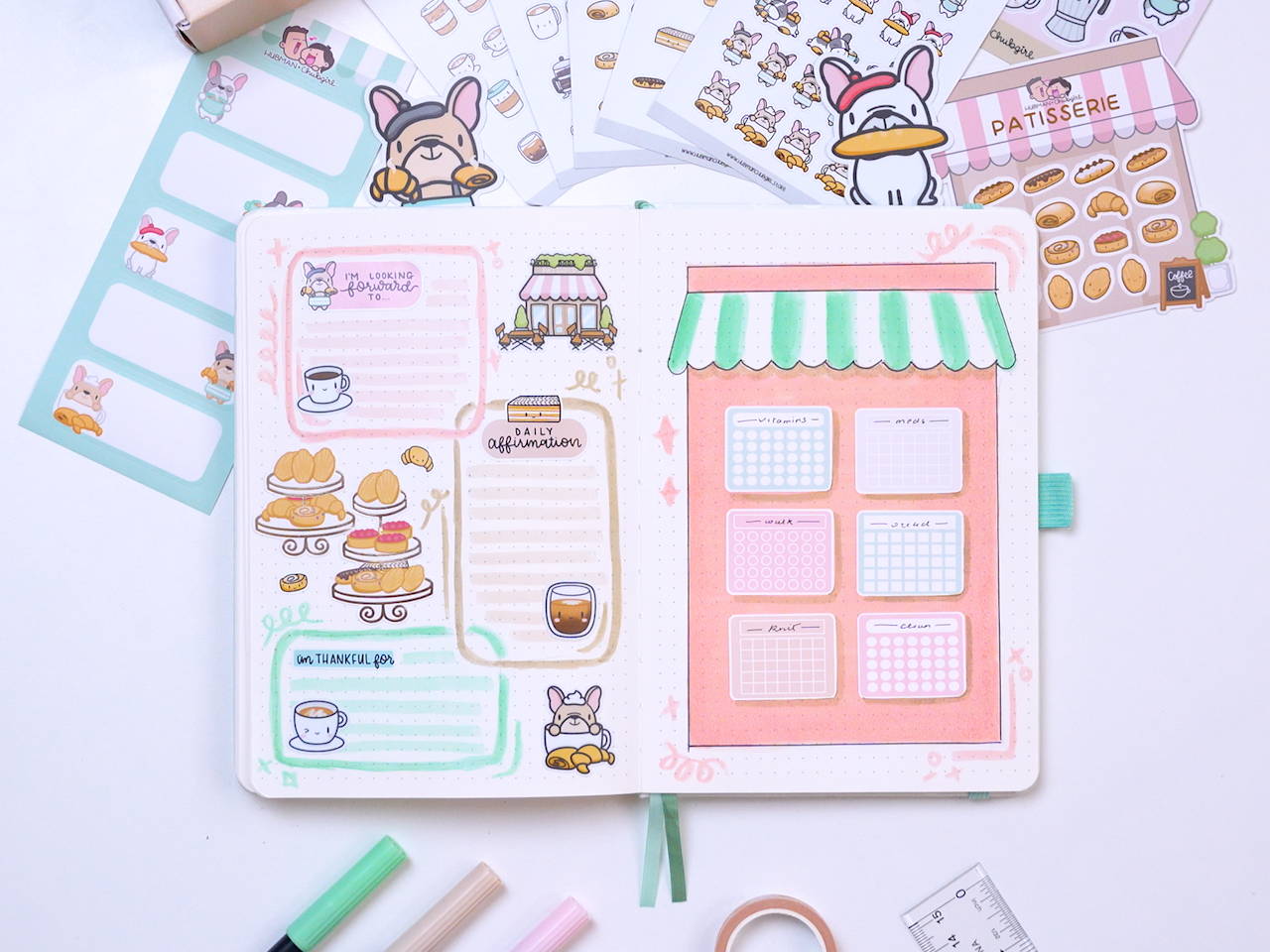 We've added a link to our Parisian Cafe Collection to get everything you need to make this spread. Subscribe to our monthly Journal Subscription to get cute stickers like these mailed to you every month and feel free to come back here for inspiration or tutorials for your spreads! Happy journalling!
Bonus! - Use code JOURNAL and get your subscription at 10$ for your first month plus you get a free starter journal to kick off with!
We will be posting more tutorials here soon, so follow us on Instagram @hubmanchubgirl.store for updates. Thanks everyone and I hope you find these helpful!
For more inspiration on these spreads and more, click on the link below :)
HERE'S EVERYTHING YOU NEED TO MAKE THIS SPREAD AND MUCH MORE!