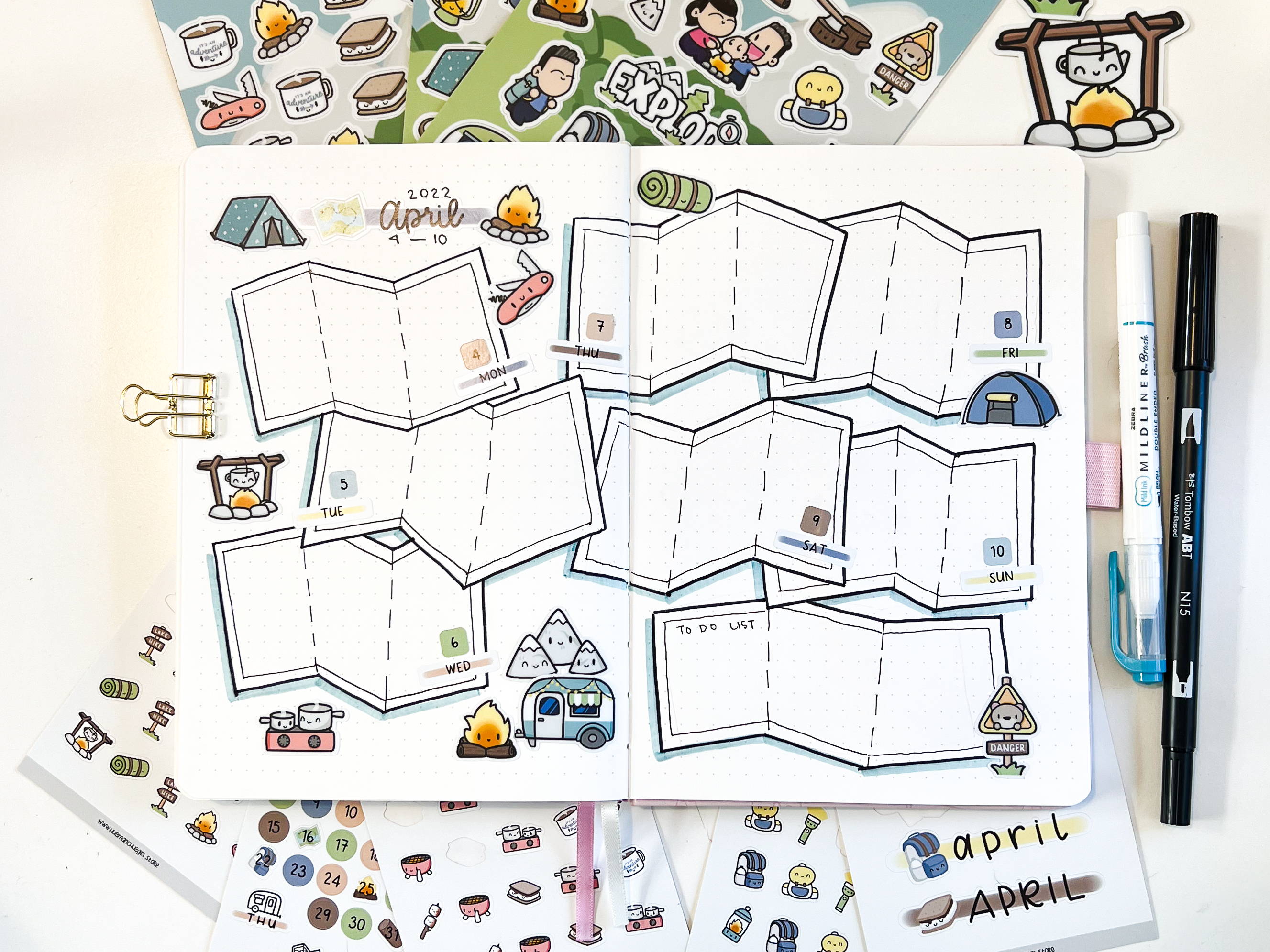 Here is a weekly spread with our Happy Camper theme - Read on to find out how easy it is to set up a journal page with our stickers!
I used a lot of of stickers from the HAPPY CAMPER collection, but here is the list of stationery that I used:
Light grey brush pen ( Mildliner dual brush pen )
Black felt tip pen ( Tombow dual brush pen )
03 MONO Drawing pen (Tombow)
Steadler F pencil
0.38 Muji Gel Pen
These are just a reference, you can use any pens or pencils you like :)
We have added a link to the Happy Camper collection below to get everything you need to make this spread. You can also subscribe to our monthly Journal subscription to get cute stickers like these mailed to you every month and you can always come here for inspiration or tutorials for your spreads.
Bonus! - Its only 10$ for your first month plus you get a free starter journal to kick off with!
Let's make a unique weekly spread for the Happy Camper theme! 
We are going to draw each day of the week as a map. They can all be a different size, and angled slightly in different directions to make the page more dynamic.
Since it might get messy with the maps overlapping, let's start with a pencil sketch first before going over everything with a pen. Remember to use the pencil without too much pressure or the lines can show even after you have erased them.
Don't get worked up over how each exact map will look like, just start drawing zig zag lines (see spread for reference) - going up, down then up. We are doing this to make the map look folded. Next, draw perpendicular lines from the ends of the zigzag and finish the bottom by repeating the same zigzag line as the top. 
Voila! The first map outline is ready! 
So I did 3 maps on one page and 5 on the other but feel free to make as many per page as you need for your layout. I used my extra map for a to-do list for the week. You could also use it for reminders, gratitude, notes, etc.
Once you are happy with the final outlines go over it with a black marker and then erase the pencil lines when the marker is completely dry to prevent smudging.
Yay! All the outlines are finally done! Time to add some details! 
Using a thin tipped black pen draw an inner border for all the maps. Next, draw vertical dotted lines to show the folds of the map connecting the ups and downs of the zig zag line. 
We are also going to add some shadow for the maps using a blue brush pen. Feel free to use any colour of your choice but keep the shadows to only two sides of all the maps to create the illusion of a uniform light source. 
Woohoo! All done and now it's time for stickers!!
You can add stickers wherever you like. Make sure to use the journal pack for the days, dates and Monthly title, or you can also write them out if you prefer. 
That's it we are all done! Hope you enjoyed this month's tutorial :)
We will be posting more tutorials here soon, follow us on Instagram @hubmanchubgirl.store for updates. Thanks everyone and I hope you find these helpful!
For more journaling inspiration click on the link below :)
Here's everything you need to make this weekly spread and more!