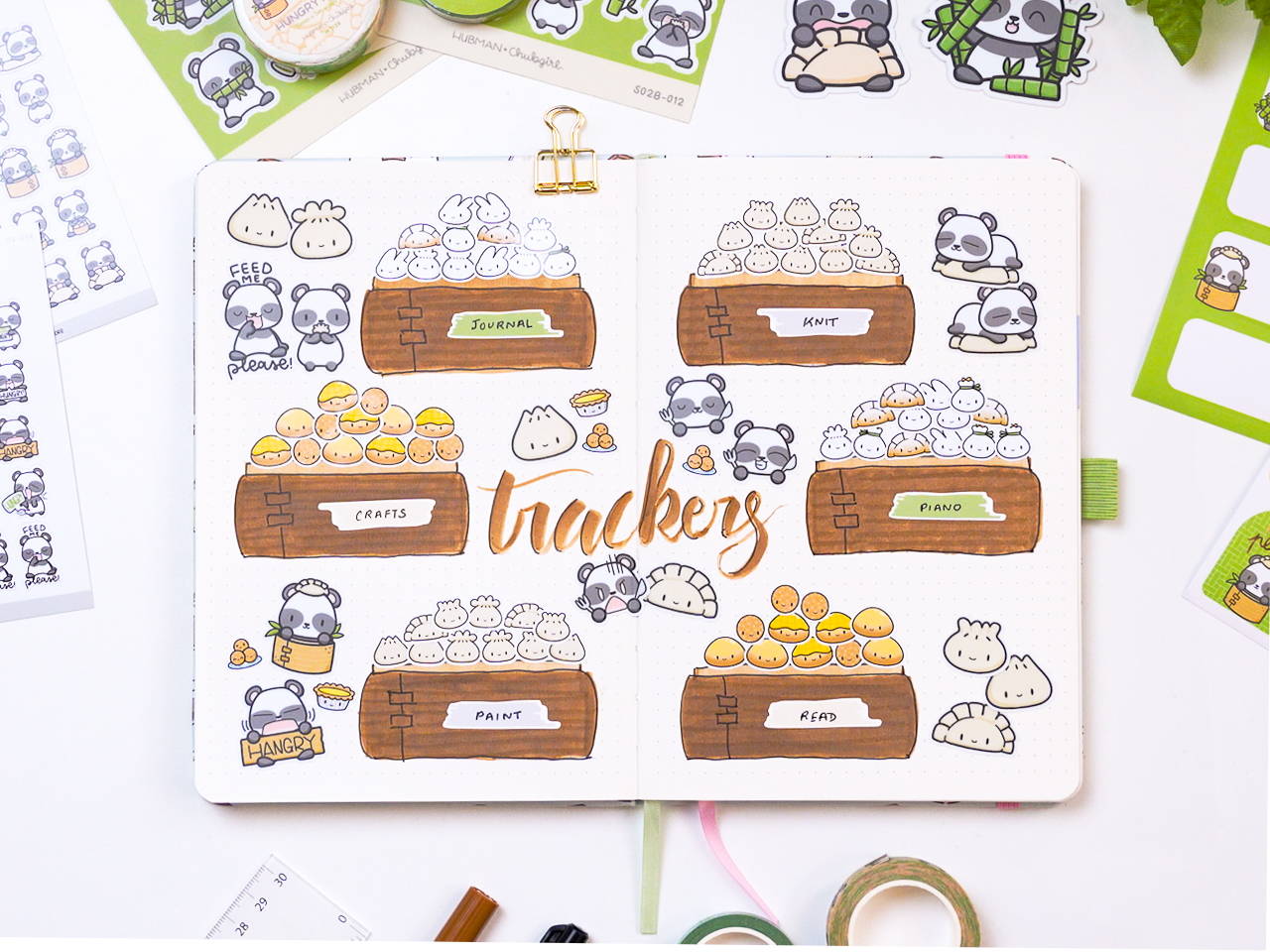 Here is a monthly spread tutorial with our Movie Night theme - Read on to find out how easy it is to set up a journal page with our stickers!
Light Brown brush pen (Tombow dual brush pen)

Dark brown brush pen brush pen (Tombow dual brush pen)

Black marker

MUJI gel pen
These materials were what I used for reference, but you may use any supplies you have on hand :)
Are you looking for a fun and creative way to keep track of your habits and goals? Let's set up a fun and creative spread using dim sums and Hungry Pandas!
Start off by grabbing a brown brush pen and drawing some dim sum baskets. Draw one basket for each habit or goal that you want to track. Don't worry if your drawing isn't perfect! The imperfections will add character to your spread.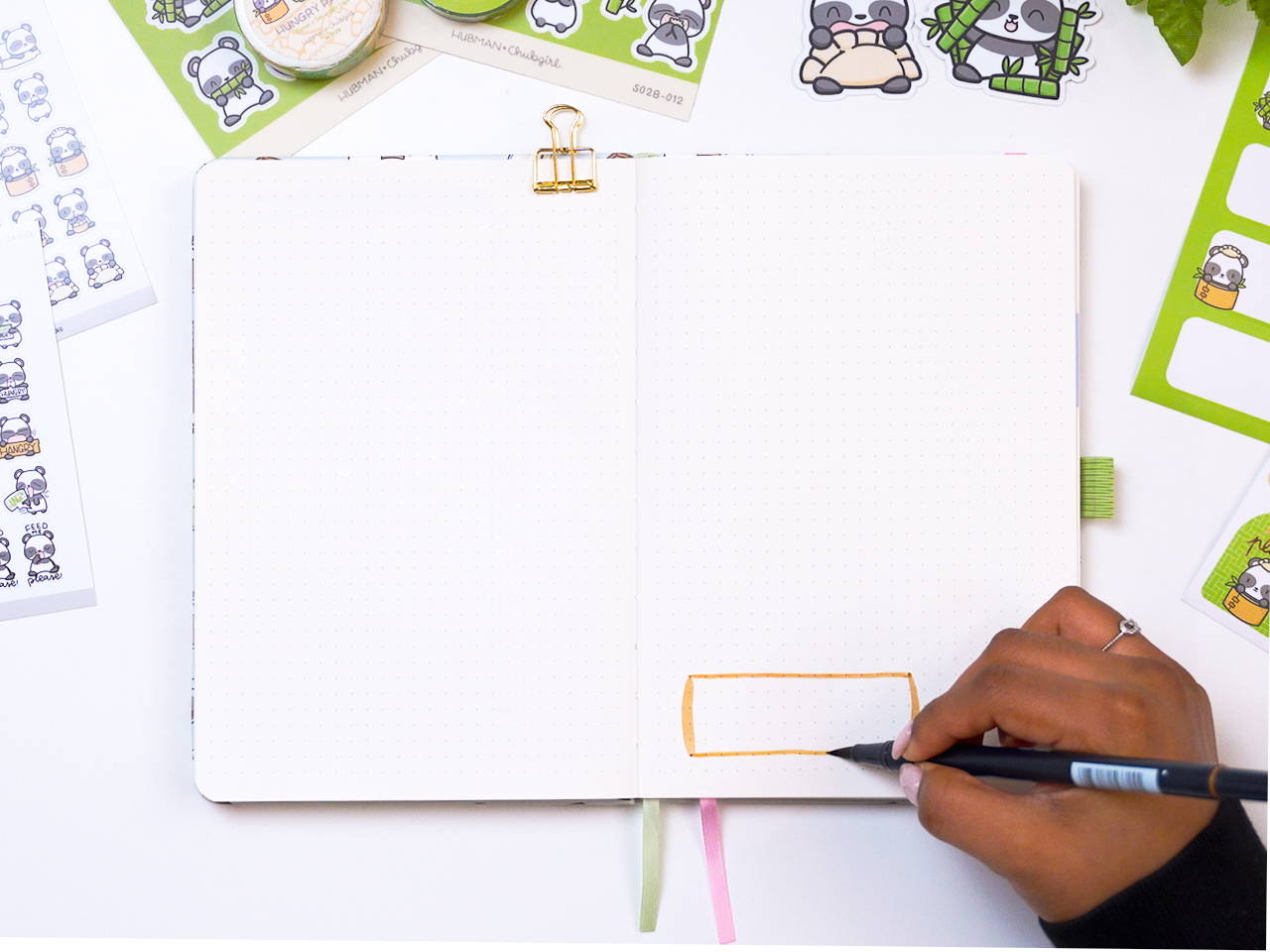 Once you have drawn the dim sum baskets, you can color them with the same brush pen. You can use multiple coats of color to get the desired effect.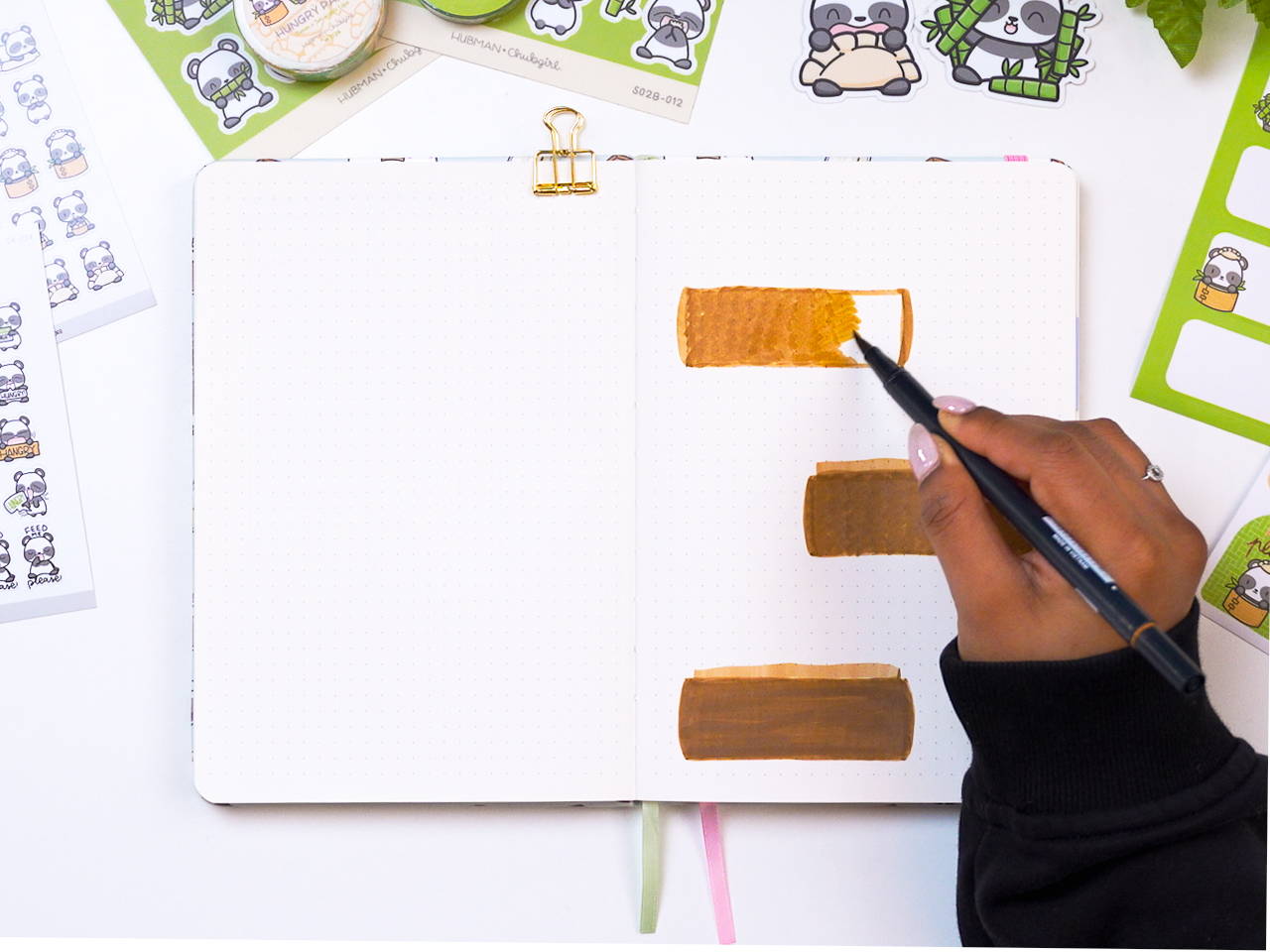 Then, take a black marker and add some details on the side.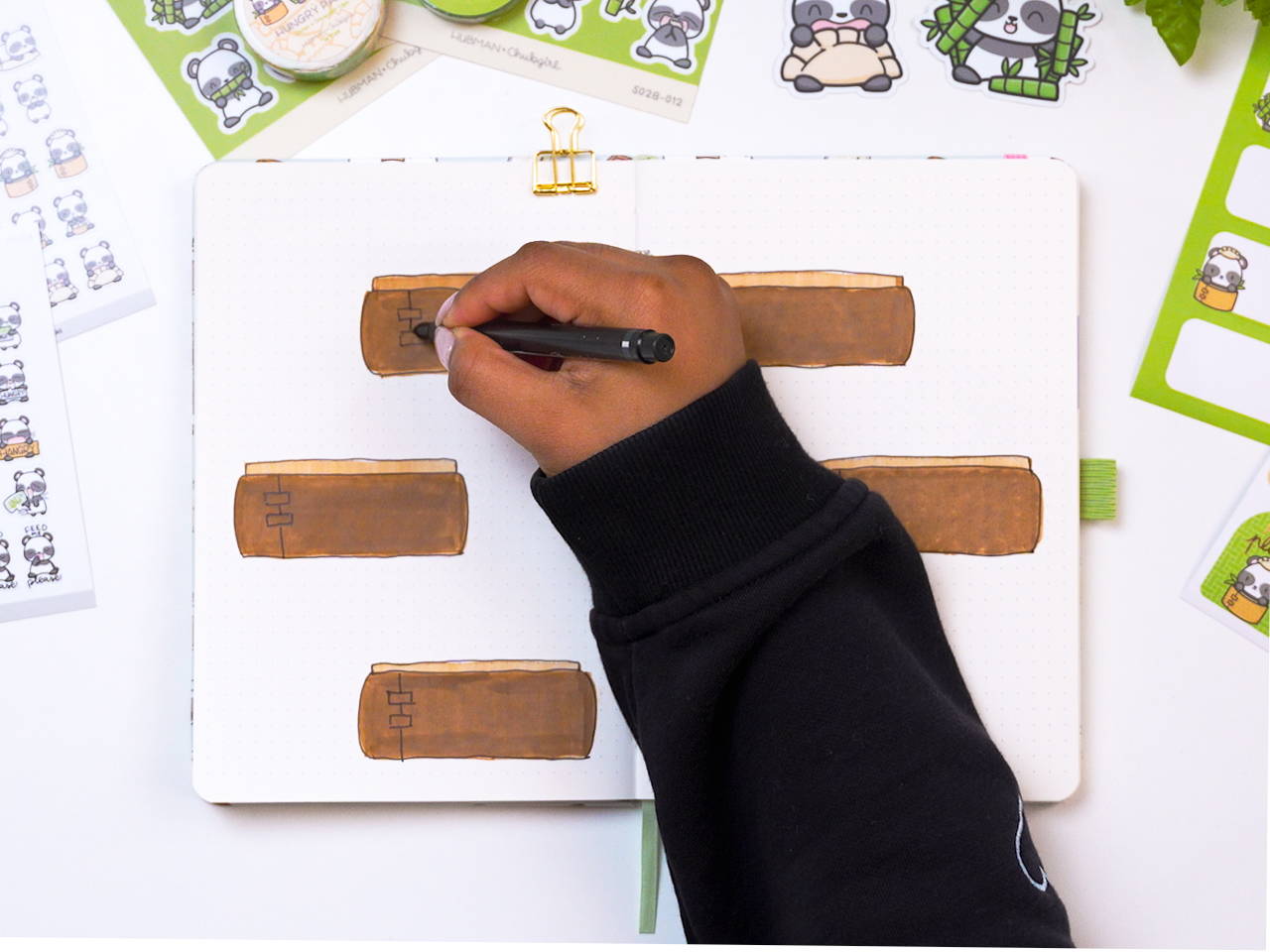 Using a dark brown brush pen, you can add horizontal lines to make it look more realistic.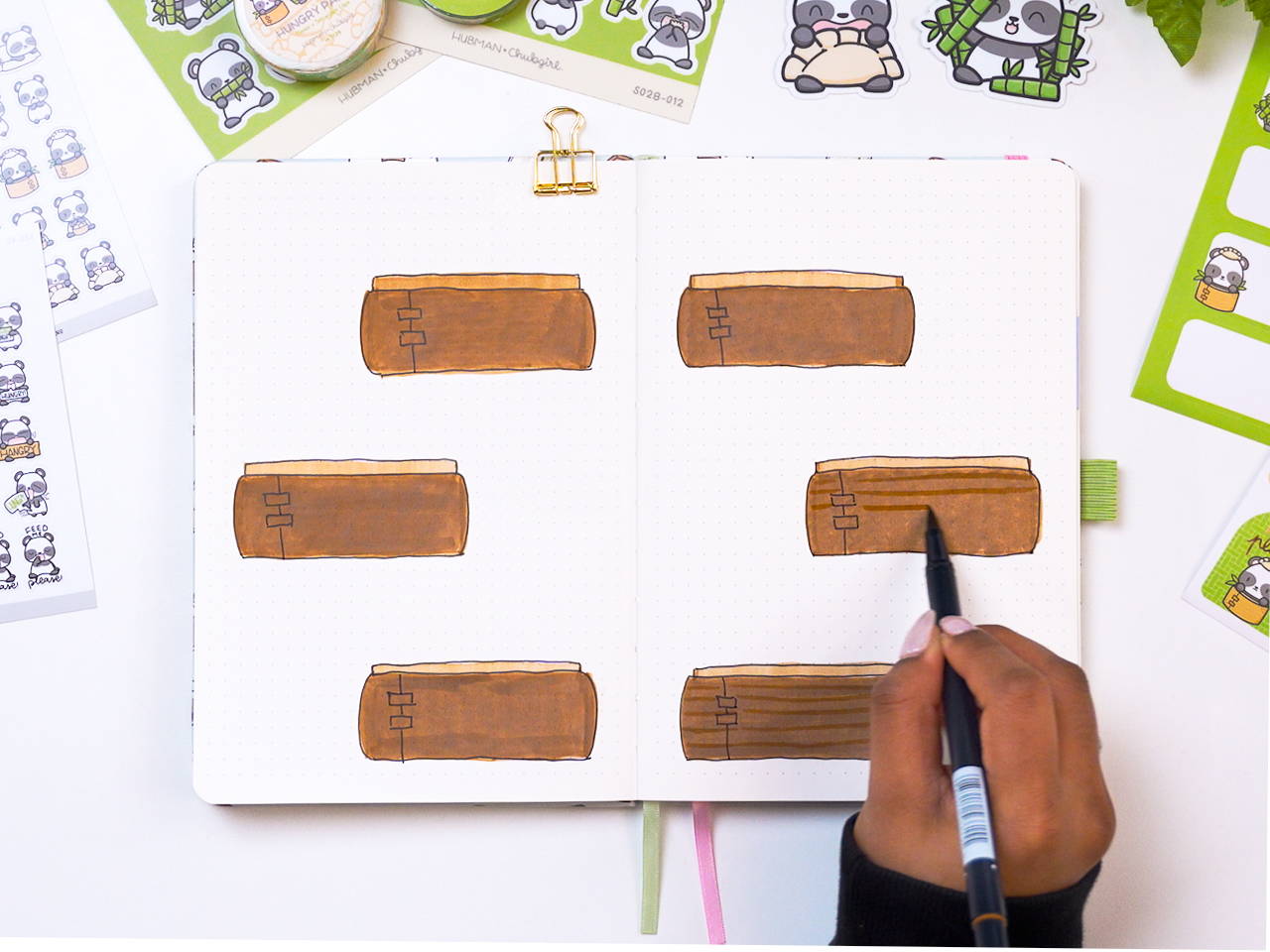 Next, use a thick pen or brush pen to write the title of your habit-tracking spread. Alternatively you can use stencils or stickers for the title instead.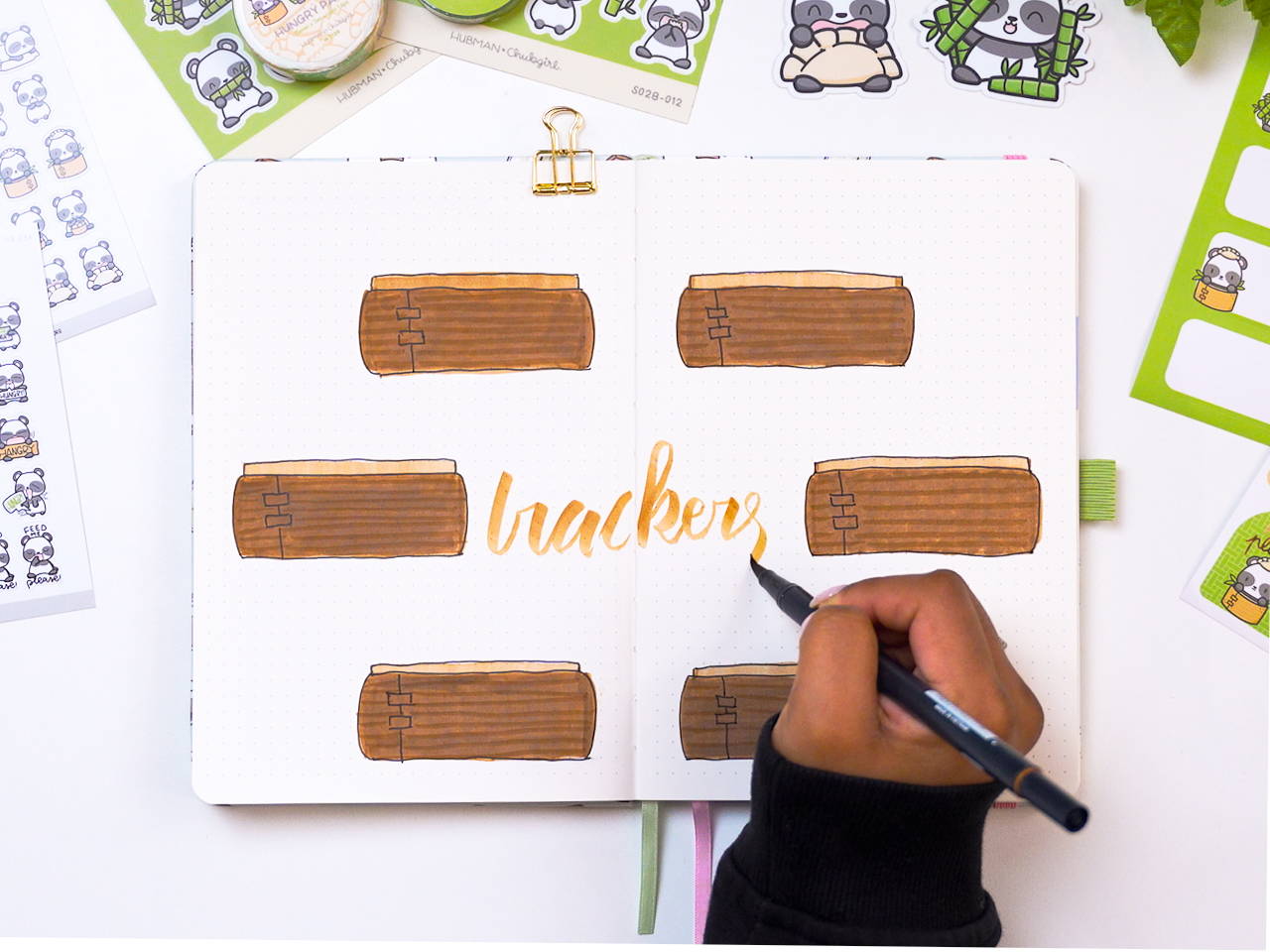 Let's add a blank sticker to each basket to write down what habit will be tracked. This will help you stay organized and keep track of your progress!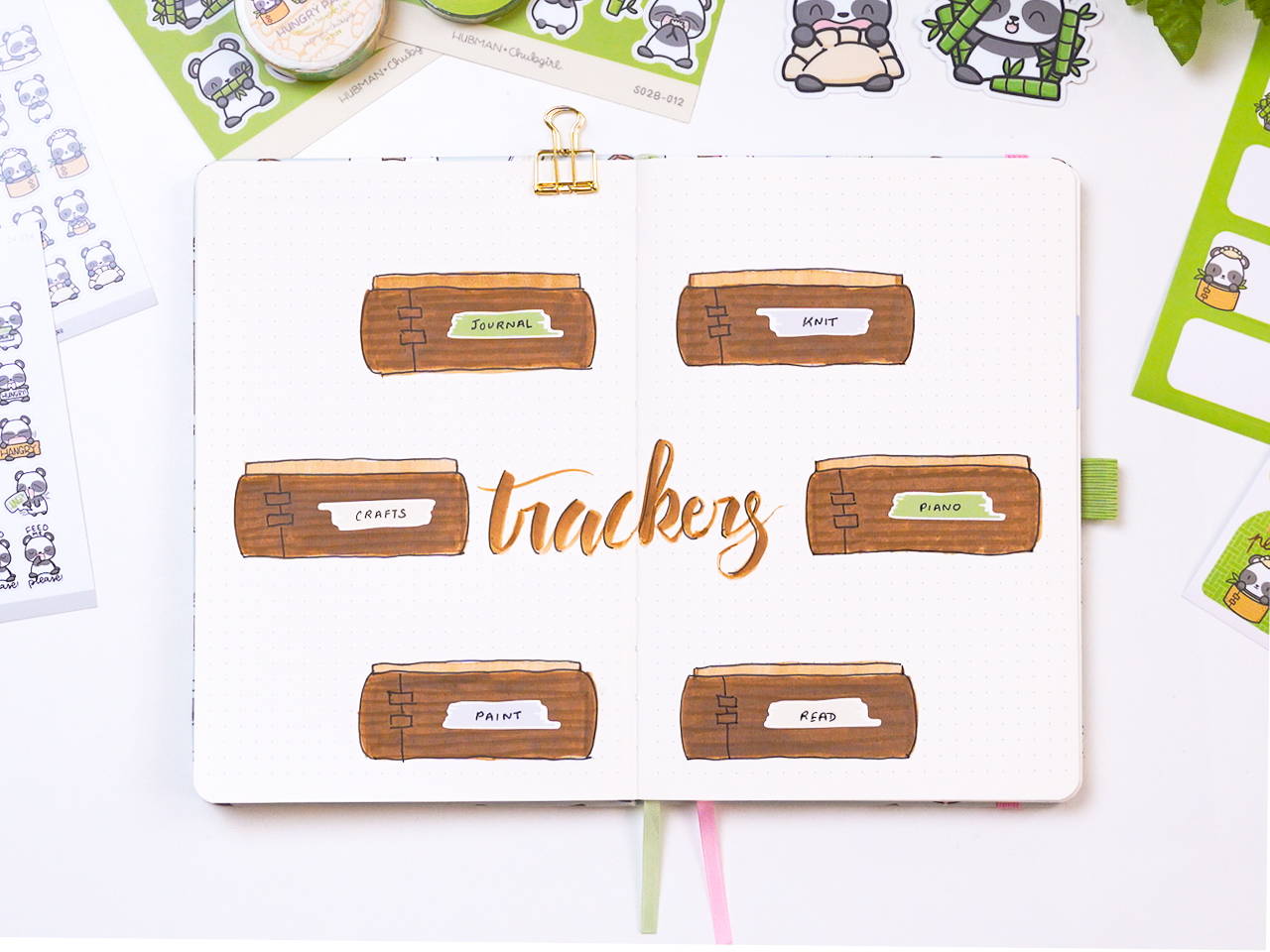 Now it's time to add some fun to your habit-tracking spread! Fill up the spread with hungry pandas and make it look as colorful and vibrant as possible. This will make it more enjoyable to use and keep you motivated to reach your goals.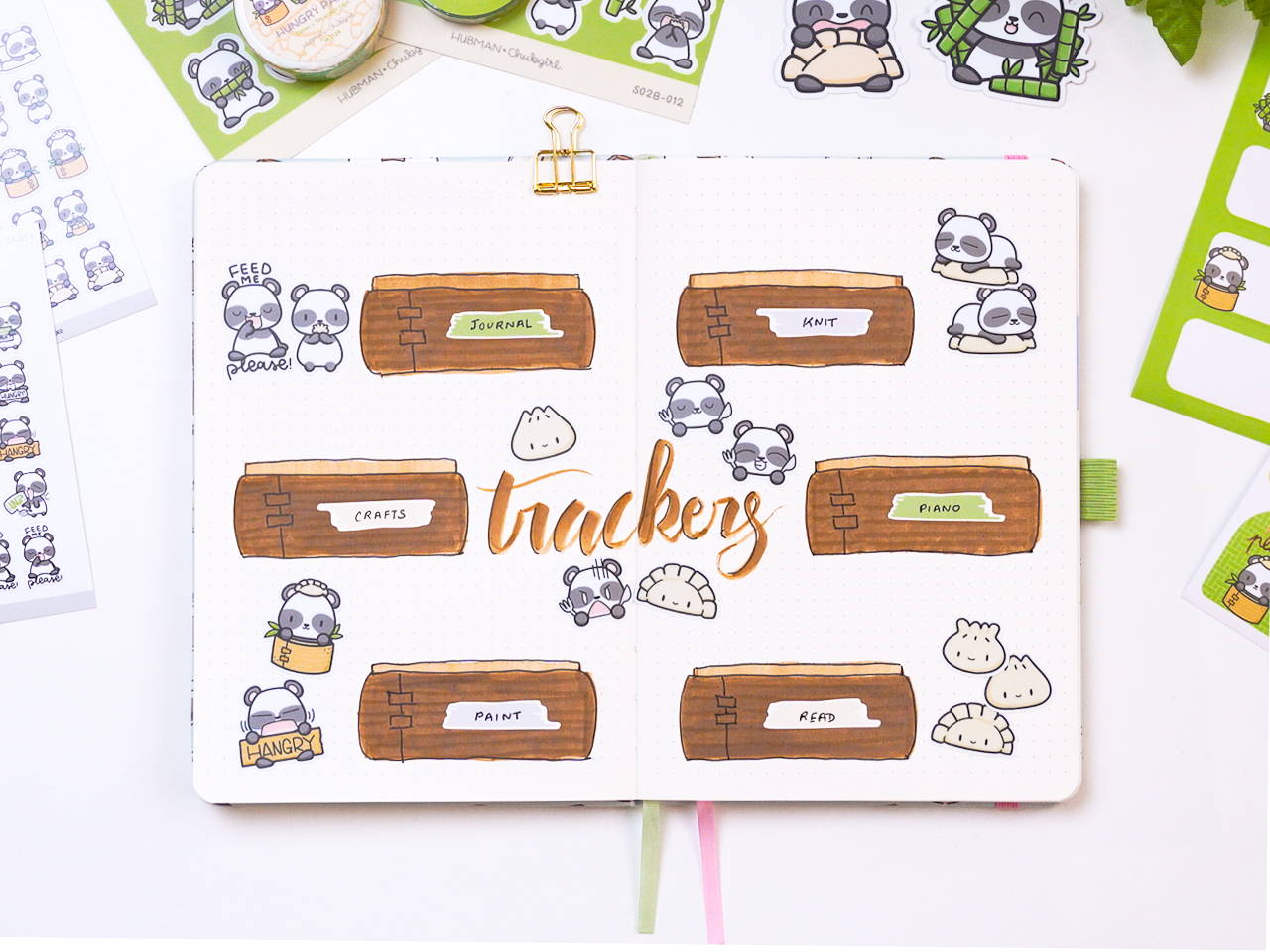 Once your spread is complete, it's time to start tracking your habits! Use a dumpling sticker to mark each time you complete your habit or goal. For example, use a dumpling for each day you exercise or each day you read during the month.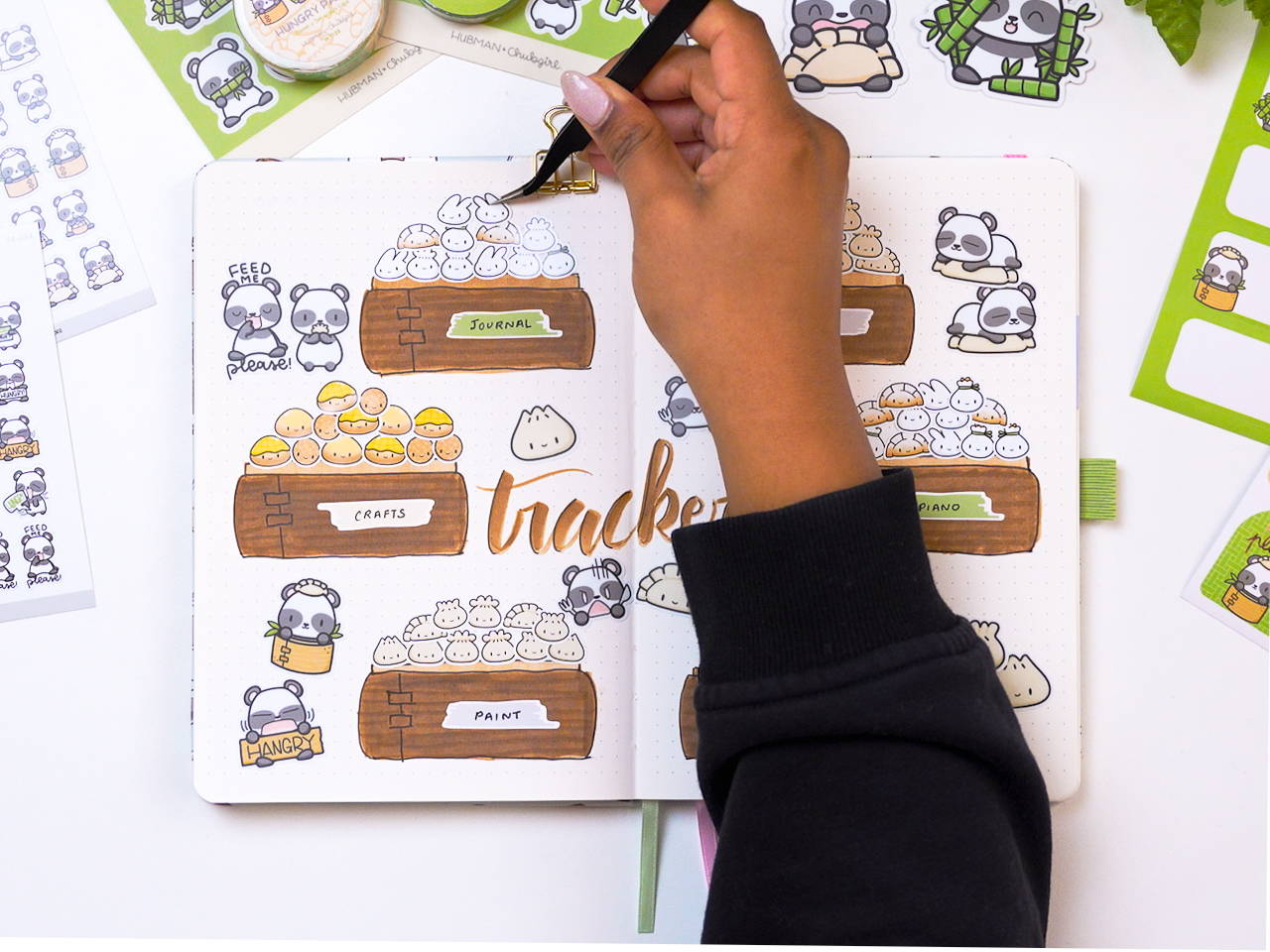 At the end of the month, review your progress and see how well you did. If you missed a few days, don't worry! Use this as motivation to do better next month. Celebrate your successes and keep pushing yourself to reach your goals.
In conclusion, tracking your habits and goals can be a fun and rewarding experience. By using dim sums and Hungry Pandas, you can make it even more enjoyable and colorful. Give it a try and see how it works for you! Happy planning!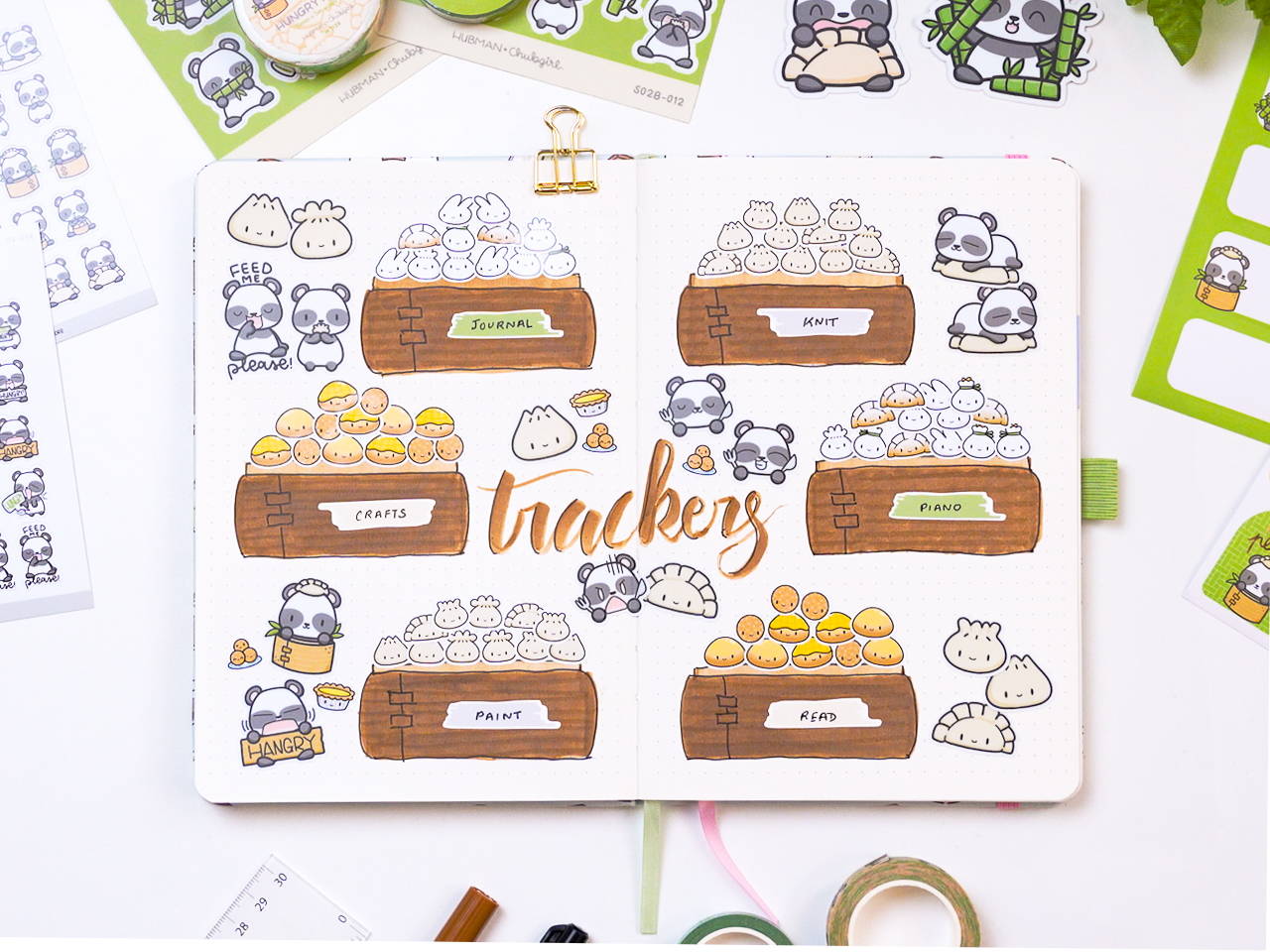 We have added a link to the Hungry Pandas Collection to get everything you need to make this spread. Subscribe to our monthly Journal subscription to get cute stickers like these mailed to you every month and feel free to come back here for inspiration or tutorials for your spreads! Happy journalling!
Bonus! - Use code JOURNAL and get your subscription at 10$ for your first month plus you get a free starter journal to kick off with!
We will be posting more tutorials here soon, so follow us on Instagram @hubmanchubgirl.store for updates. Thanks everyone and I hope you find these helpful!
For more inspiration on these spreads and more, click on the link below :)
HERE'S EVERYTHING YOU NEED TO MAKE THIS SPREAD AND MORE!