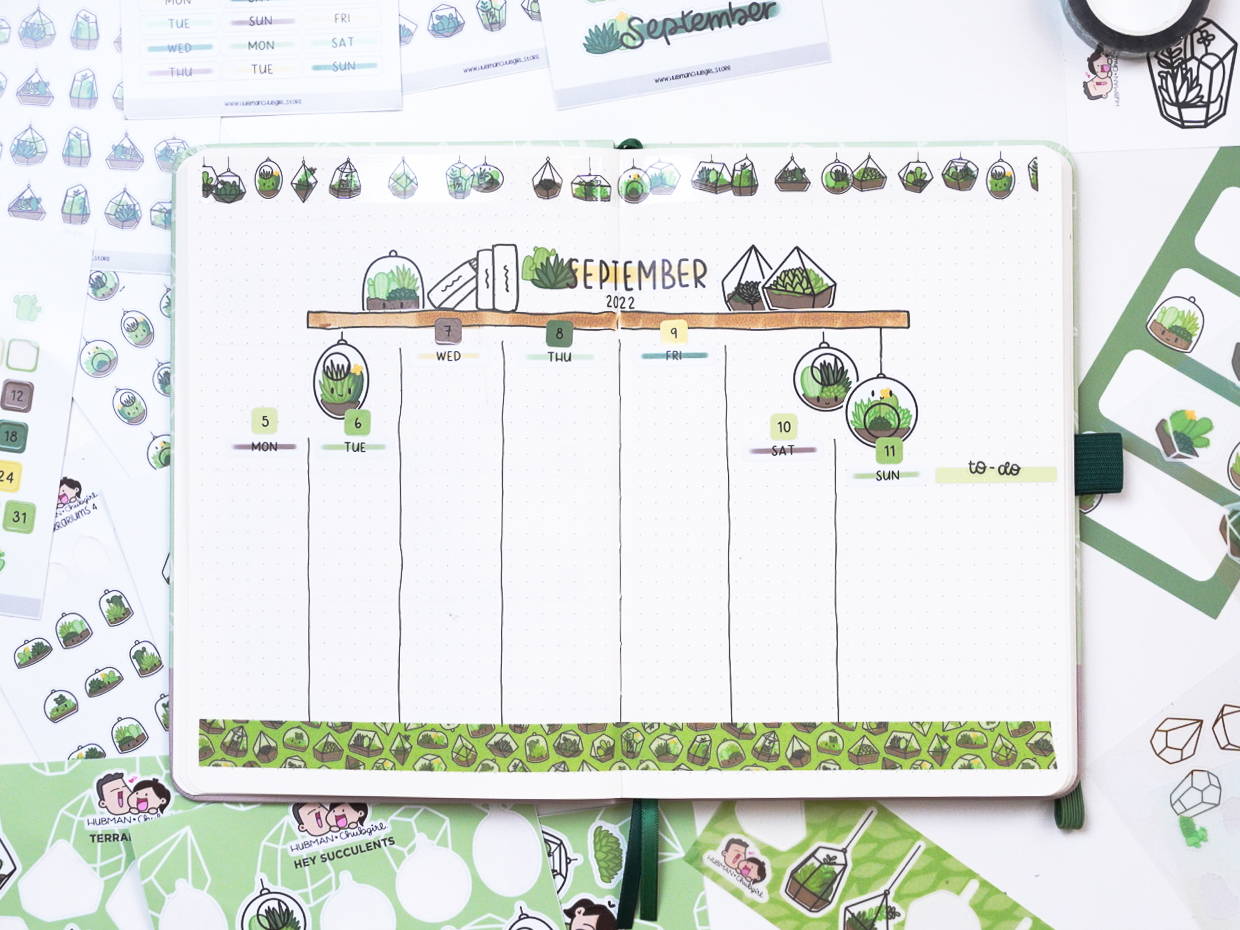 Here is a weekly spread tutorial with our Happy Terrariums collection - Read on to find out how easy it is to set up a journal page with our stickers!
These materials were what I used for reference, but you may use any supplies you have on hand :)
Terrariums like being left alone and undisturbed for long periods of time. So the best place to leave them would be on shelves or places where they can't be knocked over easily. That's the inspiration for this spread! We're going to draw a shelf at the top of the page and decorate it with some terrariums. 
Let's draw a simple lengthy box for the shelf and colour it brown. Next, let's place the title first as it is the main focus and fill the rest of the space with terrariums.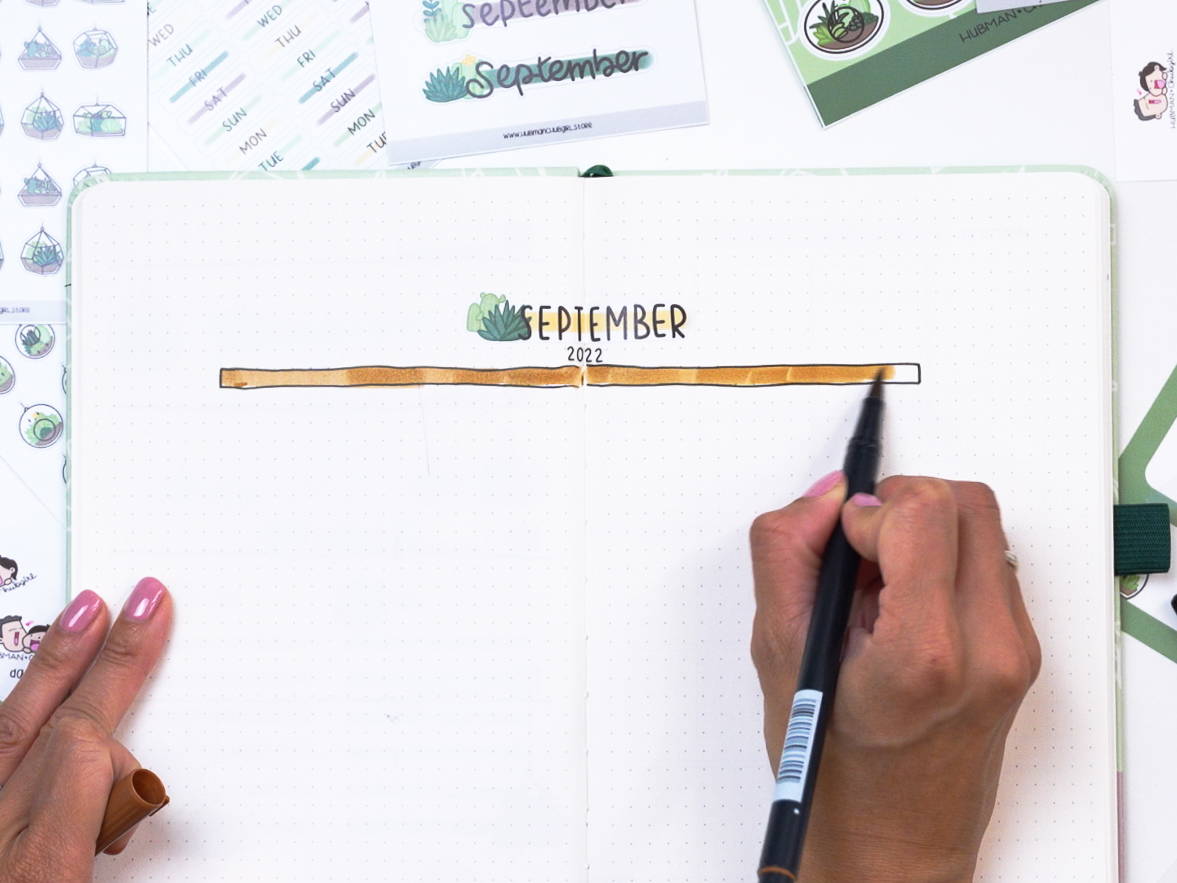 Since the terrariums don't have a flat bottom, I'm trimming them a little to make it look better on the shelf. This is optional or you can use the ones that have a flat base. I'm also drawing some books on the other side to add some variety but you can add more plants instead!
And there we have our custom shelf!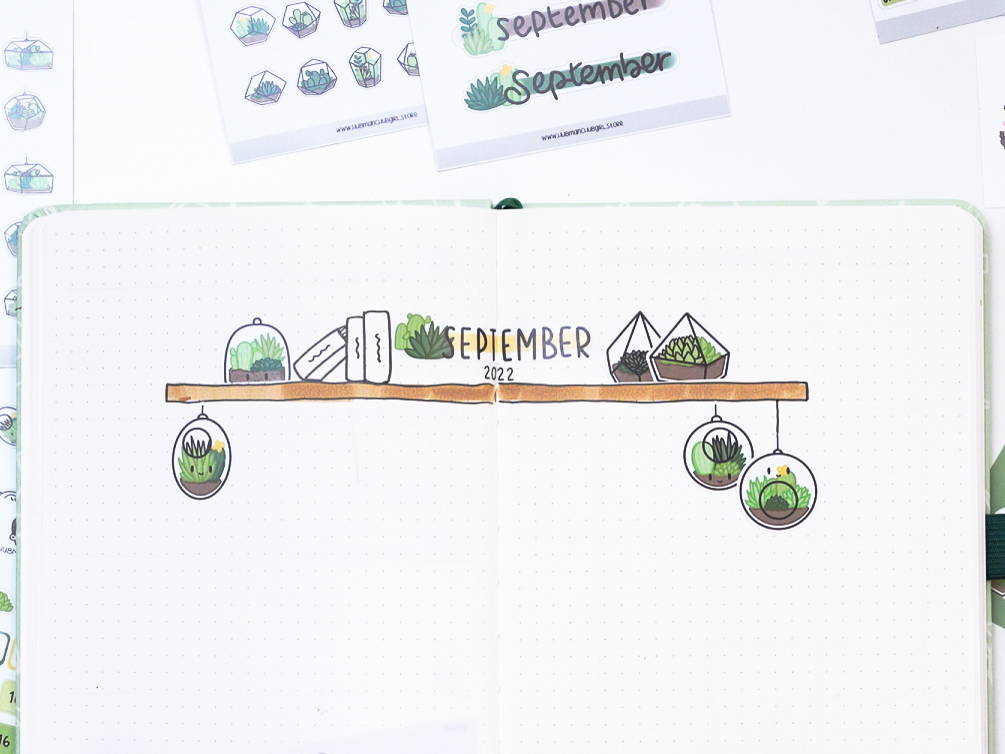 I'm going for a vertical layout but you can swap it for anything you prefer. As always the journaling set come in handy for the days and dates. It's super quick and easy since everything is pre-made for the month!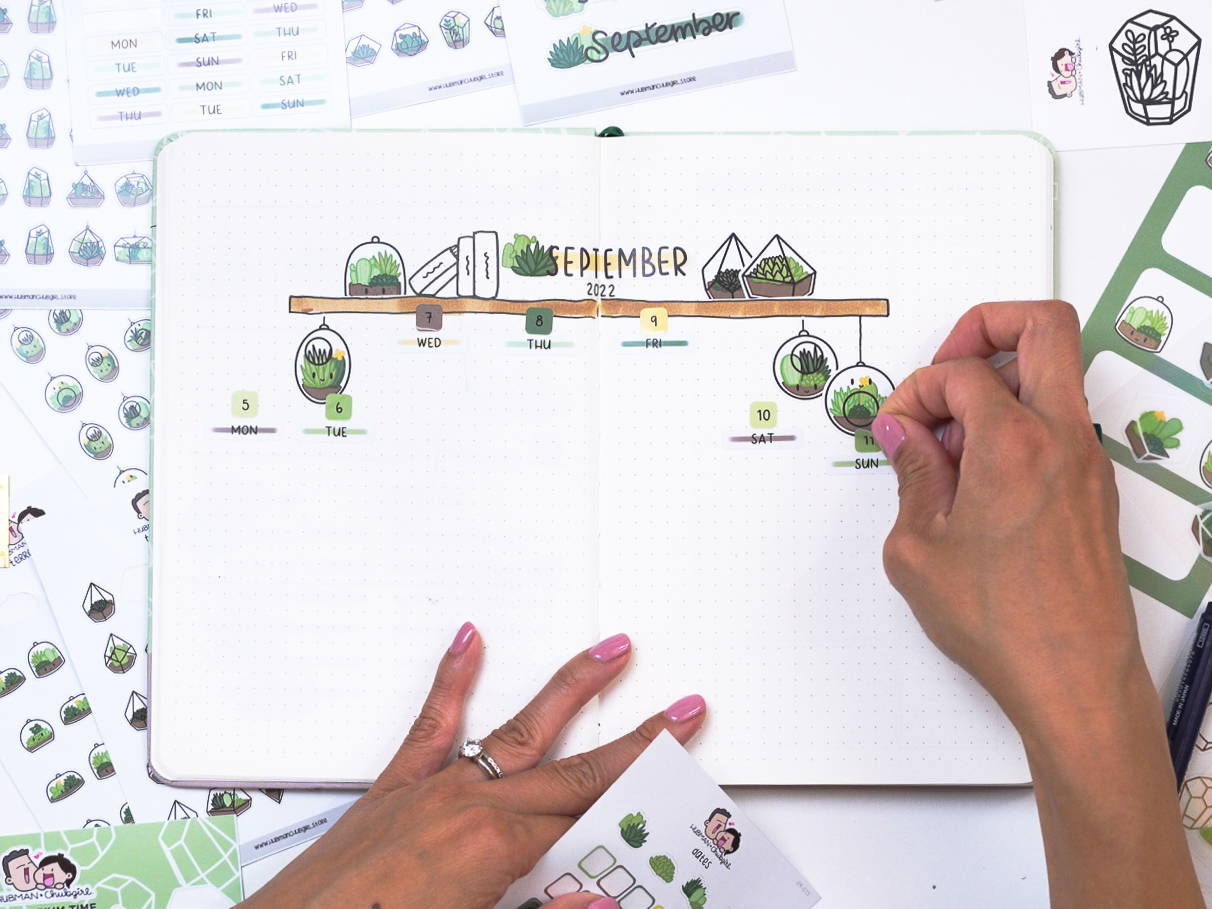 Let's draw some lines to divide the days. You can also use coloured lines or anything else that you like to make it stand out so when you fill it in, it's easy to differentiate between them.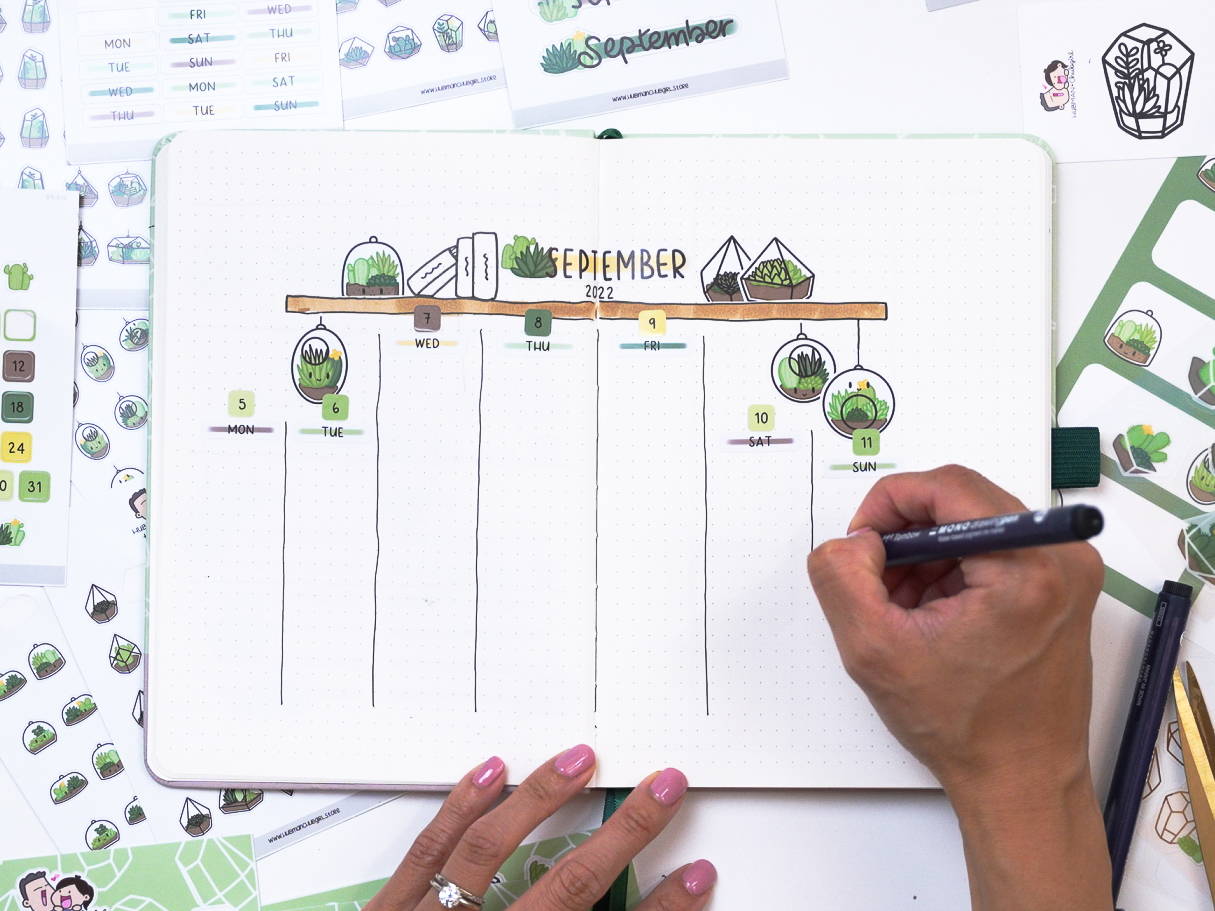 Since there is a lot of space on the top and bottom of the page I'm lining it with Washi tape. You can switch this out to draw / doodle something or decorate with stickers and get creative!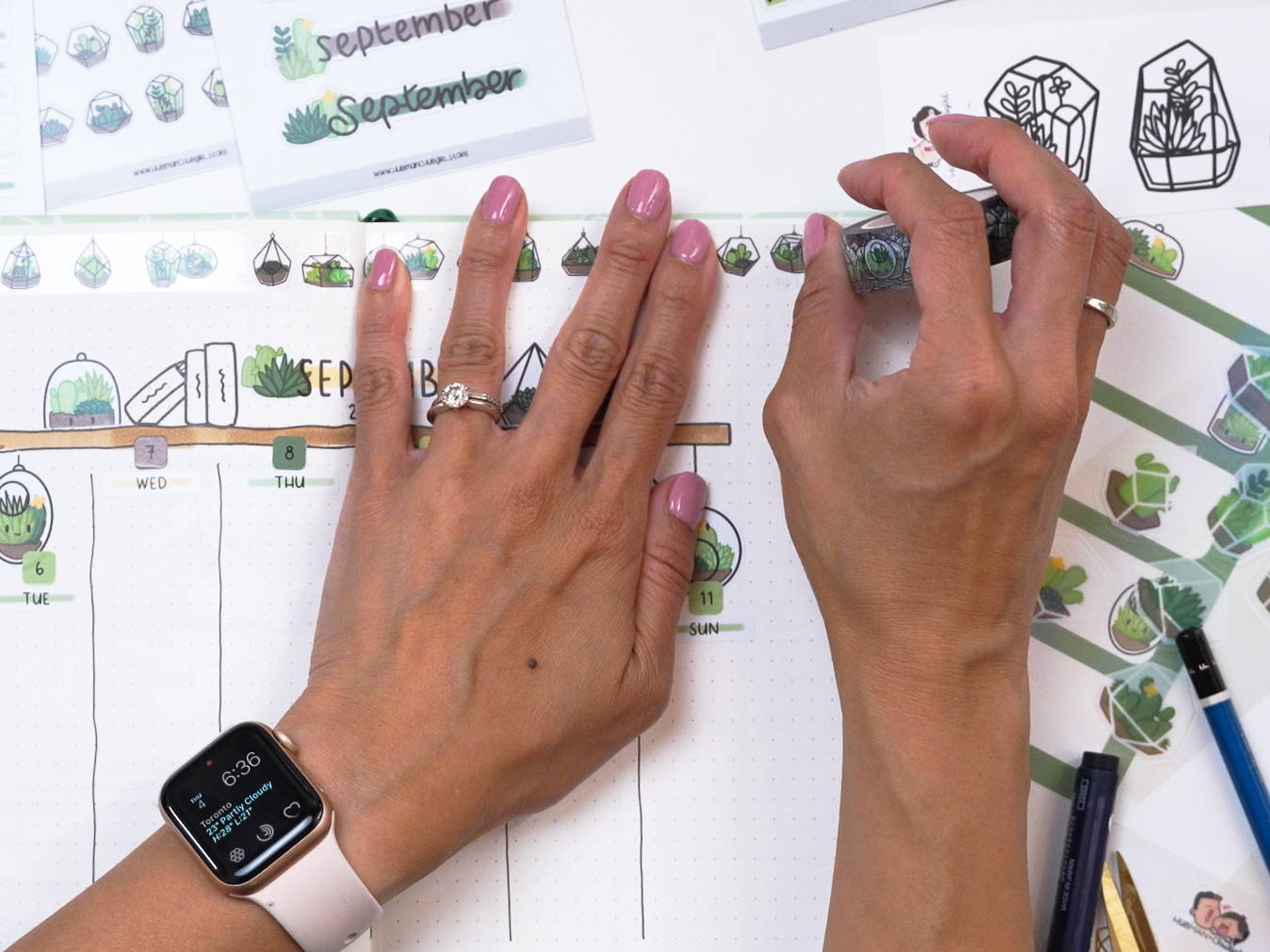 I saved some extra space on the right for a to-do list. Let's add the title for this using the colour palette sheet and the to-do text stickers. Feel free to write it out too!
And that's it for the spread!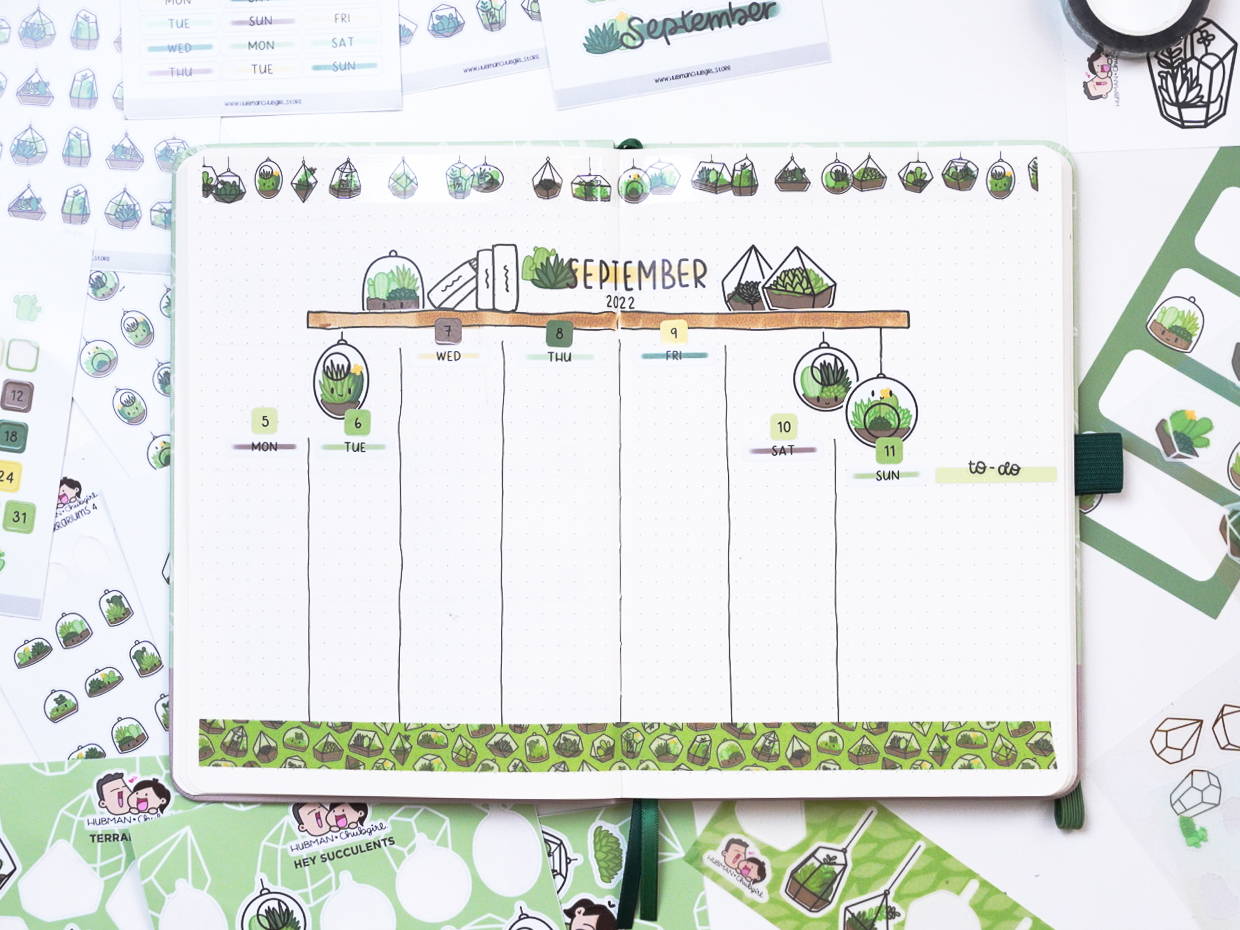 We have added a link to the Happy Terrariums Collection to get everything you need to make this spread. Subscribe to our monthly Journal subscription to get cute stickers like these mailed to you every month and feel free to come back here for inspiration or tutorials for your spreads! Happy journalling!
Bonus! - Use code JOURNAL and get your subscription at 10$ for your first month plus you get a free starter journal to kick off with!
We will be posting more tutorials here soon, so follow us on Instagram @hubmanchubgirl.store for updates. Thanks everyone and I hope you find these helpful!
For more inspiration on these spreads and more, click on the link below :)
Here's everything you need to make this spread and much more!