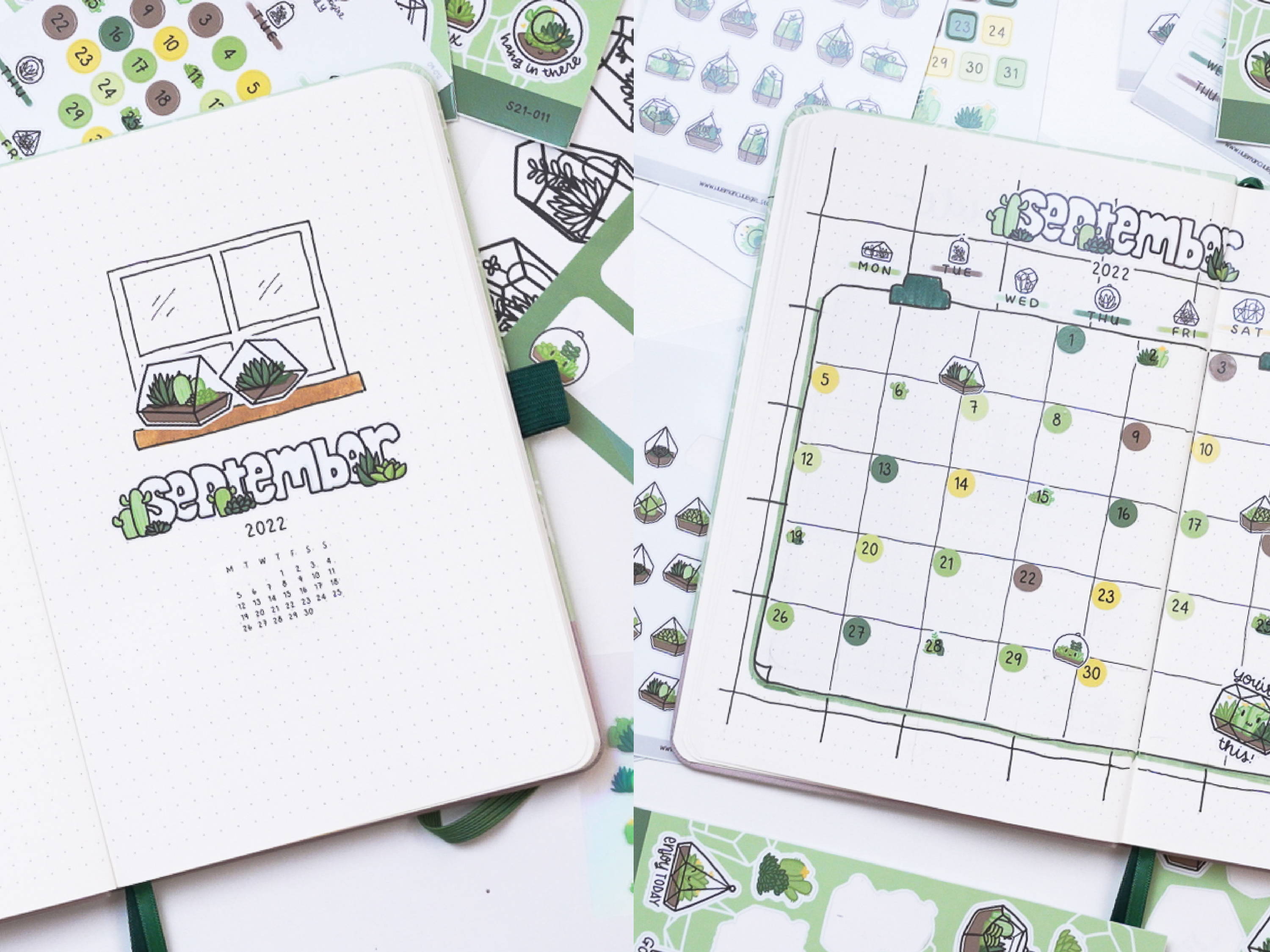 Here is a monthly title and calendar tutorial using our Happy Terrariums theme - Read on to find out how easy it is to set up a journal page with our stickers!
These materials were what I used for reference, but you may use any supplies you have on hand :)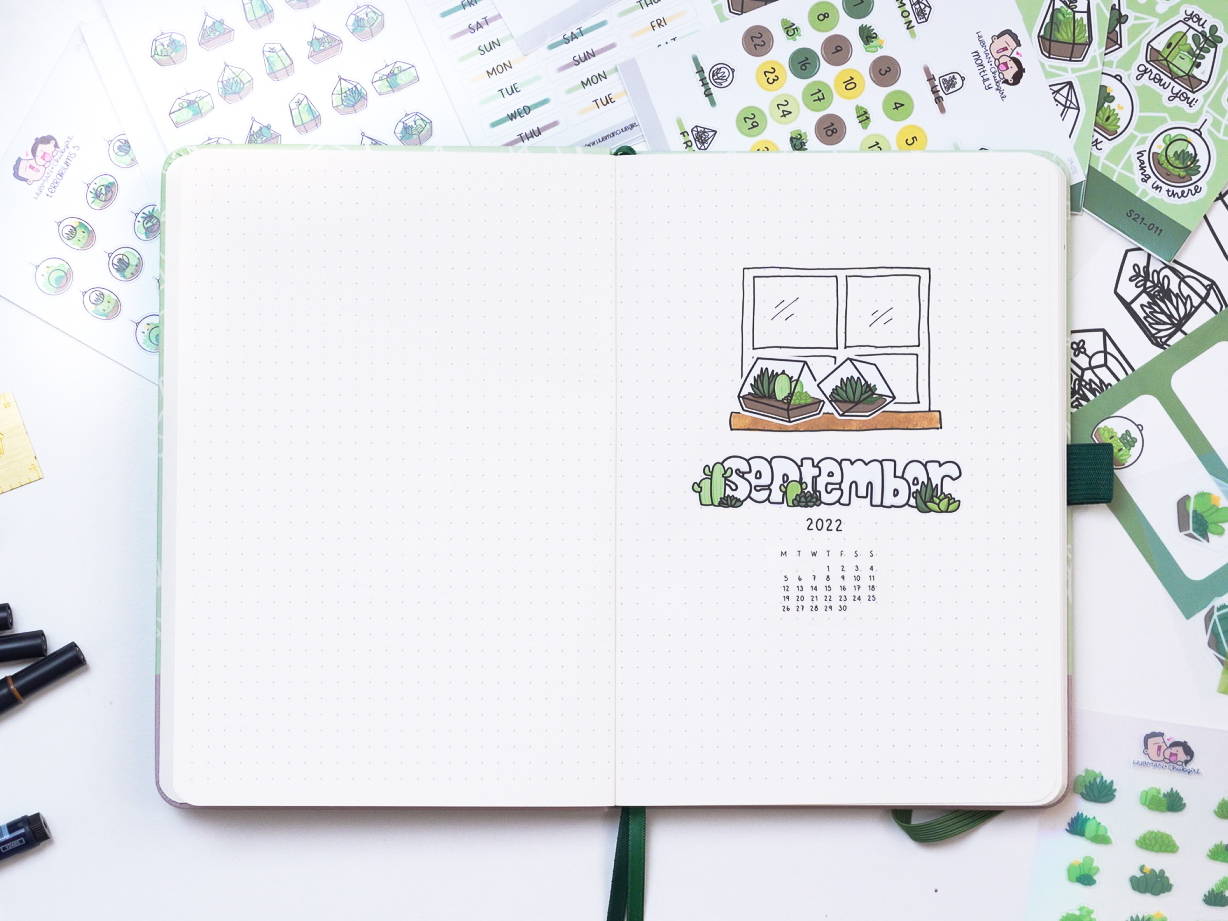 Since a lot of you enjoyed the plants theme, we came up with terrariums for this month! They are so fascinating as you can see a mini ecosystem thrive for a long time all by itself!
So let's get started on terrarium themed tutorials for September.
The first spread is the title page. I'm going to draw a simple window with a sill and colour it light brown.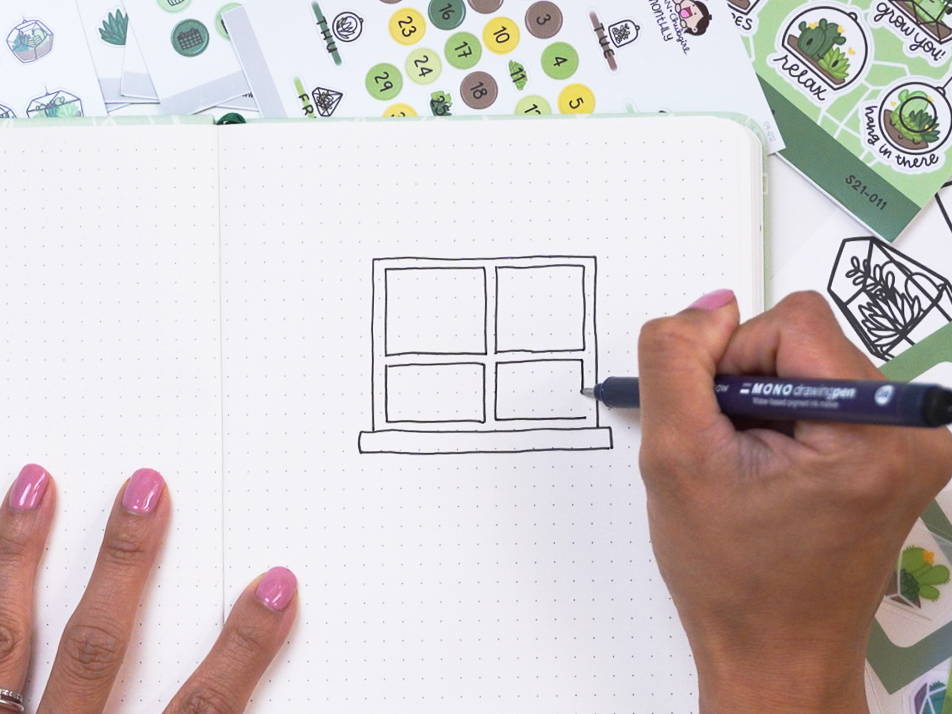 Next I'm placing a couple terrariums on the sill and adding some detail to the window! It's up to you to decorate it any way you like!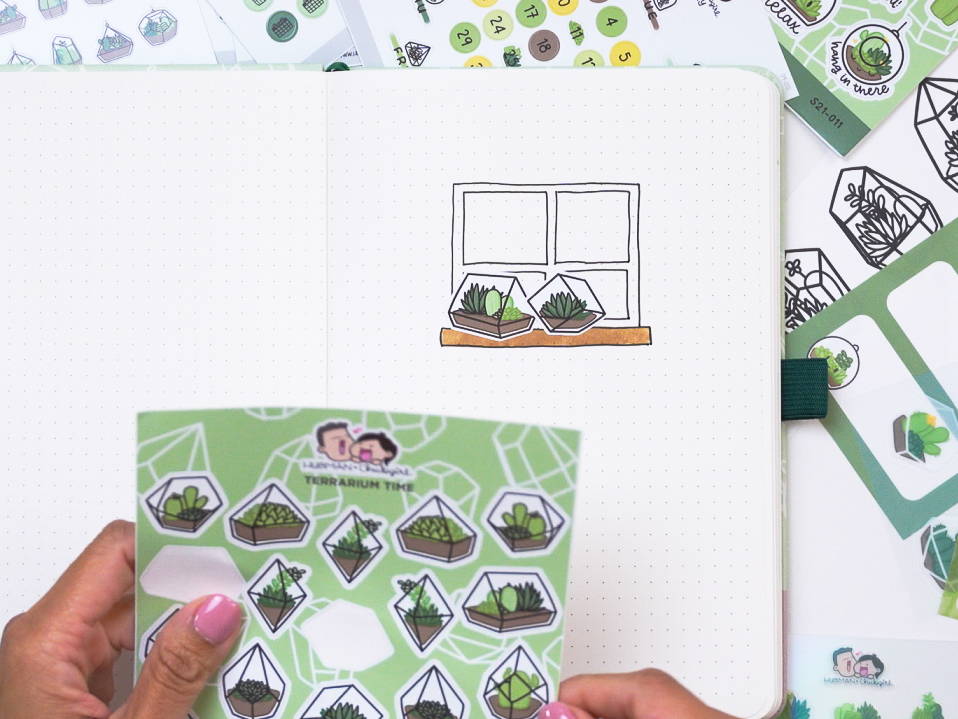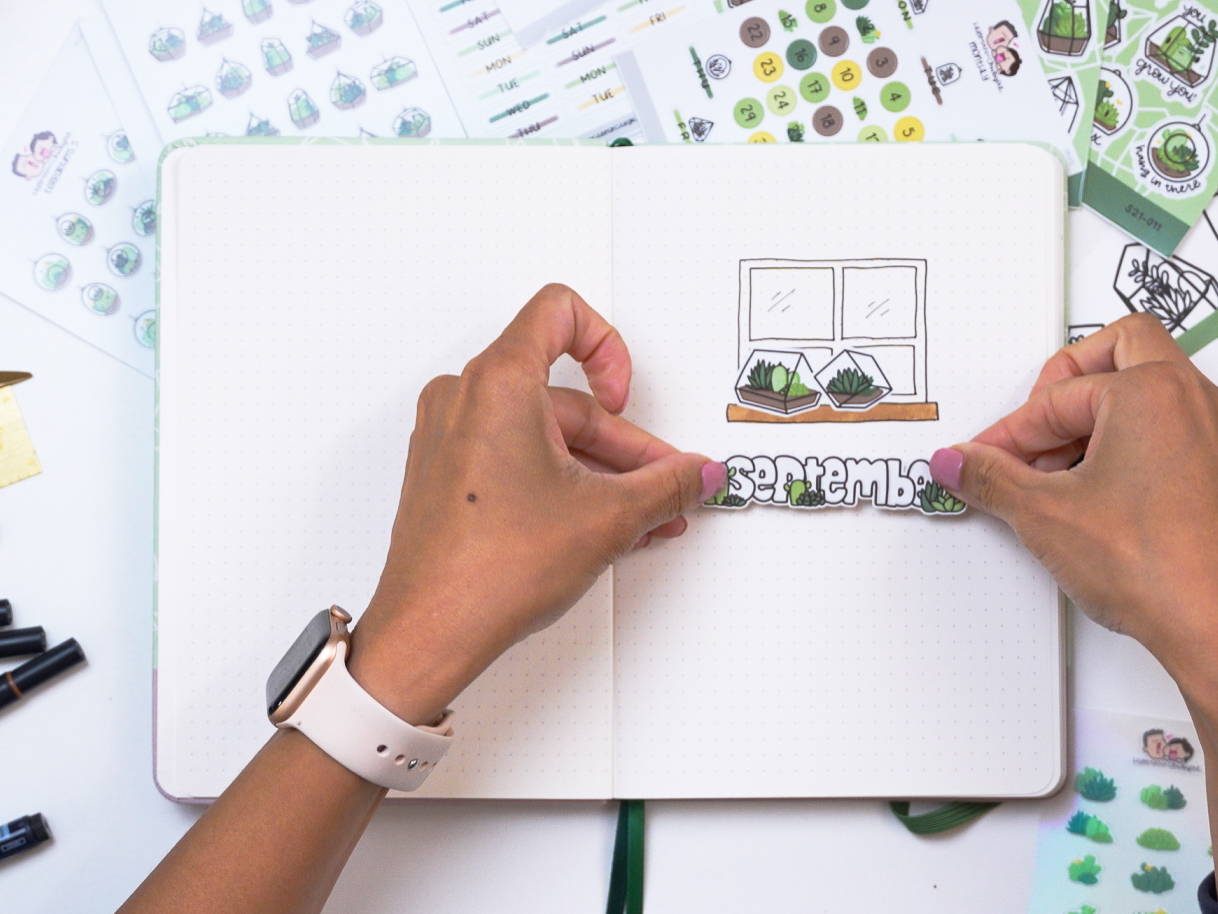 Since we will be setting up a separate monthly calendar spread I'm only adding a mini calendar on this page for a quick monthly overview. Feel free to switch it out for any other sections or stickers that you would like to use!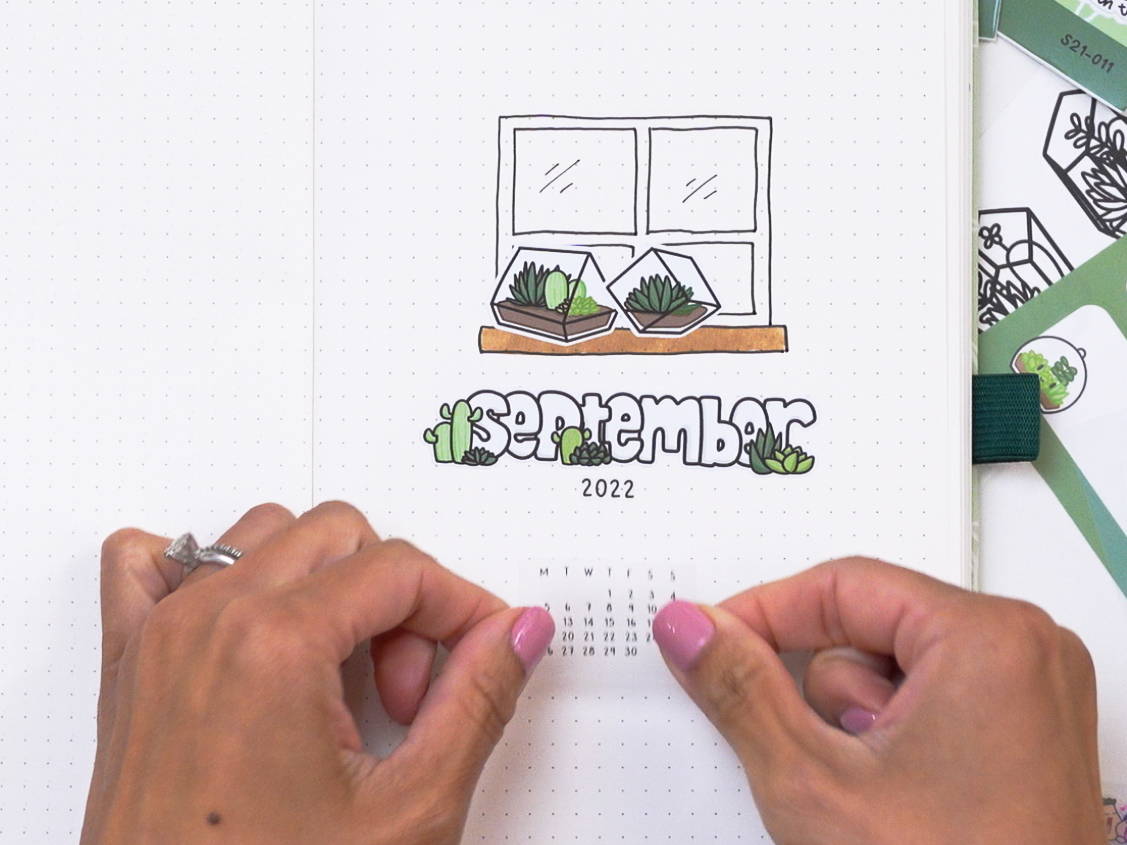 That's it for our quick and easy monthly title!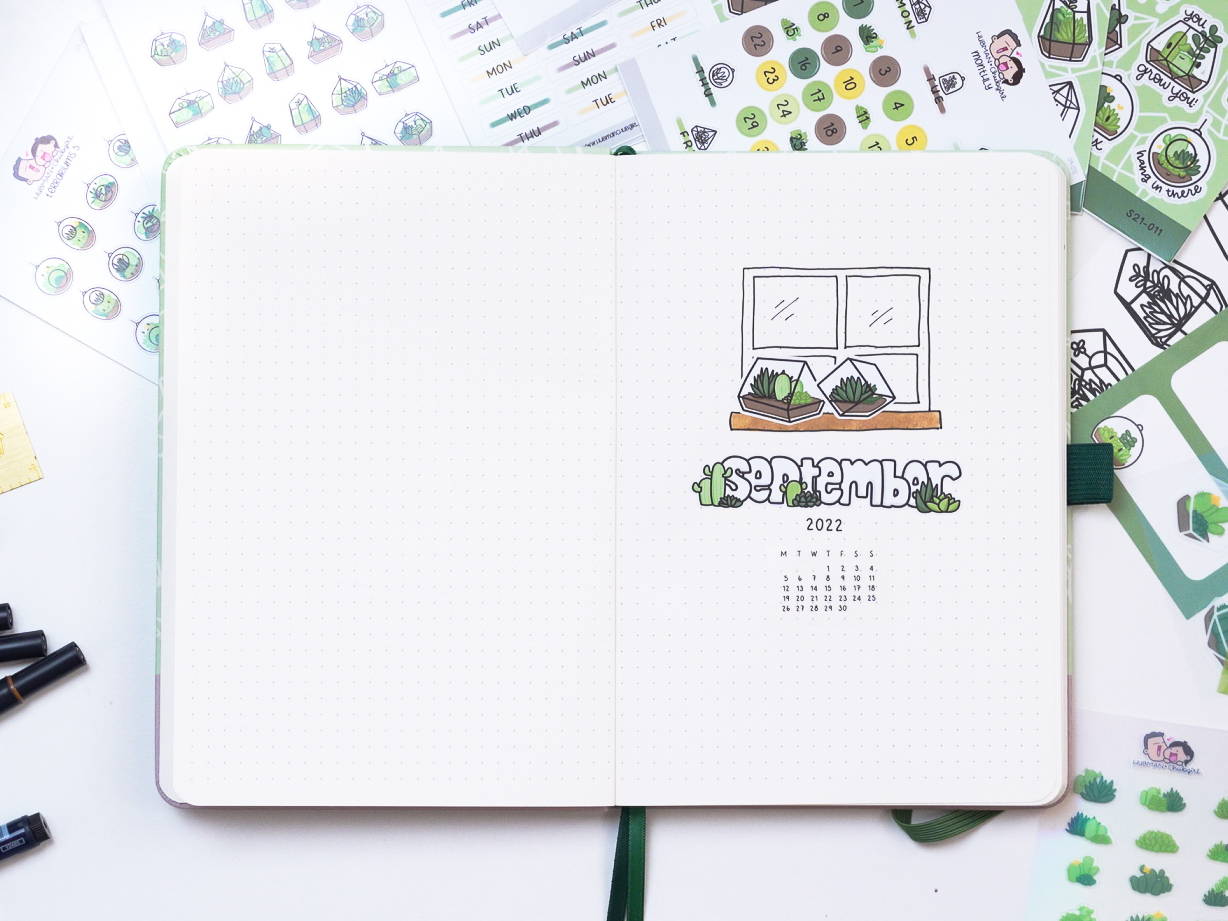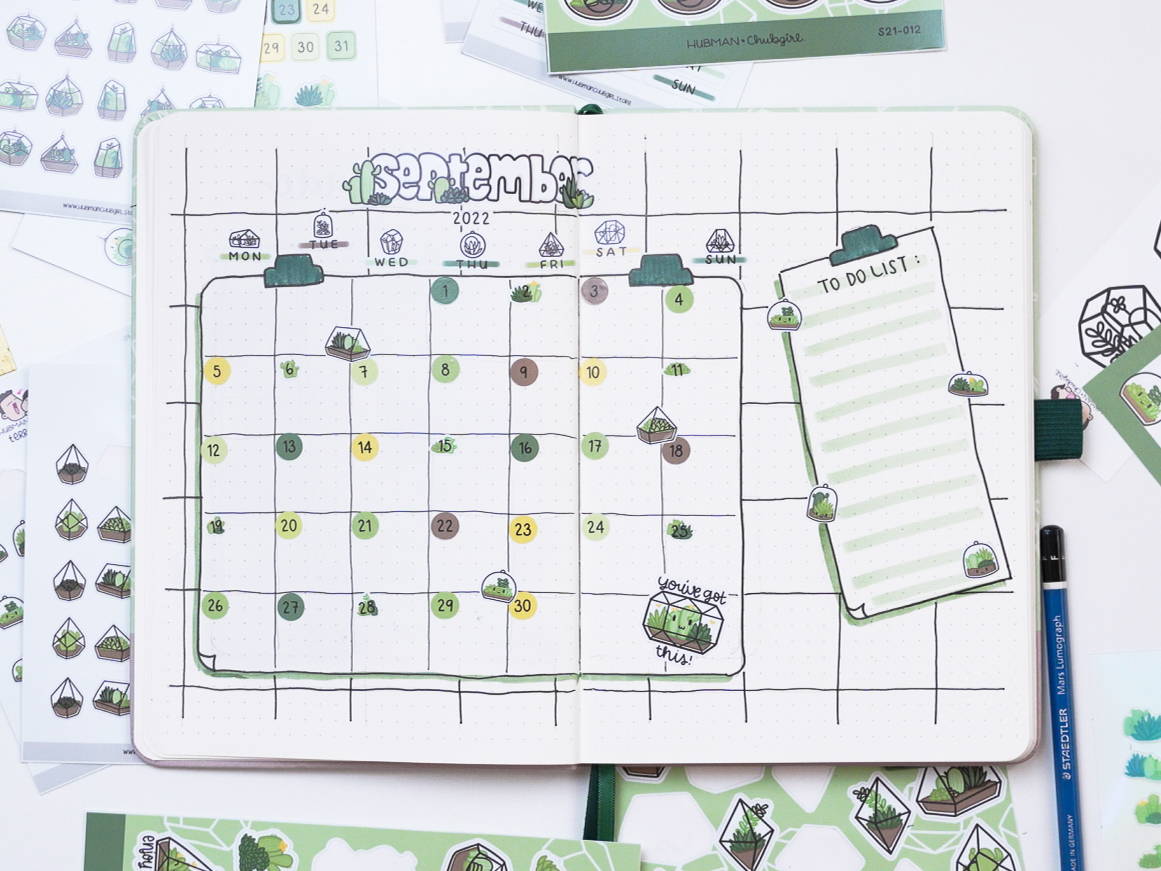 As always, let's begin with the number of sections for the monthly spread. Sometimes it's useful to have a big monthly spread and mark all important days right on the grid. Having extra notes or to-do sections come in handy when you need more space to write things down. Choose the ones that work for you!
Next let's use a pencil to mark out all the sections and come up with a layout that accommodates everything. I'm sticking with my classic monthly grid and to-do list. 
To make this month's spread a little different I'm drawing a wire board background. Since the background and the calendar are both grids, make sure that they don't overlap so you can differentiate between the background and foreground. To do this, let's draw the grid for the month before working on the background. 
I'm placing the to-do list slightly tilted so it looks like it's about to fall off the wire board. Feel free to play around with the layout and get creative! Once you're happy with where your sections are placed, let's draw some clips to make it look like it's hanging. Finally we can fill any empty space on the spread with the wire board. We're going to use a bigger grid than the calendar to make it stand out.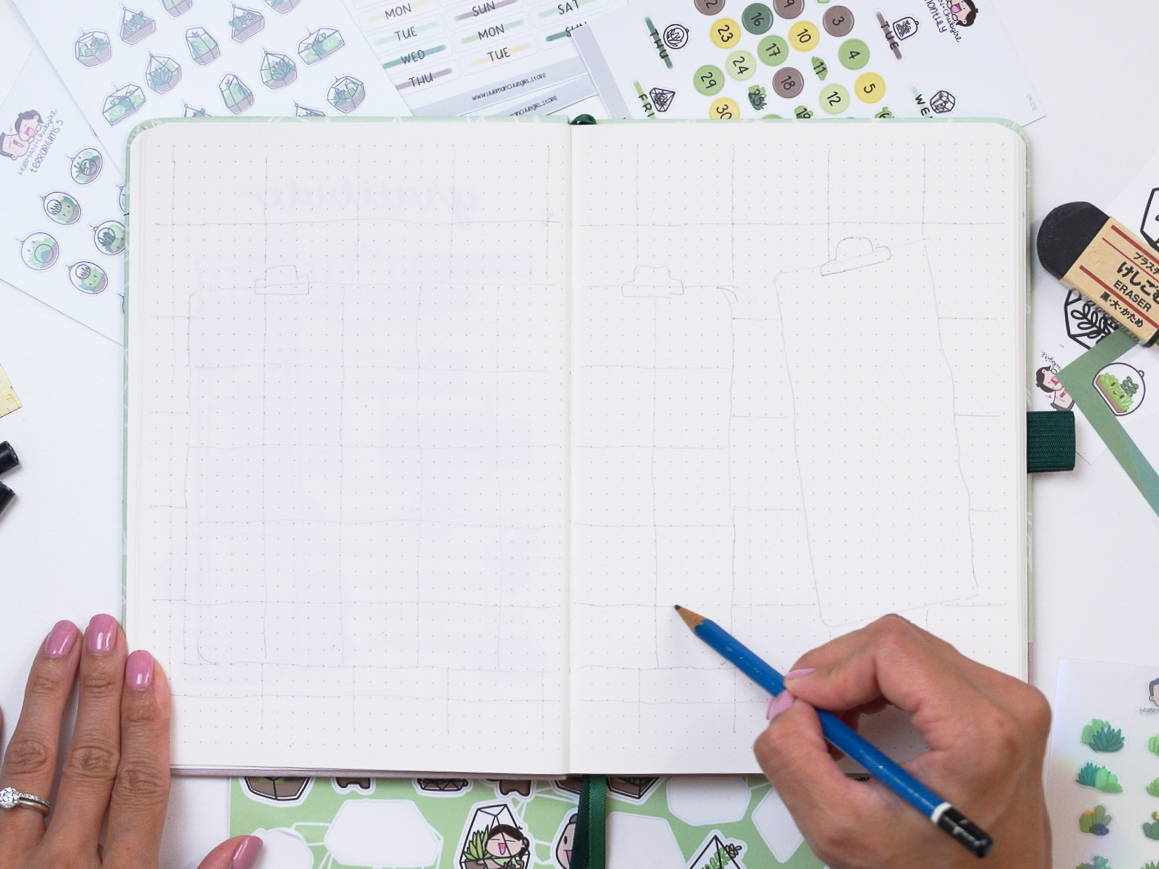 Once you are happy with your sketch, we can go over everything with a black marker. Let's leave the background for the end.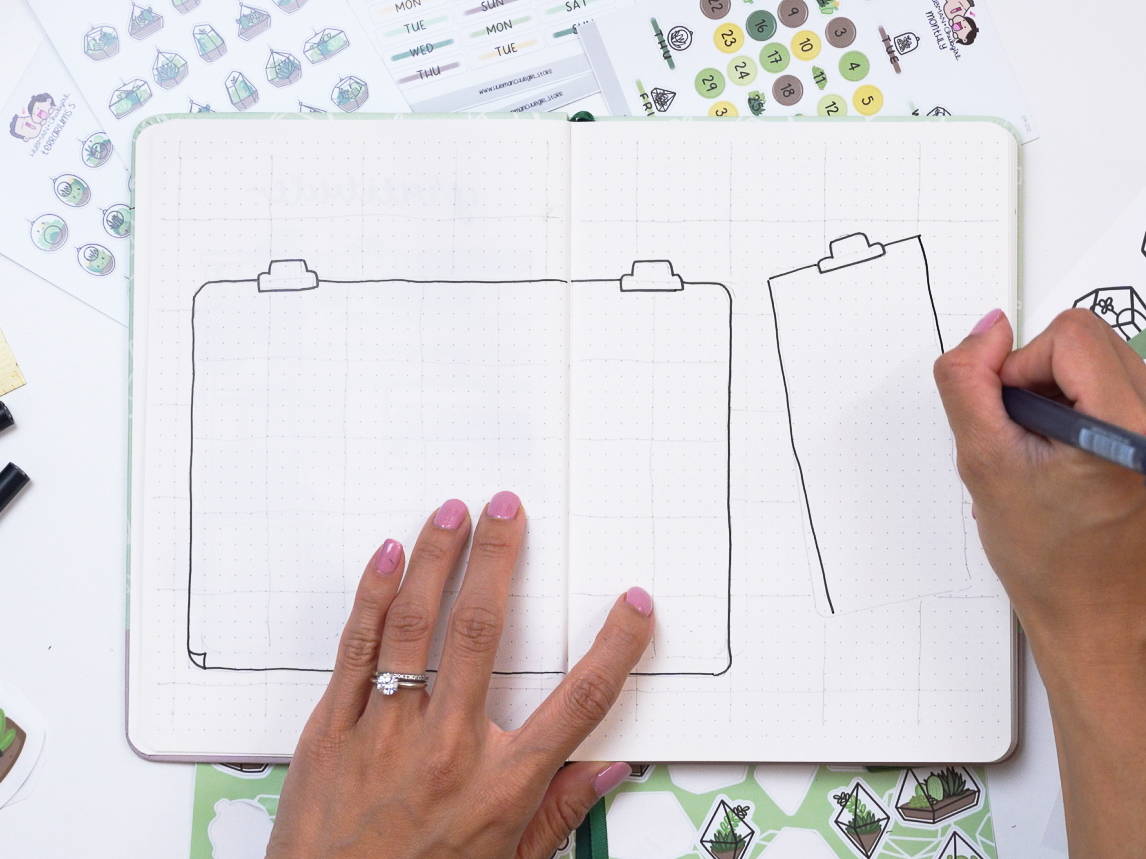 Next, let's colour the clips in green to match the theme.
I'm using the journaling set for the days, dates and month, but you can also write these down if you prefer :)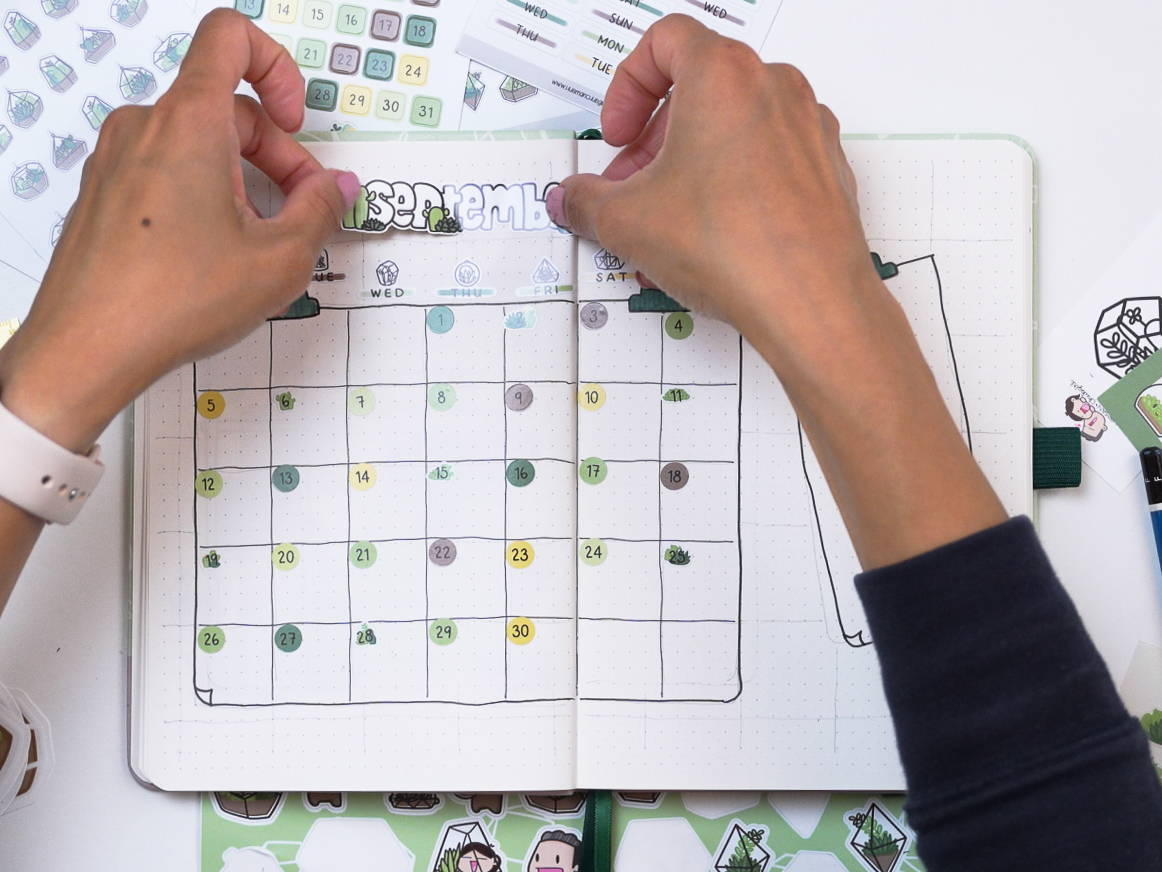 Let's add dome lines to the to-do list as a guide to write on.
Time to decorate with stickers! Feel free to add stickers anywhere you like and have fun!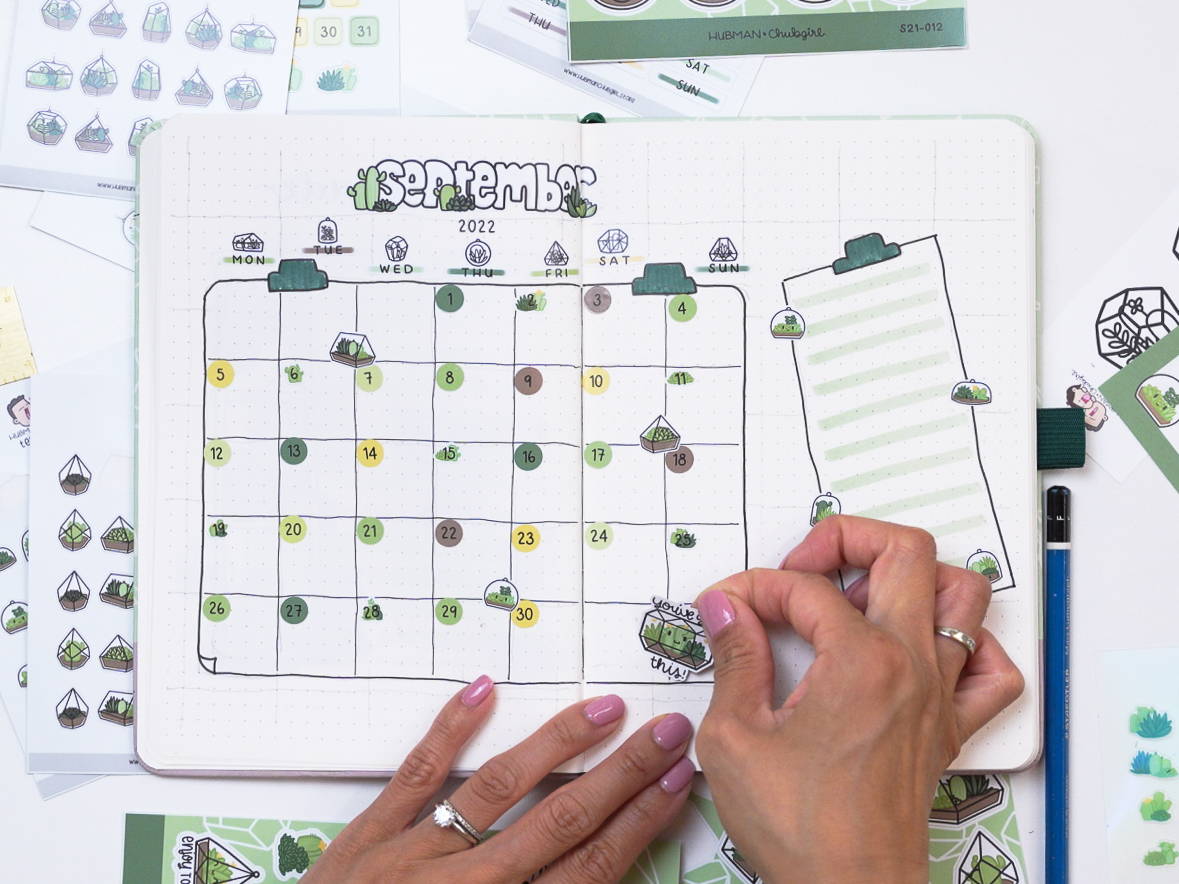 To finish up the spread let's draw the wire background.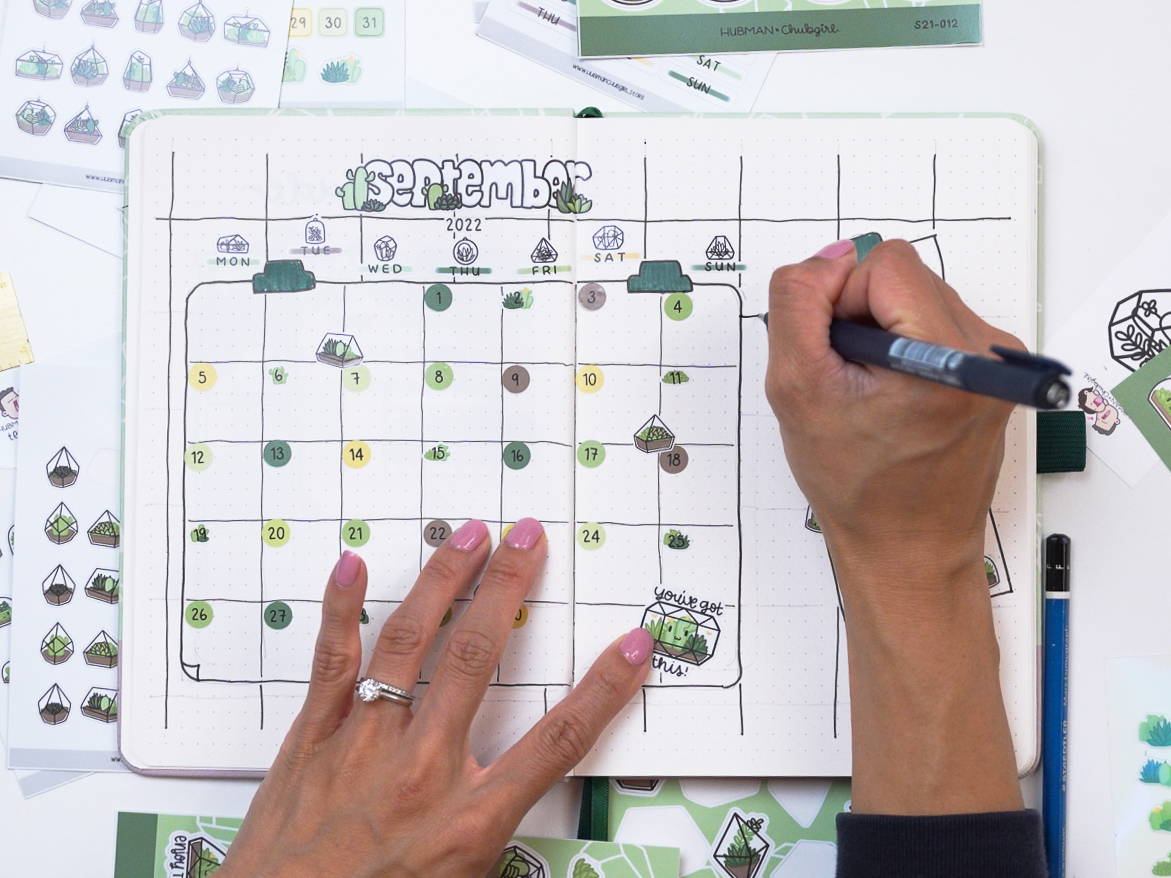 To make the sheets stand out a little more, let's add a shadow on the left and bottom of the calendar and to-do list.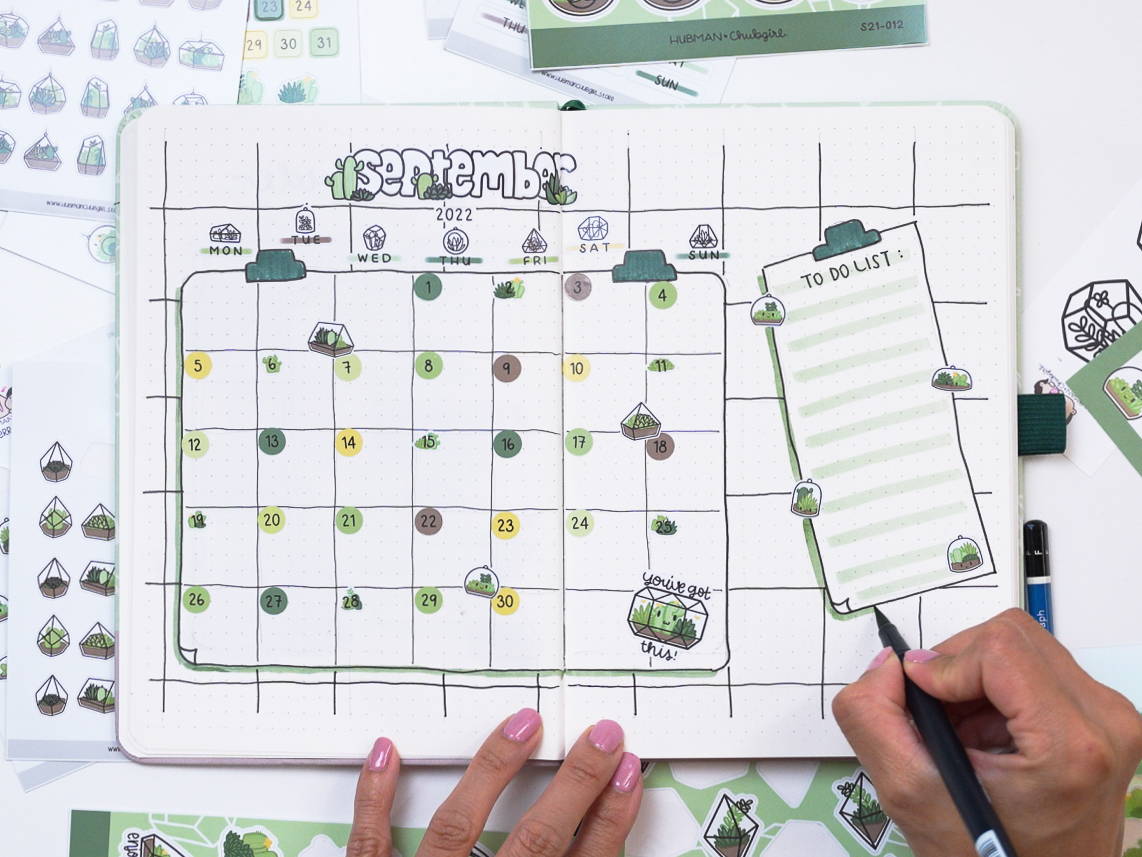 Voila, there's our monthly spread!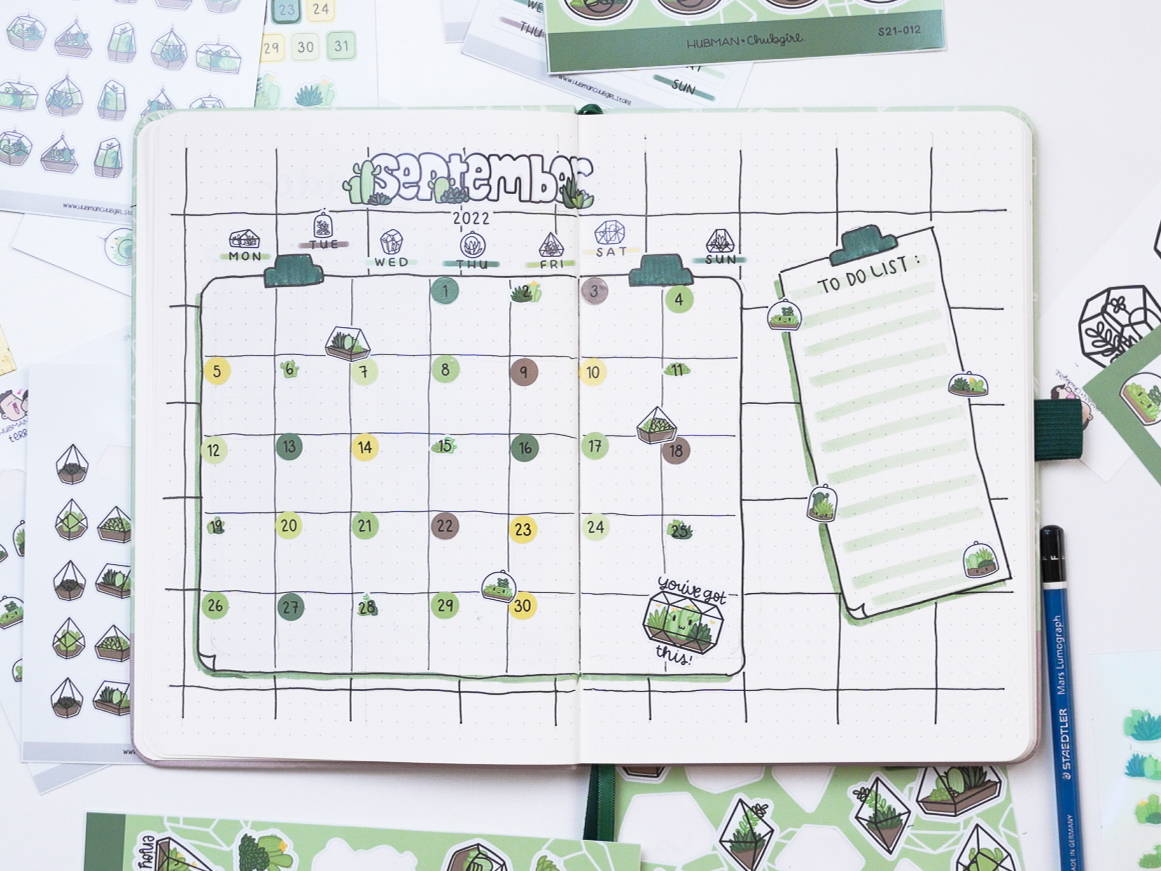 We have added a link to the Happy Terrariums Collection to get everything you need to make these spreads. Subscribe to our monthly Journal subscription to get cute stickers like these mailed to you every month and feel free to come back here for inspiration or tutorials for your spreads! Happy journalling!
Bonus! - Use code JOURNAL and get your subscription at 10$ for your first month plus you get a free starter journal to kick off with!
We will be posting more tutorials here soon, so follow us on Instagram @hubmanchubgirl.store for updates. Thanks everyone and I hope you find these helpful!
For more inspiration on these spreads and more, click on the link below :)
Here's everything you need to make this spread and much more!